Original URL: https://www.theregister.co.uk/2007/09/21/billionaire_toys_show_limited_imagination/
Welcome indeed to the billionaire toyshop
Expensive toys for very rich boys
Posted in Science, 21st September 2007 11:02 GMT
So you've finally done it. You had an idea, or successfully nicked one; you wrote some code, or had it written. The customers flocked to buy licences, or perhaps the unpaid Web-2.0 peon hordes spewed content in an endless stream while you booked ads on the eyeballs and waxed fat. Maybe that last bit never actually happened, but you managed to convince people it would and walked away after the IPO/buyout laughing and laughing and laughing.
Alternatively, you were born into the ruling family of an oil kingdom, or the property-owning oligarchy of a developing nation. Maybe you didn't inherit anything and never got involved with any kind of new idea; you just bought and sold humdrum stuff – real estate, comedic pieces of stockmarket paper, whatever – and did really well.
But all that is either unlikely or intensely dull or both, which is why almost all of us aren't billionaires. So let's skip rapidly over that and get to the good bit. You're a billionaire, however you got there. You've got all the basic trappings – cars, palatial homes worldwide, maybe a business jet or a helicopter or a few old propellor fighters. You know, the sort of things that smallfry have; Hollywood stars, mega-selling novelists, politicians and trailer trash of that type. Poor people.
But you're a billionaire, in the I-was-in-Microsoft-early league, along with the Third-World oligarchs and oil princes. You're so rich that buying consumer goods is a real problem for you – you simply can't find expensive enough stuff to really properly show off your wealth. Ordinary middle-class scum can have fun buying a mobile, a computer, a barbecue or maybe a car, better in some way than that possessed by their envious friends; but it's difficult for you.
In the old days, before proper personal technology, it was easier to display one's prosperity. Legend tells of a long-ago episode involving noted Oz tycoon Kerry Packer, in which he got into an argument over drinks at home regarding the details of a cricket match which had taken place some years previously.
Nowadays, any ordinary sports obsessive could slot in his treasured VHS tape or DVD, fire up his PVR file or call down some VoD goodness and so settle matters. But back then there was none of that. Packer, however, had the answer: he simply phoned a TV channel which he controlled and told them to interrupt what they were showing and re-run the relevant match.
But, as we've seen, that kind of ostentation is available to any techie or sports nerd now. So what can the superwealthy buy these days that would really set them apart and show a combination of wealth and unnecessary but pleasing capability?
There is of course the option of more and bigger houses, nuclear bunkers, hollowed out volcano lairs etc. But these are relatively poor in technology, so we're going to forget that idea. Besides, it's difficult to really impress people with your home if it's hidden in a massive deer park, up a mountain, atop a skyscraper or whatever. No – we need something that can move about. Cars are no good, of course; they use roads, and that means possibly having to wait for other people. Plus, they simply aren't expensive enough. The same goes for ordinary-type seven-figure aircraft.
Option One: Personal Airliner – up to £150m
It was widely reported during this year's Paris Air Show that an unidentified individual has ordered one of the new Airbus A380 double-decker superjumbo jets as his personal plane. That's pretty showy. The A380 offers 10,000 square feet of floor space, about the size of a fairly posh golf clubhouse in total, or a small mansion. It's significantly bigger than Air Force One, and at least theoretically offers enough space to have the basics: Smallish cinema, grand piano, snooker table, squash court etc. There's also plenty of room for a large retinue of rent-a-lovelies, ex-special-forces close protection thugs, bum-lickers, accountants and other hangers-on.
But the A380 is very limited in which airports it can operate from, and that means inconvenience and hassle. How are you going to get from some dive like Heathrow or Frankfurt to your palace in Bavaria or your Scottish castle? The A380 could carry an armoured limo or two, or a small helicopter at a pinch with its rotors folded, but big planes of this type don't unload very quickly. There probably won't be enough rides for all the hangers-on. Even you yourself could be looking at airport delays, maybe traffic jams, or onward connections in rented transport – just like some sort of lowly business-class peasant.
The US President gets around this by having a monster C-5 military transport accompany Air Force One with the necessary choppers, cars etc; but now we've got landing-slot problems to boot. And overall, the whole personal-airliner thing lacks class and originality. It's all rather 1980s, a bit too oil-sheikhy and lacking in sufficient dot-com nerdwealth tech pleasingness. The personal A380 isn't different or clever: just big.
It won't do. Next.
Option Two: Megayacht – £250m and up
Now we're getting somewhere. Admittedly seagoing yachts are slow – think weeks rather than hours to get places – but they can put in and out of harbours worldwide, usually without any immigration or customs hassle to speak of. They're big enough for proper-size cinemas, pools, jacuzzis, ballrooms, libraries, atria with glass lifts, wine cellars and what have you.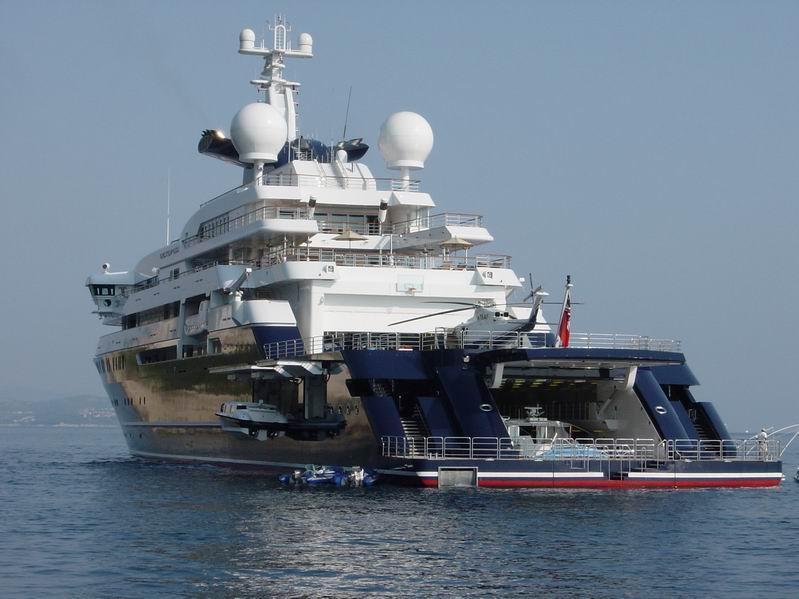 Paul Allen's megayacht Octopus, able to launch choppers, boats and subs. To you, sir? £250m.
Nowadays, too, a lot of megayachts have options for cool toys and accessories. An example is Microsoft founder Paul Allen's Octopus, with a flooding boat bay able to deploy large tenders and a submarine from the stern dock, or jetskis and speedboats from side doors. The tricky problem of arguments with the wife over the helicopter is solved by having hangar space for two with pads forward and aft, and in a homey touch there's a basketball hoop mounted above the helicopter garage door.
Allen is one of the relatively few super-rich with enough adventurousness to stray beyond jets, choppers and surface craft. Details of the Octopus submarine are restricted by a non-disclosure agreement, but it's nonetheless a fairly open secret that the sub is the former Olympic Submarine Technologies' 40-foot design – one of very few serious, capable private luxury submarines in existence. Allen's sub is reportedly rated for 300m depths or more and can carry ten people. It's supposed to have cost £6m – a snip compared to the mothership.
Other megayachts are said to deploy subs: but it's seldom that these are serious, one-atmosphere pressure-hull jobs like Allen's, able to dive deep. They're more usually remotely-piloted jobs used mainly for underwater security checks in harbour. Rumour has it that the justifiably paranoid Russian billionaire Roman Abramovich likes this kind of kit on his yachts.
There is another option, less expensive than a proper sub but still able to carry people. Rather than a heavy pressure hull one can build a vessel to operate at ambient pressure, functioning in the same way as a diving bell. Passengers in such boats suffer from inert-gas absorption and other physiological problems just as divers do, limiting the options for the submarine, but it can be lighter and easier to build. Dubai-based firm Exomos, fronted by French ex-navy engineer Herve Jaubert, offers a range of these more basic subs, and claims to have delivered 18 craft since setting up. That doesn't mean there are 18 zillionaires cruising about underwater, though: the firm also offers quite basic tourist-excursion designs, some of them not really any more than glass-bottomed boats, along with military-style swimmer delivery jobs and common or garden speedboats. It doesn't seem likely that Exomos has shifted many of its more ambitious designs.
Perhaps the most interesting Exomos vessel is the "Proteus," (pdf) a 60-foot motor cruiser capable of 20-plus knots on the surface but which can submerge and run underwater too. If we were Paul Allen, we'd have something like that in our megayacht boat-bay, rather than the relatively conventional tender which Allen actually keeps parked next to his deep-diving sub.
In fact, we might dispense with the megayacht altogether. Again, it's a bit old fashioned and a bit overly showy, and the basic mothership costs an awful lot given that the toys and accessories are the most interesting bits. There must be some way to maintain a lower profile, it seems to us; and to have more fun with the money.
Option Three: Luxury live-aboard submarine – £40m plus
For instance, why not have a megayacht which actually is a submarine? A company called US Submarines offers a huge 65-metre design, able to cruise the world's oceans on surface diesel propulsion at 15 knots, submerging periodically for a few days at a time running slowly on battery power. It can make dives totalling 30 days before needing fresh supplies of oxygen.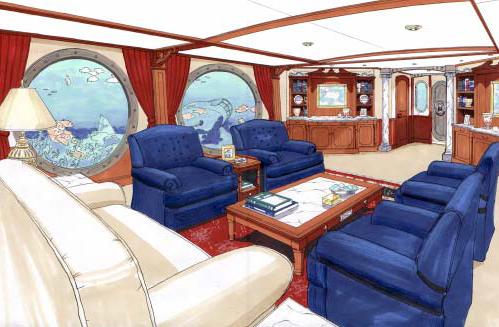 Artist's impression of a luxury submarine interior.
Such a Phoenix-class luxury sub would offer 5000 square feet of space, and unlike existing military vessels includes numerous large, 6-foot-diameter acrylic view ports able to withstand depths up to 300 metres. There is an airlock allowing divers to enter and exit the sub, which can double up as a compression chamber, and a docking collar for a mini-sub, perhaps a special deeper-water job for sightseeing trips below the continental shelf. An adaptation of the Exomos Proteus would be a great tender – you could pop up to the surface in that, leaving your submarine hidden offshore, then run into a harbour at high speed and tie up at the dock without anyone knowing where you'd come from. That said, there would be annoying pressure changes involved in the ascent using a Proteus-style design.
There's room in the Phoenix plans for four en suite double staterooms and eight crew living on their own deck in less luxurious conditions, plus plenty of ritzy bars, lounging areas, grand pianos, gyms or whatever. For the truly adventurous there is the option of so-called "air-independent propulsion" using liquid oxygen tanks to run Stirling-cycle engines while submerged, freeing the Phoenix from the need to surface and recharge its batteries on a frequent basis.
There are a couple of snags facing the prospective undersea yachtsman, though. Firstly, US Submarines doesn't seem to have ever built one of its Phoenix lux-submersibles. Bruce Jones, CEO and founder, told Bloomberg last month that he
"...built his first diesel- and battery-powered sub in 1993. Every sales contract since then has included a confidentiality clause to protect the buyer's identity."
This bravely gives the impression that many a lux-sub has been delivered to secretive clients during the last 14 years, but in fact as of less than two years ago the Seattle Times reported the firm hadn't yet heard from a customer ready to commit.
Olympic Submarine, the firm which built Allen's sub, no longer offers even a web presence. It was an operation of Olympic Tool and Engineering, which has now been bought by Sealaska, an Alaskan Native American concern.
There might be a few reasons for the lack of billionaire interest in serious private subs. The world's navies have operated diesel-electric boats for over 100 years, but as anyone who's tried it knows, they aren't pleasant to travel in; dirty, smelly, extremely cramped and claustrophobic, often damp. It remains to be seen whether this reality can change. As for nice big viewing ports, the mundane reality of the underwater world is usually one of very poor visibility. If you actually could normally see other submarines, interesting fish, underwater canyons etc as in the movies, existing military subs would have windows; but you can't, so they don't.
Even so, the ability to cruise around the world in one's own submarine does seem rather cooler than the megayacht option, and perhaps somewhat cheaper too. Plus, it offers a truly low profile, excellent security and the ability to ignore rough weather at sea. If anyone ever does order a Phoenix, as US Submarines says, it really would be "one of the most significant personal transportation devices of the century".
Option Four: Air Yacht – Conceivably as little as £30m
Frankly, if we were a billionaire we probably would have a submarine yacht, but at just £40m there'd be plenty of cash left burning a hole in our pocket. Also, as we've seen, submarines do have the potential for boring views and a slightly claustrophobic atmosphere aboard. It might be nice to have a flying palace rather than an underwater one.
Once upon a time, this was a genuine ready-to-go option. In the 1930s, there were established builders making enormous rigid airships filled with lifting gas, either hydrogen or helium. Some of these ships operated as quite luxurious passenger liners; others were naval or military craft. They were much bigger and more capable than today's poxy little inflatable blimps.
In particular, two very pleasing ships were built for the American navy: USS Akron and Macon. Unlike the famously flammable Hindenburg, they were full of nice safe helium*. These mighty aerial vessels carried crews of 90, and were effectively flying aircraft carriers. Each of them had space for up to five Curtiss Sparrowhawk biplane fighters in the internal hangar bay, and the planes could be launched and recovered in flight using a retracting "trapeze" arm.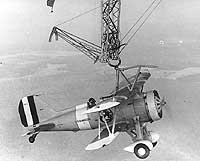 A biplane hooked up to the airship USS Macon.
This kind of capability would seem to offer options for an airborne Octopus-style megayacht, able to deploy a variety of craft such as planes, gliders, microlights etc. Helicopters could be a bit more tricky, but it would be far from impossible to mount a Sparrowhawk-style "Skyhook" above the rotor hub of a helicopter. Military choppers already put large radars and sensors up there. It would then be simple to nip down to visit a friend's dull old gin-palace or private island in a helicopter or perhaps a seaplane launched from one's sky yacht.
An airship, too, can hover fairly easily and so pick things up or drop them off (though ideally it needs to take on water ballast when dropping off). Cars, baggage, retinues and the like could conceivably be delivered direct to the destination; and a mooring mast for airships would be much less annoying on one's mountain peak hideaway or skyscraper penthouse than a runway for executive jets. That said, an executive jet goes conservatively five times as fast as an airship.
Cost? Hard to say, though many of the necessary wheels wouldn't have to be reinvented. There are airship construction and maintenance sheds still existing from the 1930s, and loads of old design data. Bulk helium supply is maintained by the US government. Modern engines, materials tech and structural methods could offer serious performance increases. Up-to-date weather data and navigation would allow one's air cruiser to avoid storms like the ones which wrecked the Akron and the Macon. Those two ships cost an average of $4m each to build in the early 1930s, which would be the equivalent of $60m in modern dollars; about £30m. An absolute snip compared to what one pays for a relatively dull, slow, water-only megayacht.
All in all then, it's rather surprising that the dull, stodgy billionaires of the world aren't buying flying yachts – although, as with submarines, hopeful entrepreneurs would love to build them one.
*Yes, yes. We know the fire was most likely triggered by a spark that ignited the airship's fabric, which had been cunningly waterproofed with rocket fuel. You don't need to write in.
Option Five: Spaceship/Space station – £Sky's the limit
It could be that the superwealthy aren't buying private submarines or dirigibles because what they actually want is a spaceship.
Paul Allen, for instance – his name keeps cropping up under "billionaire" and "toys" – funded the SpaceShip One suborbital rocketplane which won the Ansari X-prize – though he doesn't seem likely to have spent as much on this as he has on his various megayachts.
Amazon founder Jeff Bezos, too, has a spaceship development company called Blue Origin whose goal is apparently to establish a permanent human presence in space. Vegas property tycoon Robert Bigelow is busily spending vast sums on his plan for inflatable space habitats, test versions of which are already in orbit. John Carmack of Doom and Quake fame has a space startup too, initially focused on suborbital rocketry.
How much for a space yacht, then?
It depends what you want. Virgin Galactic, Richard Branson's company, plans to use licenced tech from the SpaceShip One programme to build a fleet of suborbital rocket planes. The company says:
"It is expected that around £60 million will be invested in developing the new generation of spaceships and ground infrastructure required to operate a suborbital space tourism experience."
Presumably that's a decent ballpark figure for buying your personal rocket ride, then – though one should note that such a craft won't be any more luxurious or spacious than an ordinary executive jet, will be much more restricted in where it can land or take off, and can't achieve orbit. Only brief and fleeting visits to space are possible.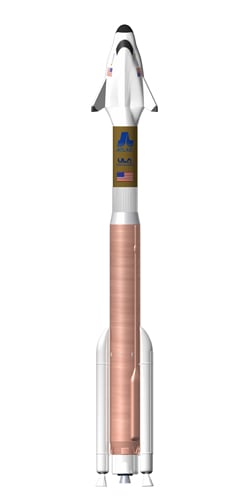 Dream Chaser™ – yours for £50m, perhaps
That's not a problem right now, as there's nowhere to go in orbit except the International Space Station – and that's strictly invitation only. Robert Bigelow thinks he'll be able to do you an orbital yacht/palace in just a few years, but he says he'll have spent $500m-odd by that stage. A decent sized orbital pad is bound to be in the nine-figures range.
Then you need to get to and from it – and that's a big problem. Full-on orbit-capable launch systems which can carry people rather than just stuff are very expensive, and only really available from the Russian government. The Russkies make you do loads of training beforehand and charge $25m per head for a round trip ticket, and the whole experience isn't, reportedly, what you'd call luxurious.
So that's not good enough, but you need really deep pockets for a proper personal earth-to-orbit craft to service your space palace. At the high end, British engineers at Reaction Engines Limited reckon it would cost $10bn to develop their "Skylon" fully reusable hydrogen spaceplane plan. Paul Allen could afford that, but it'd hurt. He'd have to sell a few yachts or cut back on his donations to charity or something.
On the other hand, the company which made the rubber-burning rockets for Allen's SpaceShip One competition ship, SpaceDev, also has an orbital design. They reckon they could put their "Dream Chaser" lifting-body rocketship into space atop a big rocket of some kind, perhaps a NASA Ares V certified to lift people. The Dream Chaser would land on a runway after completing its trip. They told Space.com a couple of years ago that a working Dream Chaser would cost $100m and take five years – again, cheap compared to what it costs to buy a boat like Octopus, or Oracle boss Larry Ellison's even bigger Rising Sun.
So you could have a space yacht and a rocket tender for it, maybe for well under a billion. You could have a very cool dirigible or submarine for a fraction of that. So it's something of a puzzler that we aren't seeing any personal submarines, aerial cruisers or private space habitats; but we are seeing hundreds of dull megayachts and personal jets, many of which cost rather more. The efforts of a few wealthy space enthusiasts like Bezos, Carmack, Allen etc are the exception, not the rule. The rich are mostly not so much different as just rather unimaginative.
Disappointing, really. We aren't taking a position on whether or not billionaires should be allowed etc. etc., though we might hazard a guess that making enormous personal fortunes illegal would be about as practical as outlawing booze turned out to be.
Given that there are going to be billionaires, though, it would be nice if they spent their toy budget in more interesting, cool and futuristic ways.®