Original URL: https://www.theregister.co.uk/2007/09/12/review_aztech_v500ds_s1/
Aztech V500DS-S1 Skype DECT phone
VoIP moves out of the 'PC peripheral' era
Posted in Personal Tech, 12th September 2007 11:02 GMT
Review The concept of the PC-free Skype-supporting DECT phone went straight to the top of our How Did We Survive Without One? list on the first day we used such a device, the Netgear SPH200D - reviewed here. Now, from Singapore-based Aztech, we have the V500DS-S1, another all-singing, all-dancing, Skype'n'DECT phone capable of making calls via either a run-of-the-mill landline or VoiP.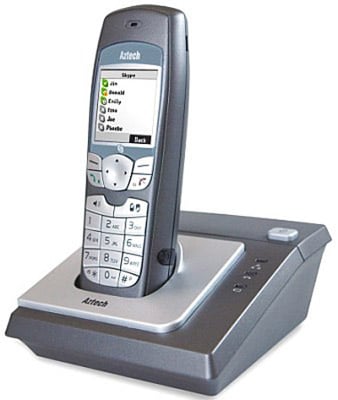 Aztech's V500DS-S1: looks cool and is comfortable to use
The first thing that strikes you about the V500DS is that it's a handsome-looking beast. The handset is finished in black and silver, and has a nice heft to it so it sits well in the hand. The silver keys and four-way menu button work with a reassuring and tactile click, while the bright 3cm square, 128 x 128 colour screen makes it easy to see what is afoot and follow the familiar Skype user interface. When not in use the handset rests in an equally fine-looking basestation that acts as both transmitter/receiver and power charger - unlike the Netgear SPH200D, which has two units, one for the phone charger, the other for the receiver.
The basestation has three LEDs to indicate the status of the battery charge, the Ethernet link and whether or not a call is in progress - the last is really only of use if you're running multiple handsets from the one basestation.
It must be said that looks are one of the V500SD's trump cards. The entire package looks clean and modern, but hasn't been overstyled, while the plastics are all of a good quality. It certainly makes the Netgear offering look just a little 'PC peripheral' when viewed alongside it.
Included in the box with the phone and basestation is a power cord, an RJ-11 phone cable, an RJ-45 Ethernet cable, a belt clip for the handset plus the operating manual on a CD as a PDF file. The handset is powered by two supplied AAA rechargeable batteries, which charge up in 12 hours and are quoted as being good for eight hours' talk and 120 hours on standby.
Six hours of pretty constant use during this test certainly seemed to have little impact on the indicated battery life, so the quoted numbers are probably not far short of reality.
Set up is as simple as simple can be: connect the basestation to a phone socket; link the basestation to a router via the Ethernet cable; plug in; charge up; log in to your Skype account; make a call. If needed, the 41-page manual is both clear and concise, and gives comprehensive details of the extensive handset and Skype settings menu structure.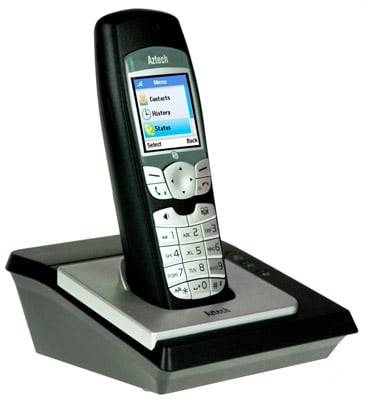 Aztech's V500DS-S1: good call quality on Skype and landline
Basic handset features include the ability to log incoming, outgoing and missed calls - the last ten in each category - and a 50-number phone book for landline calls. Also included are a selection of not-too-horrible polyphonic ringtones, a headset jack and a hands-free speaker phone. The basestation can play host to up to four handsets.
When lifted out of the cradle, the handset lights up with a rather fetching orange glow and you're ready to go. The quoted range for the handset is given as 300m line of sight, or 50m indoors. Certainly it worked well in all parts of the house, and sound quality was never less than excellent.
As a landline phone, the V500DS worked exactly as you'd expect any cordless landline phone to do, while call quality over Skype wasn't noticeably worse during a selection of calls to overseas landlines and mobiles.
The handset can be pre-set to treat either VoiP or landline as the default method for dialing out, or you can chose Always Ask if you aren't one of life's decisive types. The phone can also be set to answer a call automatically when it's lifted out of the cradle.
If you do not have a subscription to SkypeOut or SkypePro, the V500 will allow you to make Skype-to-Skype calls, but frankly that is just IM via a phone and is rather like buying a car, but deciding not to buy any tyres for it.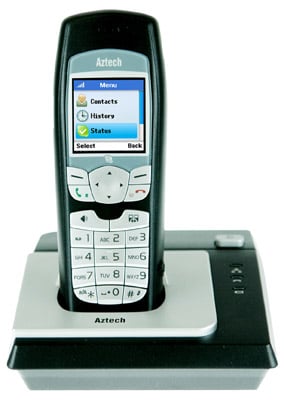 Aztech's V500DS-S1: PC not required
SkypeOut and SkypePro are the functions that give free-standing Skype phones their killer punch. With no more effort than it takes to make a standard local landline call you can now speak to your long-lost brother in Western Australia on his mobile for 13.3p a minute, or Auntie Joan in Nevada for 1.4p a minute and a call to a mobile in En Salvador only costs 9.7p a minute.
OK, we don't actually know anyone in El Salvador, but that isn't the point. Sure, some VoiP providers may be able to better these prices by a little, but compared to landline or mobile overseas call rates, they are the steal of the century and the convenience factor of pre-loaded Skype is hard to beat. At last you can leave your computer turned off when you want to use the service.
A good standalone VoIP and DECT phone really does make the world a smaller place.
Verdict
A better buy than the Netgear alternative? It's hard to answer that question definitively as Aztech has yet to announce UK availability or pricing. There is little in it in turns of performance and functionality, but for our money the Aztech is a clear winner from an aesthetic point of view and the handset is the better of the two to hold and use. Prices being more or less equal we would go for the Aztech.