Original URL: https://www.theregister.co.uk/2007/09/11/review_dlo_homedock_music_remote/
DLO HomeDock Music Remote wireless iPod dock
The answer to the iPod owner's hi-fi dreams?
Posted in Personal Tech, 11th September 2007 11:02 GMT
Review On paper, Digital Lifestyle Outfitters' HomeDock Music Remote is an iPod owner's dreams come true. It allows you to control your iPod's playback through your hi-fi via a remote control. Sounds good, and DLO got it 95 per cent right. But that last five per cent makes all the difference and will have you tearing your hair out and stamping around the house shouting: "Oh Lord, why vex your people thus?"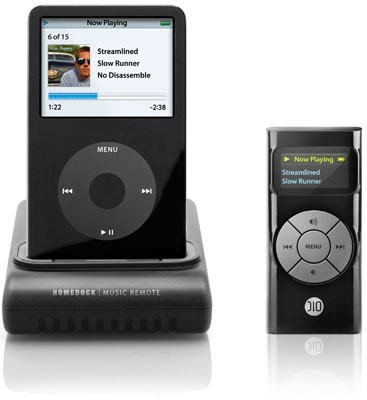 DLO's HomeDock Music Remote: see what's playing... using your remote
Out of its iPod-esque packaging the HomeDock Music Remote consists of a dock in which sits your iPod and the small DLO remote. You also get a set of iPod universal dock adaptors, a power cable, a minijack-to-RCA audio cable to link the base station to your hi-fi or home cinema system, and a 24-page manual. The dock also includes a mini-USB port so you can sync your iPod to iTunes while in situ.
Set up is straightforward. Connect up the cables, charge up the DLO remote, place your iPod in the cradle and you're done. Your iPod will charge while in the cradle, but don't leave it in when you switch the cradle off at the mains - I did and my iPod stayed 'on' and promptly drained its battery overnight.
Control of the system lies with the iPod Nano-sized radio-frequency remote. A bright, if tiny, 1.5 x 2.5cm, four-line by 17-character LED screen lets you know what's being played, along with the battery status. Access to the remote's various remote functions is via five rubber keys, a central menu key with four buttons around it. What these keys do depends on what menu you are in, but all in all it works reasonably intuitively and usually swiftly. Apart from track selection and volume control, the remote also allows access to the iPod's EQ and shuffle settings, and lets you set up a jukebox.
Though the DLO remote won't allow you to browse videos on your iPod it will allow you to stop, start, pause and fast forward or rewind a video that is playing. Movement up and down the menus is pretty rapid, holding down the 'up' or 'down' button giving you a sort of turbo scroll.
Sound quality is fine. We regularly play my 30GB iPod with Video through our LG home cinema system via a good quality minijack-to-RCA cable and we noticed no drop in audio quality when playing back through the DLO dock. When setting the dock up, it's worth noting that the minijack needs a firm push to go all the way home into the dock unit. One first attempt, we thought the jack was in but were greeted by a world of feedback. An extra shove fixed that.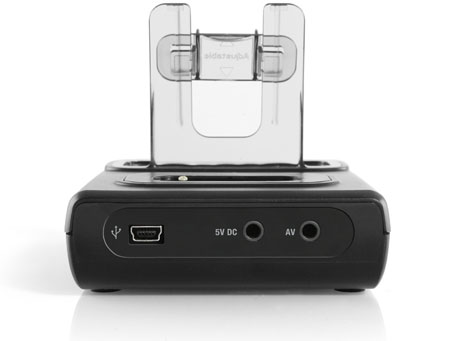 DLO's HomeDock Music Remote: also has USB, for syncing
So far so good, but it 's the music selection system that proves to be the DLO's Achilles' Heel. The main menu allows access to Playlists and Artists but not Albums. Select an artist and you get all their tracks listed as they are ordered in iTunes but with no indication of the album they are from let alone an option to chose a specific album for playback.
Now, I have over 29GB of music on my iPod - 617 albums from 310 artists - including, for the sake of this example, 15 Bruce Springsteen albums. If I want to listen to Born in the USA, no problem - those are the first 12 tracks listed. Born To Run? Easy, just scroll down to track 13 and of we go. The Wild, the Innocent and the E-Street Shuffle, though? That involves scrolling down through all the Springsteen tracks on my iPod until I get to that album's first track. Not a lot of fun to be had doing that.
If you can't recall the running order of a particular artist's albums then trying to work out were one album stops and another starts becomes guess work. That's rock and pop - navigating around a classical music collection on the HomeDock is a nightmare.


DLO's HomeDock Music Remote: nice screens, but where are the other iPod search categories?
If you're using the HomeDock with a smaller capacity iPod or listen mainly to your playlists then this is perhaps not such an issue. If, however, you have a larger capacity iPod and want to play your music collection album by album then the DLO's menu structure is a major handicap. Adding an album selection function to the menu would surely not have had much impact on the cost of manufacture but would have revolutionised the HomeDock's ease of use.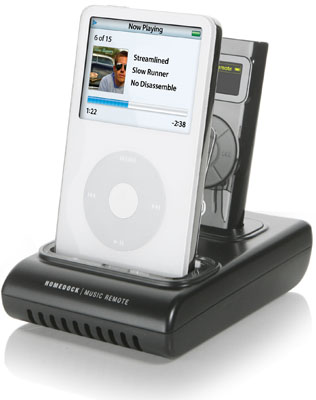 DLO's HomeDock Music Remote: all dockable iPods catered for
Frankly, it isn't easy to see why the remote had to be made quite so small either as the base station could easily accommodate a larger unit with a screen a little closer in size to that on an iPod, even if only a Nano.
Our HomeDock wasn't without the odd glitch, either. The remote seems to have problems with umlauts, grave accents and the like. I now seem to have Beethoven's 9th conducted by a "G nther Wand"; an album by K that used to be by Ké a few song titles with 'it's' in them show up as 'it s'; and every so often there's a rather annoying pause when the remote is asked to move from 'artist' to that artist's tracks, often followed by the Out of Range alert. This a clearly a data handling issue rather than a problem with the remote's transmitter, which otherwise performs faultlessly no matter what range it's used over. Well, within reason...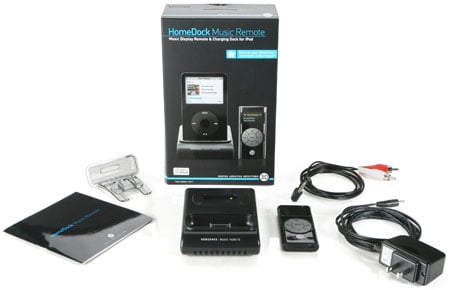 DLO's HomeDock Music Remote: plenty in the box
Moving back to the previous menu screen solves this problem, but it's an annoyance all the same. You do rather get the impression that either trying to handle 30 odd gigabytes of data is pushing the DLO's operating system just a little too close to its limits or the firmware needs a whisper more development work.
Verdict
So close yet so far. Easy to set up and use, the HomeDock with Music Remote offers good sound quality, decent value at $130 - the UK release date and price has yet to be announced - and a not half-bad user interface, the odd glitch and small-sized remote notwithstanding. But that lack of access to your iPod's album list is a big drawback for anyone with a decent-sized album-based music collection.