Original URL: https://www.theregister.co.uk/2007/09/11/general_dynamics_mr1_rugged_umpc/
General Dynamics offers rugged UMPC
Laughs off nerve gas and even coffee
Posted in Personal Tech, 11th September 2007 17:36 GMT
After a slow start, the UMPC concept seems to be gaining momentum in recent months. The latest entrant to the field is US arms colossus General Dynamics, which launched its GoBook MR-1 rugged UMPC at the DSEi military tech fair today.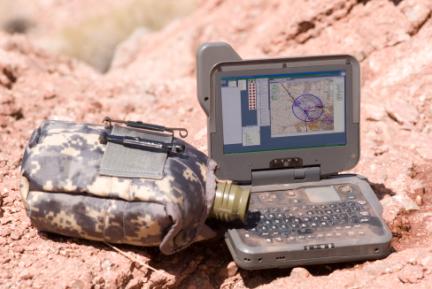 The MR-1: is that all you've got?
The MR-1 is properly ruggedised, passing the American MIL-STD 810F and IP54 benchmarks for resistance to drop, vibration, dust and water. Sandy McCaskie, European MD for General Dynamics' comms-and-computers business, told the Reg that it floats, too. He also said that if you get it covered in - for instance - VX persistent nerve agent, it can be soaked in bleach without suffering any harm. That's handy, as one would then be able to let it touch one's skin again without suffering a terrible agonising death. (McCaskie also stressed that the MR-1 is designed to be used easily while wearing gloves.)
Inside the tough case is quite a good little computer built around a 1.2 GHz Intel Core Solo processor. You can have 512 megs or 1GB of DDR II DRAM; and standard storage is a 40 GB shock mounted, heated hard drive. There will be options for up to 32GB of Flash instead, for ultimate ruggedness.
The MR-1 will ship initially with XP Pro, but McCaskie assured us that it is "fully Vista capable" - though he didn't anticipate many of his military and blue-lighter customers wanting that to start with.
The touchscreen display is 5.6", and 1024 by 600. It also boasts GD's new DynaVue™ tech, designed to make it easier to use outdoors in conditions of bright sunlight. McCaskie demoed this for us on the deck of the "Sunborn" motor yacht hotel, and it has to be said the DynaVue™ screen was much easier to read in the sunshine than the Reg's own PDA. DynaVue™ apparently works by enhanced contrast rather than brighter backlighting, so as to reduce power demand. The MR-1 is rated for three hours of battery life with its standard battery, but there's a heavier long-life one which offers twice that.
As for connectivity, the MR-1 comes with three radios of your choice: EVDO for the States, EDGE/UMTS/HSDPA for Europe, Bluetooth Class II, 802.11a/b/g WiFi with WPA. It also has a 2.5mm audio jack, speakers, mike, and a single USB slot; plus RF connectors to allow the machine to work with vehicle antennas. There's an expansion dock offering serial, extra USB, and a Trusted Computing chip to boot.
The MR-1 was designed with GPS in mind, though you don't have to have it. Satnav equipped MR-1's have a protruding, flat aerial assembly on the top left corner of the lid, a good sign - we've been less than impressed on occasion with the capability of integrated, antenna-free GPS receivers in smartphones. (And indeed, it isn't uncommon for these units to need a helping hand from mobile-mast locations to get going.) McCaskie swears that the MR-1, however, is as good as a dedicated satnav unit. He says this was achieved by using a proper antenna, and by paying attention to suppressing the MR-1's own self-generated interference.
The basic unit is 0.91kg, and 40 x 152 x 110mm - too big for a normal pocket, but an easy fit for combat trousers.
Overall, the MR-1 is a very wantable piece of kit - perhaps even for ordinary users. McCaskie has hopes that it won't be just military and police forces who buy the MR-1; he also thinks that service engineers and their IT admins might like it too. He might be right, as the machine shrugs off oil, grease and swarfega as readily as it does nerve gas - and it can cope with being kept in a tool box or thrown into the back of a van.
As for the rest of us, this could finally be a genuinely hot-coffee-proof gadget - "the ultimate test," as McCaskie put it. He swears the MR-1 can take a tall sugary Americano on the keyboard without blubbing, though the on-the-spot demo was only with water.
The catch? As ever with rugged gear, the price. General Dynamics expect the baseline MR-1 to retail for £2,618. That's not too bad for a rugged unit, but you could get several ordinary UMPCs for the same money. ®