Original URL: https://www.theregister.co.uk/2007/09/11/connectionjuggle/
Juggle those connections
It's a multi-protocol world
Posted in Networks, 11th September 2007 11:16 GMT
Mobile Workshop It doesn't seem that long ago that we were debating whether Wi-Fi would make 3G redundant. Well it didn't happen, and with the "son of 3G", HSDPA, now a mainstream option for business connectivity, and driving rapid uptake, it seems less likely than ever that cellular data options are going to go away.
In fact, in a recent Reg Panel survey, you made it very clear that cellular and Wi-Fi would co-exist, with the cellular continuing to dominate for handled connectivity and Wi-Fi being emphasised for notebooks PCs (see chart).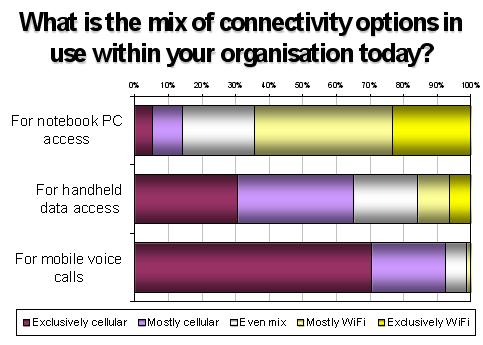 Regardless of the emphasis, however, the message seems to be that a blend of options is what's really needed. Even for notebooks, three quarters of respondents saw a place for cellular, as even the most dyed-in-the-wool Wi-Fi advocate will sometimes not be able to find a handy hotspot. And in the other advocacy camp, many a cellular enthusiast will argue that with the speed and convenience of 3G/HSDPA connections today, coupled with flat-rate billing, why would anyone mess around with the inconvenience of tracking down and authenticating against a Wi-Fi hotspot at all?
Extremes and vested interests to one side, though, the reality is that we are going to be living in a multi-protocol wireless world as we look forward, and as options such as WiMax and others come along, these will simply add to the cocktail.
At one level, this is very good news as it represents choice to the customer and also the opportunity to mix and match to achieve the most appropriate blend to meet user requirements.
There is an obvious challenge, though, and that is managing the complexity and redundancy. The average user does not want to have to think about how to connect to achieve the best balance between bandwidth, latency, cost, and so on, and the purse-string holders in business clearly don't want to be paying twice for services that fundamentally do the same thing – get their employees connected.
It is against this background that connection management solutions (some call them dashboards) and various commercial bundling and network aggregation approaches have emerged. But do these provide for what is needed or is there still some way to go? In this week's mobile workshop, we'd be interested in your views, and perhaps your predictions or "wish list" for mobile connectivity in a multi-protocol world over the coming five years.
You can have your say below.®