Original URL: https://www.theregister.co.uk/2007/09/07/review_epson_p-3000_pmp/
Epson P-3000 photo viewer and media player
The iPod for digital photography buffs?
Posted in Personal Tech, 7th September 2007 11:28 GMT
Review Epson is probably not the first name that springs to mind when deciding which PMP to buy, and its P-3000 - a numerically and technically updated version of the company's well-received P-2000 - provides a slightly askew interpretation of what's traditionally expected from a portable media player.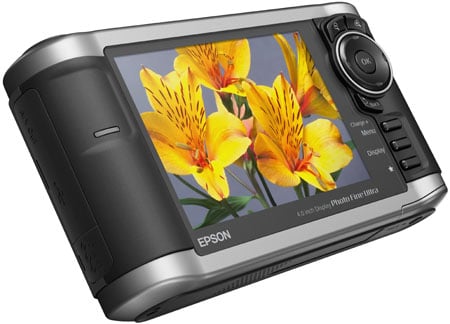 Epson's P-3000: more picture viewer than video player?
Instead, the P-3000 is more a portable multimedia storage viewer, but PMSV doesn't have quite the same ring to it as PMP.
The smaller of two devices - the bigger sibling, the P-5000, offers an 80GB hard drive compared to the P-3000's 40GB - the P-3000 has received a total makeover from its predecessor, with a slicker and sexier design, better control system and much-improved display, more of which later. We plumped for the less capacious of the two simply because of the lower, more accessible price point: £350, compared to £500 for the P-5000.
The first thing newcomers to the Epson range will note is the P-3000's size and weight. This is no Archos 605 - reviewed here - in terms of svelte, pocketable brilliance. If you're carrying the Epson in your bag or (very large) pocket, you're going to know about it. Measuring 15 x 8.9 x 3.3cm, give or take, it weighs in at a hefty 426g.
Once the back pain has eased, however, and you take the time to examine it up close, you realise that the P-3000 has been endowed with a comprehensive and logical design. The 4in LCD dominates the front, but wherever there's an inch of space available you'll find control keys, connections or card slots aplenty.
Build quality is absolutely rock solid too, and the curvaceous new shape makes it extremely easy to grip and hold securely, with the raised and tactile buttons responsive and easy to use. For use 'in the field' or on the move, it's perfect.
One of the areas Epson has really concentrated on is the P-3000's screen - sorry, "Photo Fine Ultra LCD Viewer". It's certainly good enough for professional field use and supports most image files, including Raw, Adobe's DNG and JPEG files.
The big news is the PMP-first use of a four-colour filter system creating 16.7m colours, which means the P-3000's 640 x 480 screen can display images encoded in Adobe RGB colour space by splitting ordinary green into emerald green and yellow green alongside the conventional red and blue (RGB). This not only increases detail levels but also widens the entire colour gamut making shots more realistic and natural.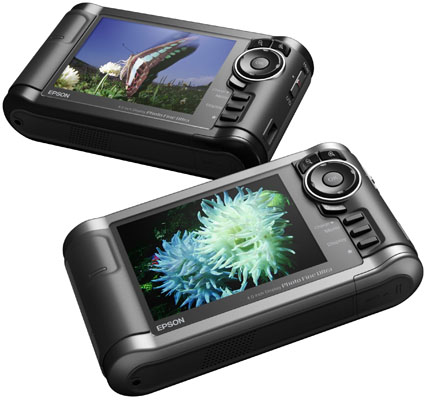 Epson's P-3000: a 16m-colour screen, perfect for pics and videos
Certainly the images provided on the P-3000 were extremely impressive, but our own sun-splashed beach shots taken on a Samsung NV10 digicam looked as good as we've ever seen them on a portable digital display. And if you're still in any doubt as to the screen's quality, the P-3000 offers a 400 per cent zoom feature that holds up almost unbelievably well.
Uploading shots is as simple as ABC thanks to the USB connectivity and those bountiful memory card slots that cater to SDHC, MMC, CompactFlash and Micro Drive. It would have been nice to see xD and Memory Stick support.
Viewing photo files is a simple affair broken down into three modes: 12 or 64 thumbnails, or an extended list. You can whizz through the thumbnail files at a rate of knots so finding specific images is quick and easy, though we found that scrolling through fullscreen images - especially those big Raw files - caused a real lag that soon became frustrating.
Video playback is another area that benefits hugely from that capable new screen. Epson has built in support for MPEG 1,2 and 4 as well as AVC, WMV 9, Motion JPEG and DivX for compressed files - no XviD though. Moving images were rendered equally as well as stills, with little to no motion blur or jitter evident and contrast levels strong enough to keep blacks black.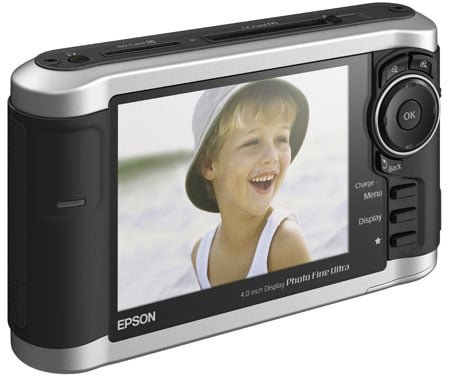 Epson's P-3000: strong image format support
The P-3000 is also the first portable product to support xvYCC video colour space, an extended colour space for video application that makes colours punchier and more potent. A video-out port is included for hooking up a TV.
Audio support is reasonably comprehensive, with MP3, AAC and WMA formats all present and accounted for. Sound quality is impressive through a decent set of cans, which we would always advise over the bundled headphones or - gulp - using the on-board speaker, here bizarrely located on the underside of the player so when stood up you can't hear it.


Epson's P-3000: slots'n'ports a-plenty
The user interface is text-led and as such is very simple to get to grips with, especially thanks to that big and bright screen. There are some minor quirks, such as the option to access photo files from different menu options rather than just via the My Photos icon, but they never hindered our navigation.
New Link2 software means it's easy to manage all of your multimedia files, with automatic format conversion so you don't have to panic about compatibility issues. Transfer and back-up speeds are like lightning: around 160s for 1GB of data (6.4MBps) from a CF card.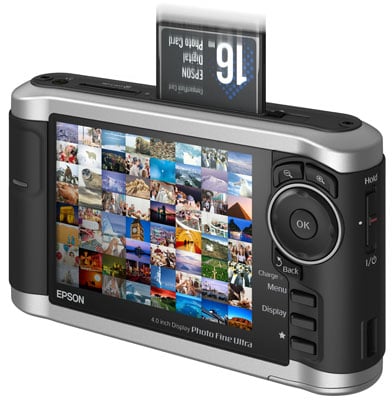 Epson's P-3000: easy-to-use thumbail-based UI
The rechargeable lithium-ion battery provides a claimed three hours of continuous slideshow action, and never ran out during our encounters, rounding off what we're not ashamed to admit was a surprisingly impressive all-round performance.
Verdict
There's no escaping the fact that Epson's P-3000 is very different to its PMP rivals. It's unquestionably bigger and bulkier than we'd like - and judging from other feature-packed PMPs on the market we can't believe Epson couldn't slim things down - but it feels reassuringly robust.
Our only other complaint of note has to be the cost-to-capacity ratio: 40GB of storage for £350 doesn't represent great value for money these days, and upping to 80GB is bank-breakingly expensive - ridiculous for a product presented as a portable storage device. This almost places Epson's multi-talented marvel in the niche sector for photographers, which is a real shame because it's a well-featured, easy to use and extremely high quality device with a screen as good as any we've yet seen on a portable device.