Original URL: http://www.theregister.co.uk/2007/09/06/review_archos_605/
Archos 605 Wi-Fi personal media player
The acme of PMPs?
Posted in Personal Tech, 6th September 2007 11:02 GMT
Review Archos' 605 Wi-Fi represents the flagship model of the French manufacturer's fifth generation of Personal Media Players (PMPs). And although it may not look entirely dissimilar to its predecessors, the 605 brings plenty of new features to the table.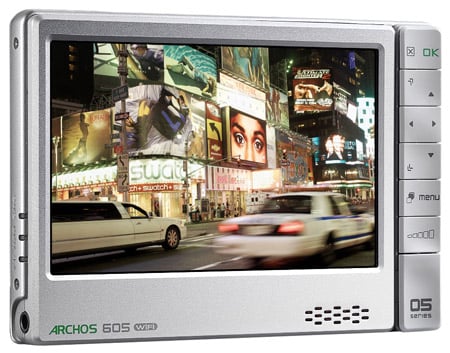 Archos' 605 Wi-Fi: hugely capacious
Arriving in reasonable 30GB, 80GB and enormous 160GB hard drive flavours, Archos has also seen fit to mix a 4GB Flash-based model into the equation. With plenty of music, movies and more ready and waiting to be uploaded, we snaffled the 30GB version from the sweaty palms of the Archos crew.
Aesthetically, the 605 is tailor-made for the iPod generation, garnered as it is with a smooth silver-white livery. At only 15mm thick - the 160GB model is a little more portly - it's also slim enough to slip into your (oversized) pocket or bag without concern.
The front is dominated by an indulgent 4.3in touchscreen that covers almost the entire surface area, only begrudgingly allowing a single line of responsive but sturdy keys along the right-hand side and tiny speaker grille on the bottom. It's a great looking layout that's both intuitive and easy to get to grips with, our only qualm being the spacing around and behind the keys that don't look like the easiest areas to clean. We wonder how long before that silvery finesse is besmirched with greasy fingers and bottom-of-the-bag detritus.
There's a slick little kickstand on the opposite side of the screen, which is well placed and sturdy enough to hold the player up without fear of it toppling over in a light breeze - a feature most PMP manufacturers seem to genuinely struggle with. There are also two styluses provided should you be blessed with butter-stump fingers, though there's no slot to keep one or both in.
Build quality is in general superb, and the 605 feels like it can take the knocks of everyday use without difficulty.
The 605 is well endowed with features, to say the least. But it's not all good news, as several of the default menu icons link to sections where peripherals are required. Peripherals you have to buy, that is.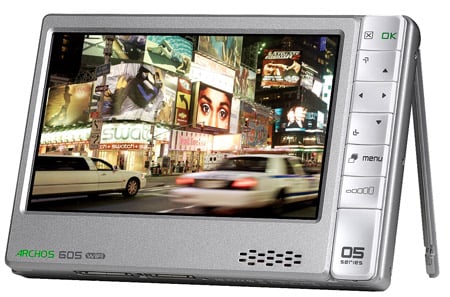 Archos' 605 Wi-Fi: feature-packed... if you buy the add-ons
A case in point: Archos likes to describe the 605 as a handheld DVR. But you can only record TV shows if you also avail yourself of the £70 DVR Station TV Dock, which also lets you play back video content on your TV. It supports 720p HD and even 5.1-channel audio. The Archos' seven-day electronic programme guide schedules your recordings and is village idiot simple to use. You can even copy content direct from your Sky+ box or existing DVR via RCA leads.
The 5G Archos also provides wireless streaming from PC to TV, allowing you to watch online content on the big screen. It connects to a PC via USB, accessing tried and tested drag and drop functionality in Windows for use as a portable hard drive. In our tests, everything worked impressively smoothly and quickly, with ample file support including PDF, BMP, PNG and, of course, JPEG.
A raft of audio and video formats are also fully catered for. Sonically, MP3, WAV and WMA (protected and unprotected) are compatible out of the box and support for AAC and AC-3 5.1 sound files is available via paid-for download for around £13 each. Video-wise, WMV and MPEG 4 (no DivX) are supported to DVD resolution, though H.264 and MPEG 2 are again only available as downloads.
Wi-Fi is the big draw where the 605 is concerned, and Archos has slipped some tidy tricks up its sleeve. Access to the net comes via the Archos Content Portal, but first you have to download and pay for - notice a theme here? - the Web browser. It's a quick and painless process, but not for your wallet.
Once running though, the 605's browser work well. It's fast enough - if not exactly speedy - and sites like Google loaded glitch-free, but it was a one-way ticket to YouTube for us, as the 605 features Adobe Flash support. Watching videos of idiotic people hurting themselves for fun in full-screen mode was a truly joyful experience, the screen standing up to the test flawlessly.
Features dealt with, the acid test is always the performance. The Archos handles audio files deftly, with a warm and subtle quality to music. The on-board speakers are, as always, laughably inadequate and crumble under any kind of volume, but when we paired the 605 with our Creative in-ear Aurvanas, we were very pleasantly surprised by the sound quality. It easily rivals the iPod - and indeed matches it as the Archos too lacks an FM radio.


Archos' 605 Wi-Fi: peripheral connector on the base
The Archos' screen has been bumped from its predecessor's 480 x 272 resolution to an eye-crackling 800 x 480 and the difference is frankly amazing. Moving and still images are incredibly detailed and smooth, with vibrant colour reproduction and barely any pixelation in even the darkest and fastest-moving scenes. Zooming in on still photos is simple, and scrolling around is just a case of dragging your digit across the screen.
It's instant too, which is a big bonus, as we always hate that lag that comes with a cursor. But if you don't want to tarnish the screen, full functionality is still available through the side keys.


Archos' 605 Wi-Fi: side view
A built-in - and non-removable, tssk - lithium-ion polymer battery provides a claimed 17 hours' audio and 5.5 hours' video playback, which we found to be fairly accurate, give or take an hour depending on the files we were watching and listening to.
Verdict
The Archos 605 represents the cream of the current PMP crop, and no mistake. It looks, feels and performs like a professional, with an intuitive and even fun UI, great features and the capability to bring the PMP into the mainstream the way no other device really yet has. Its screen is scintillating - show it to someone's who's not a gadget buff and we guarantee they'll be slack-jawed at the quality on offer.
Its one major failing comes with the peripherals issue - having to pay for the plug-ins and TV dock is a pain. We'd rather Archos upped the price and bundled it all, since they're as essential as eyes if you want to make the most of the 605's manifold talents.
Even with these hidden costs however, the 605 still represents great value for money and will keep you entertained for hours, no matter where you are.