Original URL: https://www.theregister.co.uk/2007/08/29/nokia_entertainment_music_mobiles/
Nokia beats out four music handsets
So many to choose from
Posted in Personal Tech, 29th August 2007 12:12 GMT
Nokia has launched four new handsets that are likely to be music to the ears of the mobile entertainment-obsessed masses. Each handset offers an array of music and multimedia capabilities, with two handsets based on the Finnish-manufacturer's established XpressMusic brand.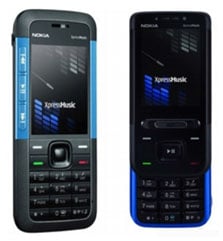 Nokia's 5610 (left) and 5310 (right)
The 5310 XpressMusic handset has a 2in 240 x 320 (QVGA) display and an internal memory fit for about 3,000 songs, but also includes a slot for Micro SD memory cards of up to 4GB - rivalling some of the smaller capacity iPods for storage. It also has a two-megapixel camera and dedicated shortcut keys that help take users directly to their tunes.
The 5610 is Nokia's second new XpressMusic handset and comes with a slightly larger, 2.2in display and capacity for about 3000 songs, although its memory card options are the same as the 5310's.
A more impressive 3.2-megapixel camera is built-in and the handset is 3G-enabled, allowing users to, say, download even more songs or to talk with friends about the songs they like via a video call. Both the 5610 and 5310 are also compatible with Nokia's recently launched online music service.
Nokia's already bursting N-series has also been expanded to include the 3G-capable N81, which in addition to its music focus includes gaming functionality with in-built options to locate, buy, mange and play games from the N-Gage website.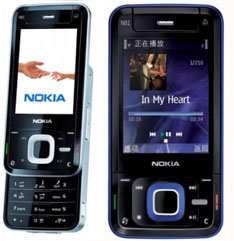 Nokia's N81 gaming and music phone
It also has keys that light up when pressed, perhaps a way to help keep bleary-eyed gamers awake, a 3.5mm headphone jack and is available with 8GB of built-in storage. However, this is sold as a separate, larger capacity handset - the basic N81 comes with 2GB of built-in storage.
Last to roll of the new handset line is the N95, a new version of the old handset, this time with 8GB of on-board memory. It also offers a five-megapixel lens, a 2.8in QVGA display and HSDPA connectivity for faster downloads.


Nokia's N95: now with more song storage
All of Nokia's latest handsets are expected to ship in the fourth quarter of 2007, with the 5310 priced at €225 and the 5610 priced at €300. The standard N81 will retail for €360, with the 8GB model priced at €430. The N95 will cost €560.