Original URL: https://www.theregister.co.uk/2007/08/28/review_engenius_si-680h_wi-fi_phone/
EnGenius SI-680H Wi-Fi VoIP phone
Have Wi-Fi, can call via VoIP
Posted in Personal Tech, 28th August 2007 11:02 GMT
Review VoIP may be revolutionising the telecoms industry by allowing us to make free calls with little more than a broadband connection and computer, but it's also tying us to our PCs. If you'd rather spend more time talking than being tied to a machine, a Wi-Fi phone like the EnGenius SI-680H will help you cut the cord.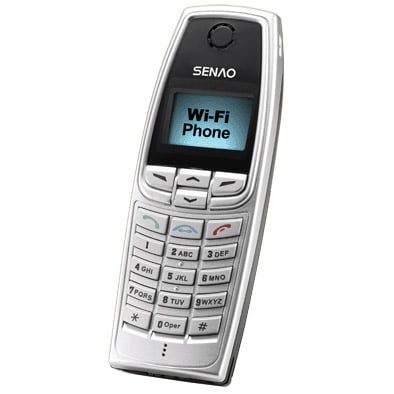 EnGenius' SI-680H: PC not required
The SI-680H houses all the necessary gubbins to make VoIP calls without requiring a PC to be on while it's doing it. It can log onto a Wi-Fi network, pick up an IP address, and then place calls via an SIP provider all without the help or assistance of a computer.
The advantage of this approach is that it not only means you can make VoIP calls at home using your own wireless network, but you can also use it while you're out and about and in range of a suitable Wi-Fi hotspot.
However, although it supports protected Wi-Fi connections, which require a password or key to access, you won't be able to use it on a network that requires you to purchase access via a web browser as there isn't one built into the handset. Fine if you're visiting an office and you know the network key, but not suitable for chatting away in Starbucks.
The handset design is pretty basic - think mobile phone from about five years ago. Compared to the pretty interfaces of today's mobile phones it's fairly ugly by comparison, but it's still reasonably easy to navigate and does the job. Likewise, it's not exactly big on styling, but it's not too large or bulky and it's not too unpleasant to look at.
Getting it set up - which like most SIP-based VoIP devices is not exactly thrill-a-minute - is a relatively painless process. It will search for available wireless networks and once you've entered any necessary security details it will log on and acquire an IP address.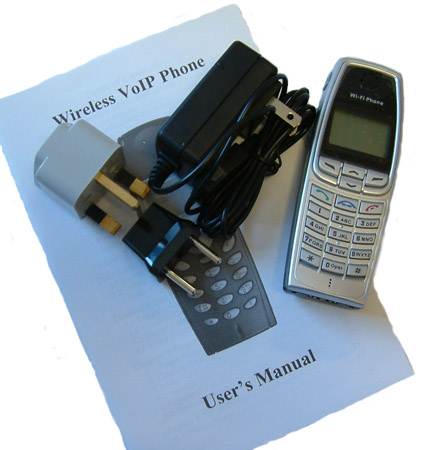 Spartan package
From here, you can enter the seemingly bizarre and arcane SIP settings via the phone's menu and keypad - but it would be a fairly time consuming and convoluted process. Luckily, you can also log onto the phone using a web browser and change the settings there, which is a much more simple way of getting it up and running. The phone initially was set up to try and automatically acquire its SIP settings - with no mention of how to turn this off in the manual. However, once the hidden menu setting had been deactivated, it was happy to accept manual configuration.
Getting it up and running with VoIP provider Sipgate took about a further five minutes and then it proceeded to register with the server and was ready to make and receive calls a couple of minutes later.
When making calls from a landline phone to the SI-680H the quality was very impressive on the fixed line side with the conversation almost imperceptible from a normal call. Call quality on the SI-680H side was also good, but was marred by a slight buzzing from the handset that seemed to occur constantly throughout the call.
The handset features an internal address book, so you don't need to remember everyone's number, and caller ID is passed through to the handset. Unfortunately, the two don't seem to be linked in any way, so even if a contact is in the phone book, the number rather than the name appears on the display for incoming calls. Perhaps even more bizarrely, the call history links up with the phonebook, listing entries by name rather than number... so it seems a little odd.
The phone book can also be accessed via the web interface, making adding or updating a large amount of numbers a much less daunting process. It's also possible to backup and restore the phone book, so you don't need to worry about losing all your contacts if you become separated from the phone.
If you're the sort of person that delights in customising their ringtone, you'll be sorely disappointed with the sparse selection on offer from the SI-608H. There are 11 to choose from and only likely to appeal to those that delight in listening to monophonic renditions of out-of-copyright concert tracks. More annoyingly, there isn't one that's just a ringing sound, making it a ticking time bomb of embarrassment if someone rings you in while you're out in public.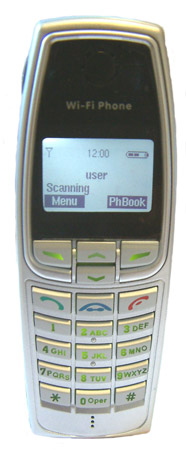 Address book challenged?
The SI-680H is not a particularly hardy device. You wouldn't expect it to be able to take the same amount of abuse as a mobile phone, but you'd still expect it to be resilient enough to take the odd knock here and there. However, it would appear that the battery connection is especially prone to bangs as if you drop it from just one centimetre onto to a desk on its back it will shut off, which isn't exactly extreme testing.
The handset uses a mobile phone-style charger that clips into a socket on the bottom of the phone, which does the job, but a cradle would be more convenient, especially as its battery life isn't particularly long. Despite a claimed 100+ hours claimed standby time we found we were hard pushed to get more than a day or so out of it.
Verdict
If you can see past its lacklustre looks and basic interface, the SI-608H is a pretty nifty little device. It combines the affordability of VoIP calls with the ease of use of a normal cordless phone by hopping on your own Wi-Fi network. What's more, you can even take it out and about with you and make calls if you can find suitable Wi-Fi coverage.
However, it's also not the most hardy of handsets and its battery life is a little on the short side, which doesn't make it particularly reliable. It's almost there, but requires a bit of polishing to make it a truly must-have handset.