Original URL: https://www.theregister.co.uk/2007/08/23/halo3_xbox_priced/
Xbox 360 Halo 3 kick-ass console priced
Bundle not too spartan
Posted in Personal Tech, 23rd August 2007 15:05 GMT
Amid the increasing interest in the Xbox 360 Elite UK launch tomorrow, pricing details and technical specifications for the Halo 3 special edition console - first seen back in July - have finally been released.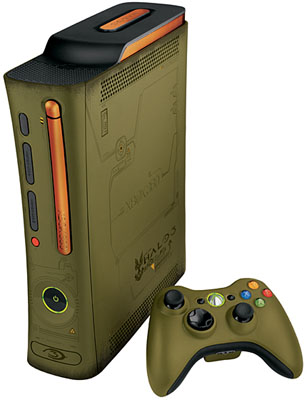 MS' Halo 3 Xbox 360: feast your eyes...
Carrying a price tag of £280, the special edition console sports an appropriately themed wireless controller - Spartan Green is the official colour designation - a 20GB hard drive, wired headset, component-video AV cable, Ethernet cable, HDMI cable, Halo 3 gamer pics and theme exclusive downloads via Xbox Live, Xbox Live Silver membership and one-month Xbox Live Gold membership.
Based specifically on Halo 3, which isn't due to arrive in UK shops until 25 September, the war-torn, post-apocalyptic green machine also features classic Halo orange shades around the top and on the machine's disc-loading tray front.
Across the topside and around the power-on button of the console, Microsoft has also sketched in Halo-equse designs and added a Halo emblem, which is also included on the front flap that conceals the console's USB ports.
Sadly however, you have to spend yet more of your hard-earned if you want the game itself, 'cause that isn't included.