Original URL: https://www.theregister.co.uk/2007/08/22/google_sky/
Google invades Outer Space
Welcome to Google Sky
Posted in Science, 22nd August 2007 11:01 GMT
Google has announced a nifty extension to its Google Earth which allows users to scan the night sky in search of constellations, planets, and other extraterrestrial wonders - Google Sky: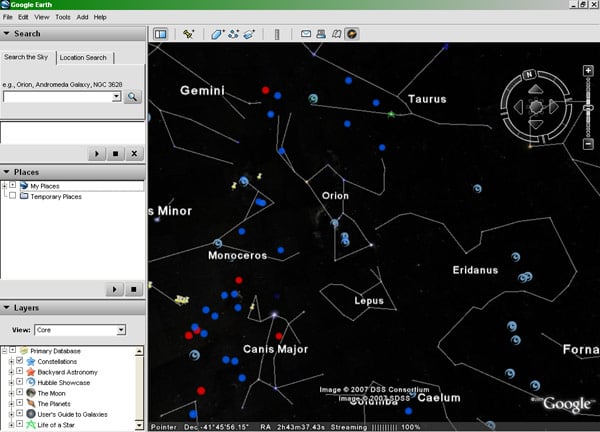 The add-on is available on the latest version of Google Earth, and hitting the "Switch between Sky and Earth" button on the top toolbar immediately offers an upward view with seven optional layers: Constellations; Backyard astronomy (info on objects visible to the eye and via small telescopes); Hubble Showcase (129 high-res Hubble snaps); The Moon (two months of lunar positions and phases); User's Guide to Galaxies (virtual galaxy tours); Life of a star (a star's life cycle explained); and Planets (positions of seven planets two months ahead). Here's some info on Mars: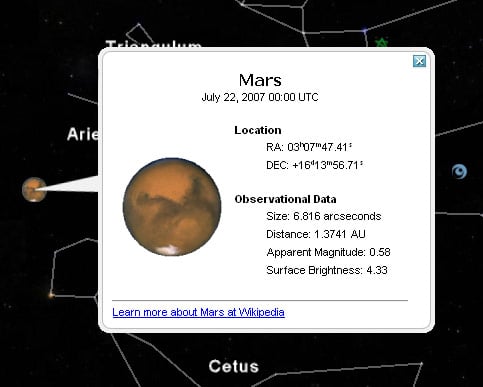 Hmmm. We're not entirely sure this image of Mars is dated 22 July, and the system does seem to be suffering a few teething problems. For example, it insists on sending my placemarks into the depths of outer space, and accordingly there's a cluster of black helicopters currently swarming around Canes Venatici, not far from the first topless Dutch sunbather to venture outside the Earth's atmosphere.
Equally unlikely is this example of what happens when you click on Venus: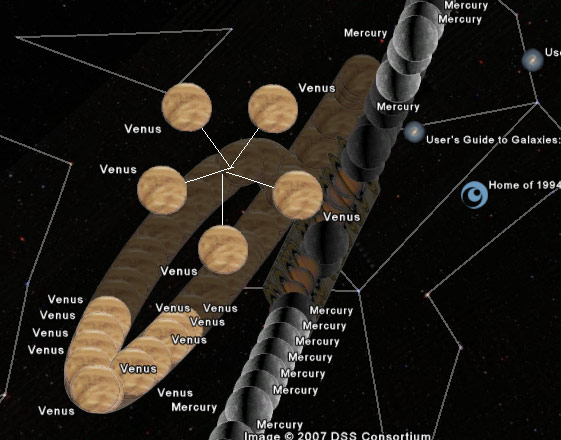 Or, if you want to see Uranus explode, try this: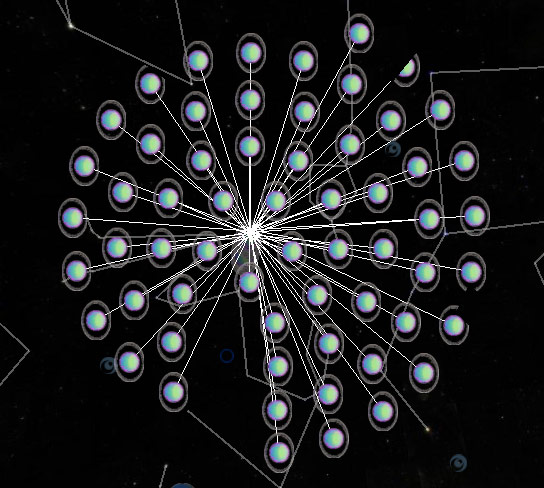 Quite what that's all about is anyone's guess. Still, Google Sky is a another small step for Google towards aquiring all the data in the known universe. Happy intergalactic surfing. ®