Original URL: http://www.theregister.co.uk/2007/08/22/feature_tv_on_your_mac/
How to get TV on your Mac
Watch and learn
Posted in Personal Tech, 22nd August 2007 11:02 GMT
Feature Will Apple ever equip its Macs with TV tuners? Plenty of users have asked it to, and Apple's own Front Row software would certainly make a smart user interface for a DVR. But as Apple's Apple TV set-top box shows, the company's more interested in persuading consumers to pay to download TV shows from iTunes than watch broadcast telly.
Thankfully, that's not the end of watching TV on a Mac. Other companies are willing to fill the gap Apple has left, and if you want to watch analogue or digital broadcasts, satellite or cable transmissions on your Mac, you can.
The doyen of Mac TV products is Germany's Elgato, which has come to dominate both the software and hardware sides of the equation. It's software is EyeTV, currently at version 2.4, and has a feature list and a slick user interface that puts much of the software bundled with Windows-oriented TV tuner hardware to shame.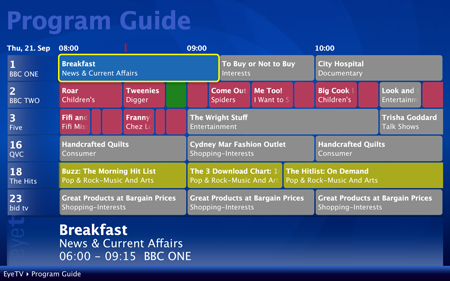 Elgato's EyeTV: select a channel
EyeTV provides all the customary DVR features - record shows there and then, schedule recordings, pause live TV, etc. - and even allows you to edit recordings to trim out ads and bits of previous and subsequent programmes that have been grabbed along with the show you want to watch.
The software works with Roxio's Toast disc burning application, if you have it, to facilitate archiving, and it'll also reformat recordings at the push of a button for the Apple TV and iPod - and, for that matter, other playback gadgets that support the same H.264 video format.
EyeTV includes a year's subscription to Europe's TVTV.com online electronic programme guide, though it'll also pick up EPG information broadcast by digital TV channels. You can organise channels into favourites, by genre, or by whatever means takes your fancy.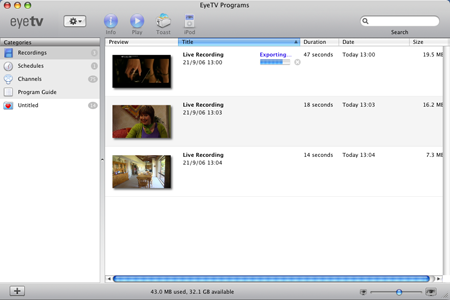 Elgato's EyeTV: manage and export your recordings
It is, in short, the definitive TV application for the Mac and well worth the €80/$80 (£40) Elgato's asking for it. Of course, Elgato bundles EyeTV with its own line of TV tuner hardware, but it'll also work with an array of hardware from other manufacturers, including Plextor, Twinhan, Terratec, Pinnacle, Miglia and Hauppauge, so you're not tied to buying Elgato's own hardware. There's a full list of EyeTV-compatible tuners here.
Indeed, Pinnacle has two Mac-oriented products: the digital-only TV for Mac DVB-T Stick and the digital and analogue TV for Mac Hybrid Stick - both of which bundle a cut-down version of EyeTV, EyeTV Lite. They're priced at £70 and £100, respectively. EyeTV also works with Pinnacle's otherwise PC-only PCTV series of USB tuners.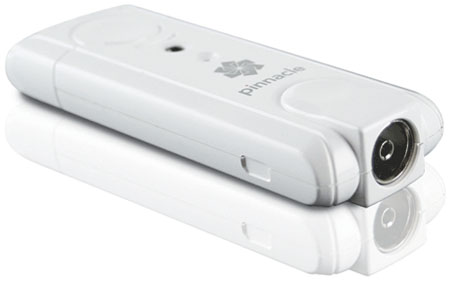 Pinnacle's Mac DVB-T Stick: Freeview ready
Terratec likewise offers Mac versions of its Cinergy DT USB XS Diversity dual digital tuner; Cinergy T² external tuner; digital-only Cinergy T USB XS; and digital/analogue Cinergy Hybrid T USB XS, all bundled with EyeTV.
Hauppauge offers €20 off the price of EyeTV with its compatible hardware products, the WinTV Nova T, WinTV HVR 900 the WinTV HVR 950 and the WinTV Nova TD. Each comes with a code you can key into a page of Elgato's online store to redeem the discount.
Elgato itself offers are range of very similar products - most come from the same Asian manufacturers and are rebranded by the local suppliers - including the digital/analogue EyeTV Hybrid, the digital-only EyeTV DTT and the dual-tuner digital-only EyeTV Diversity, all USB dongles, and all HDTV compatible once HDTV programmed is broadcast over the Freeview network. You'll need a modern Mac to smoothly show the HD picture.
These, and similar products from the other suppliers, certainly work well with Macs, though while they all come bundled with one or more mini aerials, we'd recommend you use them with a standard roof- or loft-mounted antenna to pick up the largest selection of channels.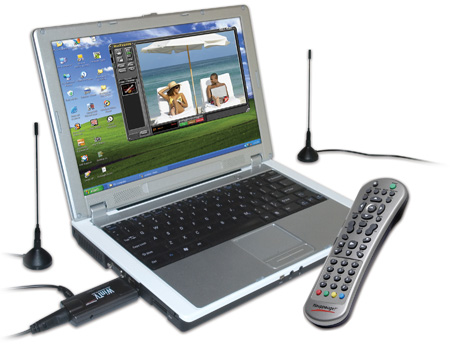 Hauppauge's WinTV Nova TD: two tuners to boost reception
Diversity-branded dongles come with two antenna and the ability to use both tuners as a single, stronger receiver. It certainly improves the reception, but, depending on your location, you may find the improvement limited. This isn't going to change until analogue transmissions are turned off and UK DVB-T signal strengths can be increased.
All these tuners connect to a USB 2.0 port, but that's not the only option available to MacBook Pro users: Terratec also offers the Cinergy T Express, an ExpressCard 34 tuner that makes for a less obtrusive add-on, and one you can leave connected to your laptop when when you're carrying it around. The Express uses a mini antenna socket, but Terratec bundles an adaptor so that card can take a standard co-axial aerial cable feed.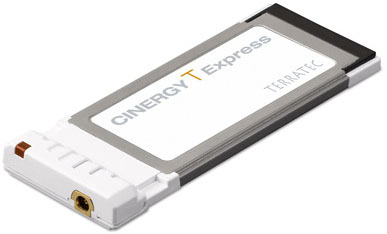 Terratec's Cinergy T Express: notebook-friendly
Terratec told us there's no substantial difference between the USB and ExpressCard tuners - offering two form-factors is more about catering to more buyers' requirements than delivering a more capable product. That said, the higher bandwidth provided by ExpressCard may prove advantageous in future.
Incidentally, owners of PowerBooks, with old-style PC Card slots, can avail themselves of Formac's Watchandgo.
Myth TV on Mac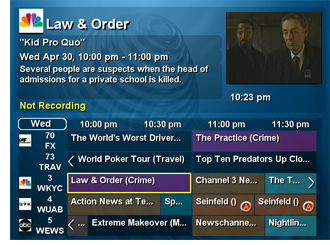 MythTV
is a very impressive, feature-rich open source DVR software package with a big, friendly user interface, and ever-expanding functionality that's seen the addition of game console emulation, weather look-up, video playback, CD ripping and more. It can do digital TV and HD.
Originally developed for the Linux operating system, it's since been converted to Mac OS X. Well, sort of. MythTV has two components: the front-end UI and a back-end that does all the heavy lifting. Right now, while the front-end code runs under Mac OS X in PowerPC, Intel and Universal forms, you'll need a separate Linux box to run the back-end software, which you'll need for recording, for instance.
While MythTV supports video capture from Firewire-enabled set-top boxes, it's limited to Linux-compatible TV tuner hardware, which pretty much means tuners on internal cards and not USB tuners.
So it's not a product for folk seeking an easy life; rather it's a tool for hackers looking to build a DVR or a networked media server out of an old PC.
Mac TV tuner specialist Miglia also has an ExpressCard product on offer, the TVBook Pro, but it's a chunkier beast than the Terratec. Miglia offers an analogue USB tuner, the TVMicro Express; and a digital tuner, the TVMini Express. It used to equip these with EyeTV, but a little while back decided to use alternative software, The Tube, from US developer Equinux. It provides essentially the same set of features as EyeTV 2 - which you prefer is largely a matter of personal taste. Officially, it only supports Miglia products and Equinux's own TubeStick USB tuner, and is not available - apart from the test release - as a standalone product.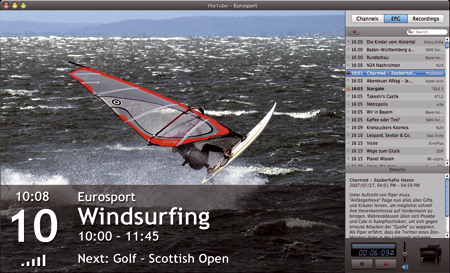 Equinux's The Tube: bundled with Miglia tuners
The hardware products listed above all work with the DVB-T (Digital Video Broadcasting - Terrestrial) standard used in the UK by the terrestrially broadcast Freeview channels, but there are other transmission modes, specifically cable and satellite. Elgato's external EyeTV 310, for example, supports DVB-S. There's a big caveat, however: it doesn't work with Sky. Yes, the box has a smartcard - aka CAM (Conditional Access Module) - slot to enable the decryption and display of some European DVB-S services, but Sky works differently.
Elgato's EyeTV 610 works with the cable-centric DVB-C system, again backed with a CAM slot. At this stage, however, it won't let you view Virgin Media cable broadcasts, even with a slot. Indeed, Elgato doesn't offer the 610 in the UK for that reason.
On the other hand, the EyeTV 410, a DVB-T product, also contains a smartcard slot so it's possible to access pay TV channels sent via Freeview, such as the TopUp TV selection. The snag is TopUp TV's shift to its Anytime, which downloads overnight the programmes you want to view. EyeTV 410 lacks the software to support this mode, and at this stage it will only support old TopUp TV access cards.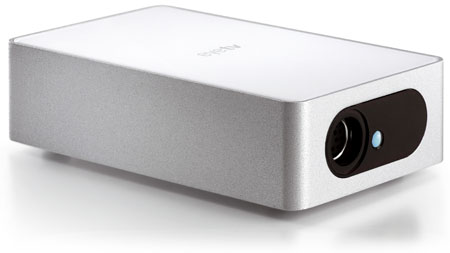 Elgato's EyeTV 250 Plus: MPEG encoding hardware built in
Last but not least, Elgato's new EyeTV 250 Plus is a digital and anlogue tuner with a difference: it has on-board hardware compression hardware. Other analogue tuner products from Elgato and others use software compression, so they're dependent on the power of the host Mac. That may not worry Mac Pro owners, but it'll be good news for folk with iMacs, MacBooks and older machines.