Original URL: https://www.theregister.co.uk/2007/08/21/review_dell_inspiron_1720/
Dell Inspiron 1720 laptop
A laptop to replace your desktop
Posted in Personal Tech, 21st August 2007 14:59 GMT
Review Dell has hit refresh on its Inspiron range of notebooks and added the desktop replacement 1720, using the latest Intel Santa Rosa technology. This addition is one in a line of constant improvements to the Inspiron range, which appeals to both business and home users.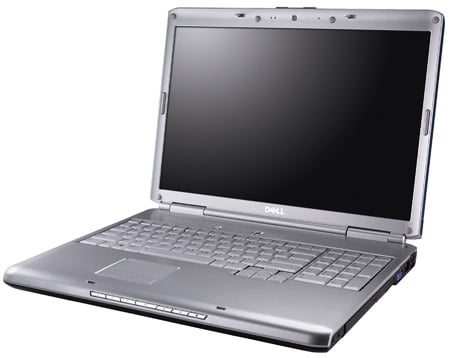 Six different flavours are available...
With the 1720, Dell has caught the coloured notebook bug. The chassis may be the normal silver colour, but you can now personalise the lid with a choice of eight colours - a matt black called Jet Black, and six microsatin finishes, Midnight Blue, Bubblegum Pink, Spring Green, Ruby Red, Sunshine Yellow and Espresso Brown. Yes, really. A gloss white finish is also available, but you may have to wait up to 20 days longer before you can get hold of your Mac look-a-likey.
Whichever hue you choose, you won't be showing if off too often as it weighs in at a spine-crippling 4.3kg including the power brick - hence the desktop replacement tag. As standard, the 1720 comes with a 85WHr 9-cell battery, but battery life for this type of notebook is a bit academic as it'll spend most of its life on the mains. In a worse case scenario, however, with all the power savings turned off it gave a battery life of around 2hrs 45minutes.
As always with a Dell system there's plenty of choice when it comes to fitting out your 1720. Our review system came with an Intel Core 2 Duo T7100 processor, which is clocked at 1.8GHz and has an 800MHz FSB speed and 2MB of L2 cache, but depending on your budget you can choose from a 1.66GHz Core 2 Duo T5450 up to the mighty Core 2 Duo T7700 clocked at 2.4GHz with 4MB of L2 cache.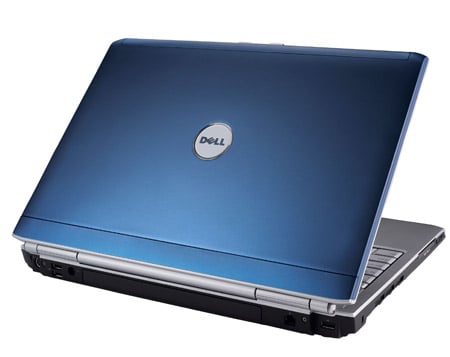 The screen is held in place by a pair of serious looking hinges
Backing this up as standard is 1GB of PC2-5300 667MHz memory, but the review system had 2GB of memory - an additional £111.62 on the standard price. The motherboard comes with two SO-DIMM slots supporting up to a total of 4GB of memory. All this gives the 1720 plenty of performance, as indicated by the PCM05 score of 4710, so all your everyday applications should run without too many mishaps.
Handling the graphics is a 256MB nVidia GeForce GO 8600M GT card, which again is a deviation from the standard 128MB GO 8400M GS. While the games performance isn't going to give a hard core gamer any sleepless nights, it does give a fair degree of games play - as shown by the average frame rate of 90fps using FEAR's built-in benchmark. This was at a resolution of 1,024 by 768 pixels with all the game details set to maximum. Even at the screen's native resolution (1,440 x 900) it still managed 78fps. To enhance your games play, the 1720 comes with integrated 7.1 audio courtesy of a SigmaTel chip.
Output from the GO 8600M GT powers a 17in WXGA+ LCD widescreen, which with its 1,440 x 900 pixel native resolution gives a good deal of working space. However, if your budget will flex to another £105.75, the UltraSharp WUXGA widescreen option is a no-brainer, especially as this has an amazing 1,920 x 1,200 pixel native resolution. Built into the top of the screen is a 2 megapixel webcam. Theres plenty of protection for the screen, as it doesnt show any sign of flexing and its held in place by a pair of serious looking hinges.


The left side is taken up by a large cooling grill, Express card slot and the on/off/ Wi-Fi catcher switch
The build quality extends to the full size keyboard, which is a delight to type on. The keys respond to the lightest touch, and there's also a 10-key numerical pad too. Similarly, the touchpad is sensitive but not too sensitive and has both vertical and horizontal scrolling functions.
The indicators for mains power, battery power, Wi-Fi etc are back lit by blue LEDs and are found to the top right hand edge of the unit, neatly mirrored by LEDs on the side of the chassis.
Dell supplied the 1720 with a 160GB Fujitsu hard drive with a spin speed of 5,400rpm so not the fastest drive available, but you will hardly notice it. If you yearn for even more disk space, the 1720 has the internal space for an extra drive, Dell offers pairs of drives up to a stunning (for a notebook anyway) maximum capacity of 500GB (2 x 250GB drives costing £317.25 for the pair). Backing up the hard drive is a built-in 8x DVD burner.
The port placement on the 1720 seems a little lopsided as nearly everything is placed on the right hand side. The left is consumed by a large cooling grill, Express card slot and the on/off/ Wi-Fi catcher switch. The Wi-Fi catcher helps find the strongest Wi-Fi signal and connects you to it.
The right hand side also holds the optical drive, the 8-in-1 card reader, two audio and two USB 2.0 ports, a 4-pin FireWire port, LAN and VGA ports. On the rear of the chassis sit three more USB ports, an S-Video ports, and the V.92 modem port.


The media controls allow you to enjoy music and film without troubling Windows
You might have spotted two items missing from the impressive list of ports, namely a DVI and/or a HDMI port - which become more of a problem and even more puzzling omissions when you consider that you can order your 1720 with a Blu-ray drive (additional £387.75) in place of the standard DVD burner. The question then becomes how you output HD content from the notebook to a external screen without either of these two ports?
To talk to the outside world the 1720 offers plenty of options, including 3G Wireless Broadband and Draft-N Wi-fi but our review model was a bit more basic; 10/100 Ethernet (disappointingly no Gigabit option), 802.11g Dell Wi-Fi, and a V92 K56 modem.
Verdict
Dell's Inspiron 1720 is well put together and, given its price, has an impressive feature list. As is the case with nearly all Dell's systems you can customise it to your own tastes when it comes to ordering, and the option to fit two hard drives makes it stand out from the crowd. But the glaring omission of either DVI or HDMI out ports is a bit silly, and then offering a Blu-ray drive as an option even sillier - especially as the hefty size of the chassis will confine it to within a stone's throw of the mains, and you will be wanting to output your content to a decent sized screen rather than having everyone huddled around a notebook.