Original URL: https://www.theregister.co.uk/2007/08/20/shuttle_dean_home/
Hurricane Dean menaces Jamaica, sends shuttle packing
NASA keeping its eyes peeled
Posted in Science, 20th August 2007 12:35 GMT
The space shuttle Endeavour is heading home a day early, as concern rises that Hurricane Dean, currently battering the south coast of Jamaica, could turn North and threaten mission control in Houston.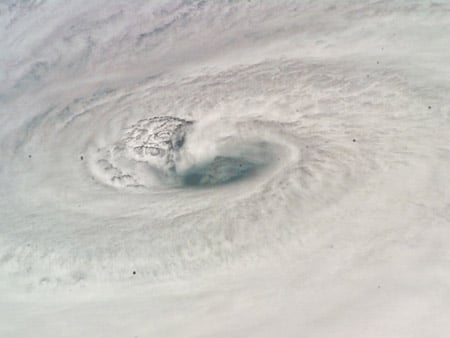 NASA said that although it could get a skeleton mission control crew to Cape Canaveral, it would rather bring Endeavour in with a full complement of staff on hand.
The shuttle has already undocked after mission controllers shortened the final spacewalk by two hours, to give the crew time to get ready for the journey home. The shuttle has a couple of landing opportunities: the first at 12:32pm, eastern time. This calls for a deorbit burn at 11:25am. The second landing slot is at just after 2pm, local time.
The decision to come home early is very much a precautionary measure, NASA said. John Shannon, head of the mission, told reporters: "There is still uncertainty with a storm like this, but right now it's looking pretty good from our standpoint. The threat is certainly somewhat less than it was the last two days."
Early on Monday, Hurricane Dean and its 150mph wind, was about 150 miles southeast of Grand Cayman, moving west at about 20mph. NASA says it will continue to monitor the storm, which is expected to pass close to the Cayman Islands, before hitting Mexico later today (Monday).
The space agency also said it would decide this morning whether or not to call up Edwards Air Force Base to be ready as an alternative landing spot. It has already ruled out New Mexico's White Sands Space Harbour.
You can read The BBC's report on Hurricane Dean here. ®