Original URL: https://www.theregister.co.uk/2007/08/20/amd_3-2ghz_athlon_x2/
AMD's dual-core Athlon 64 line hits 3.2GHz
Chip family goes mobile too
Posted in The Channel, 20th August 2007 05:33 GMT
AMD has today rolled out a fresh top-of-the-line mainstream desktop dual-core processor and - bizarrely - extended the same Athlon 64 X2 family into the mobile market.
The new desktop part is the 6400+, clocked at 3.2GHz, fitted with 2MB of L2 cache and priced at $251, as previously forecast.
The 6400+ is available to buy in both tray-packed batches and individually in boxes that describe the part as the "Black Edition" X2.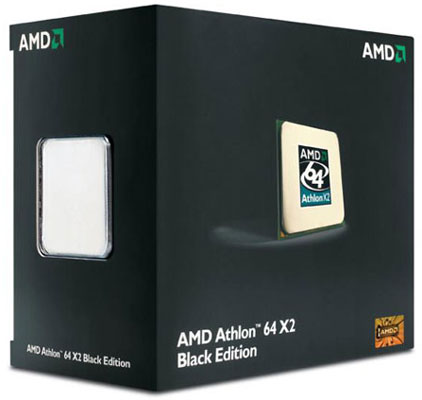 AMD's 3.2GHz Athlon 64 X2: boxed
AMD is also offering an Athlon 64 X2 for notebooks. With the model number TK-53, the 1.7GHz chip has 512KB of L2 and a 1600MHz HyperTransport bus. That's the same frequency as the member of AMD's current Turion 64 X2 dual-core mobile processor line-up, all but one of which contain 1MB of L2 and clocked from 1.6GHz to 2.3GHz.
The cheapest Turion costs $154 in batches of 1000 CPUs, while the TK-53 costs $144 in the same quantities.
In the past, AMD offered mobile versions of its single-core desktop processors, but these where phased out when the originally single-core, now dual-core Turion family debuted.