Original URL: http://www.theregister.co.uk/2007/08/16/apple_cans_appleworks/
Apple 'retires' AppleWorks
Ye Olde Appe dropped for brand spanking new iWork 08
Posted in The Channel, 16th August 2007 02:03 GMT
Apple has finally put its venerable AppleWorks integrated productivity software application - a package it hasn't updated for more than three years - out to pasture.
According to a MacWorld UK report, Apple's dealers were notified of the move last week, and with the arrival of a new version of the iWork suite with a spreadsheet package, AppleWorks disappeared from Apple's main applications webpage. The old AppleWorks URL, www.apple.com/appleworks now redirects to the AppleWorks support page.
AppleWorks was last updated by Apple more than three years ago, in January 2004, when it released a series of patches for the Mac OS X, classic Mac OS and even the Windows version of the product.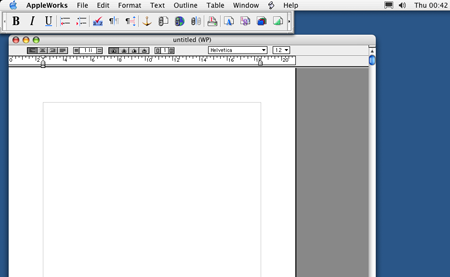 Apple's AppleWorks 6 for Mac OS X
The app as we know it today - there was also an Apple II AppleWorks way, way back - was originally launched as ClarisWorks in 1991, a year after Apple spun Claris out as an independent entity. The Windows version followed two years later, in 1993. In 1998, Apple took ClarisWorks back, then at version 5, and Claris transformed into FileMaker, to focus on its most popular app.
Apple renamed the app AppleWorks and began bundling the Mac version with its consumer-oriented machines. AppleWorks 6 was released early in 2000.


AppleWorks for Mac OS 9
Integrated applications like AppleWorks and MicrosoftWorks evolved as all-on-one apps that offered the same features as standalone office applications. Microsoft's move to bundle Word, Excel, PowerPoint and other apps in a single package made buying full-scale productivity apps less onerous, particularly once the suite's price began to plummet, and demand for the less functional integrated apps waned. They exist now mainly as cheap apps for PC makers to bundle.