Original URL: https://www.theregister.co.uk/2007/08/14/xshot/
Camera pole puts you in the frame
Stretch out and snap
Posted in Personal Tech, 14th August 2007 12:45 GMT
It's weird, it's ever-so slightly ridiculous and it's up to 94cm long. What is it? It's the XShot handheld camera pole, which the manufacturer claims enables users to snap themselves in pictures or videos just by holding it out in-front.
XShot said all digital compact cameras can be secured onto the pole, and taking pictures is then just a matter of switching your camera to self-timer mode and holding the pole out in-front of you. However, this pole is strictly mono, as it doesn't have any supporting legs, so you may need to adjust your camera's shutter speed to compensate for a wonky grip or shaky hand.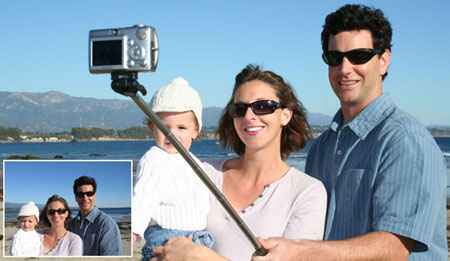 The XShot is poles apart from traditional camera tripods
It might look like a walking stick, but the XShot is apparently the longest such pole on the market and collapses on itself to 23cm for easier storage. It also weighs 0.24 pounds and is made of stainless steel, with a rubber handle grip and hand-strap. Presumably it will double as a baton if you're taking pics in, shall we say, a less than safe neighbourhood.
The XShot is available now in the US for around $25.