Original URL: https://www.theregister.co.uk/2007/08/14/review_blackberry_8820/
RIM BlackBerry 8820 smartphone
Now with added Wi-Fi
Posted in Personal Tech, 14th August 2007 11:02 GMT
Review It seems that Research In Motion (RIM) just can't help adding new features to its BlackBerry line. It's barely six months since the 8800 was released and there's already a new model nipping at its heels. The 8820 offers the form factor and features of its predecessor but adds a couple of new extras - most notably Wi-Fi.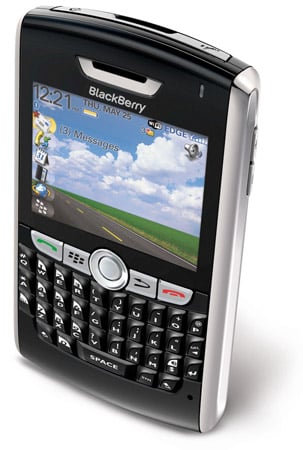 RIM's BlackBerry 8820: Wi-Fi at last
Now, before you get all excited and start thinking of making next-to-nothing VoIP calls rather than paying over-the-odds mobile rates there's something to bear in mind. While the 8820 offers 802.11g connectivity there's no SIP (Session Initiation Protocol) support, unlike other Wi-Fi mobiles - though whether the network has hobbled it or not is another matter.
Instead, the 8820 supports UMA (Unlicensed Mobile Access), which means you can't just sign up for any old VoIP service. Essentially, the phone sees your home Wi-Fi connection as a basestation and an extension of the mobile network. It does mean that you should be able to get cheaper calls, but that depends on your network. On the plus side, it allows for seamless handover between GSM and Wi-Fi - so if you're talking to someone as you get home, the call will automatically switch to your wireless network.
The 8820 is currently only available on Orange, so it should work with the carrier's Unique UMA service. However, the review unit was supplied with a Vodafone SIM, so it wasn't possible to test this.
To help manage the increasing number of connections on offer, the BlackBerry's normal Wireless On/Off icon has been replaced with a new Manage Connections utility that controls GSM/GPRS, Wi-Fi and Bluetooth from a single place.
To help get Wi-Fi up and running, there's a wizard to guide you through the process and if you've configured a laptop for wireless access, the 8820 should prove no more difficult than that.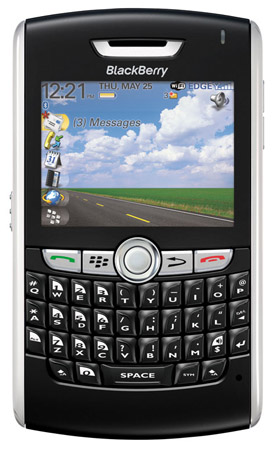 RIM's 8820: Favours UMA not VoIP
When it comes to using Wi-Fi, however, the results aren't as great as you might think - not everything works when you've only got Wi-Fi activated, which is a pain. For example, with GSM turned off and only Wi-Fi connected, the web browser and BlackBerry Messenger applications worked without a hitch. However, Google Talk refused to log in, complaining that the radio was off, and while BlackBerry Maps would start it didn't appear to receive any map data. More importantly, for a messaging device, it wasn't possible to send email with GSM turned off - messages just sat in the message list and were only sent when the cellular radio was switched on again.
These issues could be teething problems since BlackBerry applications haven't had to contend with more than one internet connection before, so hopefully they'll be sorted out shortly with a software update. It could also be the case that applications such as email will work when a UMA service is available, since that appears as an extension of the mobile network to the handset.
Besides the addition of Wi-Fi, not that much has changed compared to the 8800. You get the trackball for navigation, so jumping around the interface is a breeze, and there's a full Qwerty keyboard so tapping out responses to emails isn't a problem. It does take a little bit of time to adjust to the keyboard, but the shaping of the keys minimises mistypes, so you should be up to a decent typing speed with a little practice.
The built in GPS combined with BlackBerry Maps means you shouldn't have a problem finding your way around. Map data is downloaded over the mobile data connection, so if you're not on an all-you-can-eat plan then it could start to become expensive.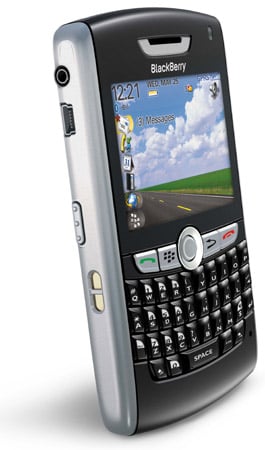 RIM's 8820: GPS navigation included
The media playback side of things has had a slight overhaul, making content-browsing easier. Video playback support runs to MPEG 4 Part 2 Simple Profile, H.263 and WMV, while on the audio front it can handle MP3, AAC and WMA. There is a built in speaker, but for decent audio you'll need to use headphones. To help you get your content into BlackBerry friendly formats, there's a copy of Roxio Media Manager thrown in.
Unlike the Pearl or Curve models, this Blackberry has no built-in camera - although for some overly sensitive corporations this could be seen as a good thing.
Internal memory only stretches to 64MB, but you can expand it with Micro SD cards, including newer, Micro SDHC cards that, eventually, will be available up to 32GB. The slot is situated round the back under the battery cover, though, so it's not exactly easy to get to.
As well as Wi-Fi, there's Bluetooth 2.0 and quad-band (850/900/1800/1900MHz) GSM/GPRS support.
As you'd expect from a BlackBerry, the 8820 includes extremely good support for mobile email. Whether you opt for the business BlackBerry Enterprise Server or consumer BlackBerry Internet Service, once you've got it set up your email will be pushed to the device, so you're automatically alerted to new messages.
Despite cramming in more on technology on the inside, the 8820 is no bigger than its predecessor and still measures 11.4 x 6.6 x 1.4cm and weighs 134g with the battery. Battery life is claimed to be 22 days with five hours' talk time - although this will depend on how much you use the Wi-Fi and GPS. With reasonable use, however, you should get week out of it between charges, we'd say.
Verdict
The addition of Wi-Fi to an already extremely good handset is no bad thing - it's just a shame that it's not as good as it could be. Tying it into to a UMA service makes sense from an ease of use point of view, but the lack of native SIP support means you can't pick and choose your Voip provider. Application support for Wi-Fi isn't quite there yet either, which means there are some teething problems, but these should be easy enough to sort out. Despite some shortcomings, a BlackBerry with Wi-Fi is still better than one without so if you've got the choice then you're better off going for the 8820 over the 8800, as it does everything the latter can and a little bit more.