Original URL: https://www.theregister.co.uk/2007/08/14/pav_challenge_nasa_couldnt_care_less/
NASA comp fails to produce flying cars
Where the hell is my flying car?
Posted in The Channel, 14th August 2007 13:24 GMT
Analysis A NASA-sponsored competition designed to encourage the development of personal aircraft was won on Saturday by a modified Slovenian aircraft piloted by an Australian.

The winning Pipistrel Virus. Nice, but no flying car.
The inaugural Personal Air Vehicle (PAV) challenge event was held at the Charles Schultz Sonoma County airport in California last week. PAVs aren't proper science-fiction flying cars - at least, not yet. They aren't supposed to be able to lift off vertically or hover. Rather, the idea is to produce a relatively normal-looking light aeroplane which is very quiet, fuel-efficient, and can operate from a very short runway. This could, perhaps, be achieved for a price that ordinary-ish people could afford.
That set of capabilities would reduce several of the problems which have historically meant that we don't all own our own planes and use them for routine journeys. There might be a runway in every neighbourhood; they'd be normal road features, like roundabouts or lay-bys. PAVs being so quiet and only needing such short runways, nobody would mind this.
You could park your PAV in your garage or outside your house with the wings folded. In the morning, you'd jump into the PAV, taxi it round the corner to the nearest runway - and up, up and away. No gridlock or motorways for you. You'd set down close to your destination. Shopping malls, big corporate campuses, inner-city car/PAVparks and such would have their own runways. You'd park and do your thing.
All this is to ignore a remaining huge snag. Flying a light aircraft requires more training and skill than driving a car, even in ideal weather in uncrowded skies. A basic pilot's licence requires dozens of hours of instruction and allows one to fly only in benign weather and airspace which is mostly empty. A full instrument rating, enabling a pilot to operate in low visibility and congested skies, is a much bigger deal - but without this, most people would hardly ever be able to use their PAVs.
PAV advocates' proposed solution to this is a much more advanced autopilot and instrumentation fit. This would mean that a pilot in cloud or fog never had to learn how to fly his aircraft manually without visual cues, watching a selection of counterintuitive dials while being directed through traffic by a human ground controller over a voice channel. Rather, he or she would use "synthetic vision", a screen showing the terrain below, other aircraft in the sky, and probably a virtual "pipe" or "tunnel" in the sky, down which the air-traffic computers had routed the plane. In normal circumstances the PAV would fly itself down this pipe automatically, perhaps even landing itself autonomously at the destination strip.
Autopilot and glass-cockpit gear like this does exist, but it isn't small or cheap, and the automated air-traffic infrastructure which would let hundreds of thousands of PAVs fly about simultaneously above a large conurbation - bad weather or good, never mind - isn't even close to existing. It could be built, but that doesn't necessarily mean it will be. It's also more than possible that if it was built, PAVers of the future might often find themselves circling interminably in airborne traffic jams just as if they were sitting on the freeway: though the use of three dimensions and many runways rather than few could mitigate the airborne gridlock.
NASA used to have it's own PAV project office at the Langley Research Centre in Virginia. The NASA PAV team was working on a demonstrator aircraft called "Tailfan", powered by a silenced V-8 car engine driving a specially-developed ducted fan unit rather than a normal prop, in order to cut down the noise. The plan was to have a TailFan plane flying by 2009, but NASA says (large pdf, page 64) it "redirected funding within its Vehicle Systems Program and the PAV activities at Langley were therefore terminated in 2005".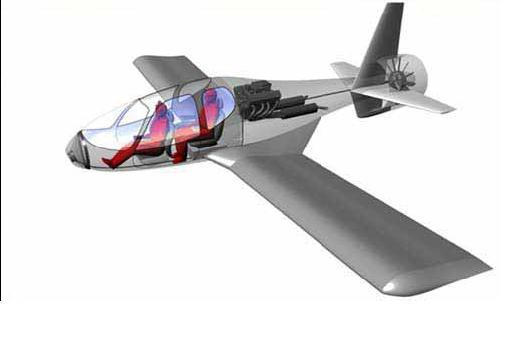 The NASA "TailFan" concept, cancelled in 2005.
That more or less killed the PAV off, but as a sop to flying car lovers NASA did offer some minimal prize funding to encourage private aviation enthusiasts to keep the idea going at their own expense, under the "Centennial Challenges" programme. The Cafe Foundation, a non-profit group of volunteer plane testers and PAV lovers, agreed to run the competition.
As one might expect, there were problems. Just $250,000 in prize money isn't a big incentive for people to design aircraft, or even to modify them much, given the very expensive regulatory and certification requirements - and the hard minimum targets set by NASA for anyone to win any of its prize cash. Despite significant relaxations in the rules, three teams dropped out in July leaving just four in the running.
The four teams weren't, naturally enough, able to offer anything even as advanced as the TailFan. Two modified Pipistrel Virus motorgliders, a Vans RV-4 and a familiar old Cessna 172 were entered. The Virus, flown by Australian Pipistrel pilot Michael Coates, scooped most of the cash, winning on shortest takeoff and best fuel efficiency to take the grand overall prize as well.
According to CNET's Stefanie Olsen, Coates characterised the Virus as the "Prius of airplanes". The $70,000 Virus isn't a hybrid, in fact, but it does get about 50 miles to the gallon going at up to 140mph. It's still no PAV, though: no folding wings, not very quiet, not even slightly road legal, and definitely no "synthetic vision" super-autopilot.
The RV-4, specially tricked out for quietness, won that event, and the trusty old Cessna - in production for 50 years - won the ease-of-handling prize.
"The results make sense," said NASA's Mark Moore, who was chief of the NASA PAV programme until it was shut down.
"The Cessna 172 is the most successful (and highest production volume small aircraft) precisely for the reason that the handling qualities are so good."
Moore praised the Virus for its light weight. "Only 682 pounds empty weight complete: it literally carries more useful load, that is passengers, fuel, and baggage, than the aircraft weighs."
It's hard to say that the cause of personal flying cars has been much advanced here, however. NASA had to relax its targets noticeably to even get teams to compete, and $250k for flying cars isn't drawing attention and effort the way $10m for private rocketplanes did in the case of the Ansari X-Prize.
"Next year the prizes are larger and will be harder to win," Moore told CNET. But there's only $2m in the kitty for five annual prizes. Unless some very rich flying car enthusiasts get involved, this concept is going to be a long time going anywhere at all.
The fact is, the Centennial Challenge tech-prize programme is appearing more and more as the graveyard where NASA sends ideas to die, rather than a place for schemes it actually believes in.
As for private backers, why would internet billionaires spend their fortunes developing flying cars - the way several of them are doing on spaceships to carry them and their superwealthy pals on suborbital jaunts? Billionaires don't have spaceships, but they already have helicopters and private jets. They probably aren't interested in making flying cars for ordinary people. ®
Disclaimer: Lewis Page holds a private pilot's licence, somewhat out of date and with no instrument rating. He wants a flying car more than almost anything. And a spaceship. He just doesn't believe anybody's going to let him have either.