Original URL: https://www.theregister.co.uk/2007/08/14/ivy_cuts_carbon/
Power gadget set to cut electricity bills
Turn off all your equipment at the push of a button
Posted in Personal Tech, 14th August 2007 08:02 GMT
A company based in the UK has launched an innovative way to quickly and easily turn off all that household electronic equipment more often than not left on power-consuming 'standby' mode: a radio-controlled power plug.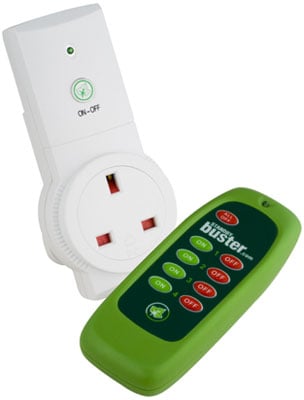 Ivy's Standby Buster: power cutter
Dubbed the Standby Buster, it's a three-pin adaptor that sits between, say, your TV's power cord and the mains socket. The gadget comes with its own remote control - push the button and the power to the telly is cut completely.
TVs, games consoles, DVD players, set-top boxes et al may consume much less power when they're switched into standby mode then when they're operational, but they still gobble up electricity - in total around seven per cent of the UK's energy usage, Standby Buster maker Ivy Energy Saving said.
The Standby Buster consumes less than 1W - much less than a stack of AV equipment. It'll result in less carbon production too.
One Standby Buster and a remote costs £15, but Ivy's also offering the gadget in packs of three plus a remote for £30. A single Standby Buster costs £9. The remote can control up to four Standby Busters.
Ivy reckons its gadgets can save you up to £40 a year, based on calculations made by consumer organisation Which?
Available now direct from the manufacturer's website, the Standby Buster will go on sale through Argos stores next month.