Original URL: https://www.theregister.co.uk/2007/08/13/space_station/
NASA examining Shuttle's dings, extending mission
All go up on the space station
Posted in Science, 13th August 2007 11:14 GMT
Mission controllers at NASA are inspecting some damage to the shuttle Endeavour's heat shield sustained during the "flawless" launch last week.
Before docking with the International Space Station (ISS), the shuttle performed a now-routine flip to allow the ground crew at mission control to inspect the craft for damage. The eagle-eyed boffins spotted five dings in the insulating tiles.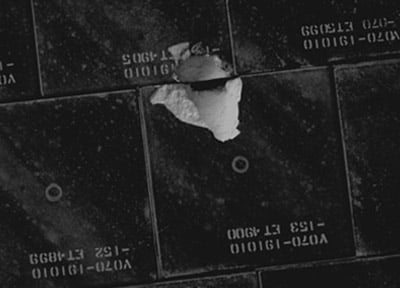 Damage to Endeavour's heat shield. Credit: NASA
Four of the five have been deemed unlikely to pose a threat to the shuttle during re-entry, but one is suspect. Now Endeavour's crew is taking a closer look to determine the exact size of the void. This data will be used to work out whether or not the shuttle can withstand the furious heat of reentry without undergoing repairs.
NASA says nine pieces of foam broke away from the fuel tanks as the shuttle launched. Managers think one of these may have hit the tiles as it fell away, causing the damage.
NASA has also elected to extend Endeavour's mission to 14 days, only possible because the shuttle has been drawing power from the space station for the last five days.
The extra time means the crew will be able to add a fourth spacewalk to their schedule (not including any possible excursion for repairs). The astronauts will install equipment used to stow the Orbiter Boom Sensor System at the station between shuttle flights.
Mission specialists Rick Mastracchio and Dave Williams are scheduled to take the second space walk of the mission today (10:30am, CDT), during which they will replace a control moment gyroscope that was shut down when it failed in October last year. ®