Original URL: http://www.theregister.co.uk/2007/08/09/review_lenovo_thinkpad_x61_tablet/
Lenovo ThinkPad X61 Tablet
Dr Lenovo has increased the strength of medication with the latest X61 Tablet
Posted in Personal Tech, 9th August 2007 15:28 GMT
Review Lenovo supplies its X series ThinkPad as a regular laptop and also as a reversible Tablet in both X60 and X61 variants, so that's four basic models, but there are so many options and variants that it's almost impossible to list them in a tidy way - but we'll give it our best shot.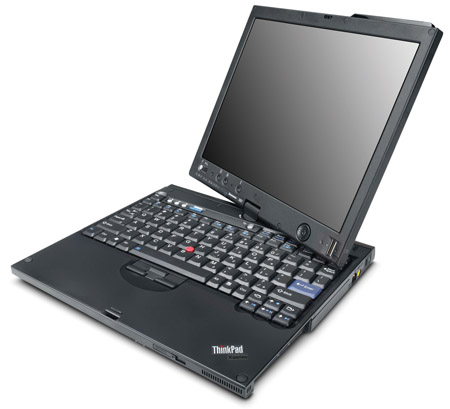 ThinkPad X61: sports a 12.1in MultiView screen
Every X61 uses the Intel 965G Express chipset with ICH8-M and you then choose your processor speed. Our review sample uses the 1.6GHz Core 2 Duo L7500 processor, or you can go for the 1.4GHz L7300. It runs Windows Vista Business without the Aero interface, but you can also choose from Vista Ultimate, Vista Home Premium, and XP Tablet Edition. You'll recall that Vista includes Tablet and Media Centre features.
We got a 12.1in MultiView screen with 1,024 x 768 resolution, rather than the brighter 12.1in Super-Wide Angle screen with the same resolution, or a widescreen 12.1in screen that displays 1,400 x 1,050 pixels.
The hard drive is a 120GB 5,400rpm model, but you can also choose from 60GB, 80GB, and 160GB drives with the same spin speed, or 60GB and 100GB drives at the faster 7,200rpm speed. Lenovo offers up to 4GB of PC2-5300 memory, which is handy if you go down the 64-bit OS route, but we got a relatively miserly 1GB of RAM.
Graphics use the Intel GMA X3100 core, which is part of the 965G chipset where the earlier X60 model used an ATi X1400 chip in conjunction with the 945 chipset.
Even the connectivity throws up choices, so all models have a V92 modem and Intel Gigabit LAN as well as Bluetooth, but there are three different Intel wireless modules on offer. There's the older 3945ABG, which will please system administrators who want to maintain a level playing field, or the 4965AG that we got, while the more courageous types may choose the 4965AGN with its support for 802.11n.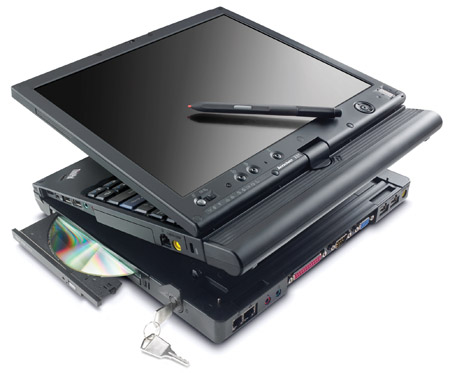 It also transforms into a giant robot. Nah, not really
The regular 4-cell Li-Ion battery has a claimed life of three hours, but our sample had the extended eight-cell battery with a claimed life of seven hours. During testing we got two hours 17 minutes of constant use, which was somewhat less than expected. That figure translates to about 4.5 hours of real-world usage. The third option is to add a second battery to the eight-cell unit, which gives a claimed life of 9.5 hours.
The nature of the swivel joint on the X60/61 Tablet means the Tablet battery is slightly different to the regular ThinkPad unit. One thing missing from the X61 is an optical drive, so you'll need an X6 UltraBase. There are a number of models on sale so you can expect to pay £130 or more, which seems a bit steep when you consider that the X61 as reviewed has a price of £1,800 plus VAT (£2,115 inc VAT). Mind you, we found a very similar model on sale at Dabs (albeit with a four-cell battery) for £1,364 inc VAT, which would appear to be an enormous discount.
You don't get a huge array of ports and connectors on the X61, so in addition to the features we've mentioned there's VGA output, an SD card slot, a type II PC card slot, mini Firewire, and three USB 2.0 ports. The spec says the PC card slot can accommodate a 34mm ExpressCard via an adapter, but there was no adapter in the package. We never expected the X61 to set the world alight with an L7500 processor, but it was depressing how long it took Windows Vista Business Edition to chug into life.
What's more, the Windows Vista Sidebar is an absurd idea on a small 4:3 aspect ratio screen and that User Account Control (which is annoying at the best of times) is especially frustrating when the hardware is so slow. We're quite sure that Windows Vista makes the X61 slower than it would be if it ran XP, but it also brings some benefits.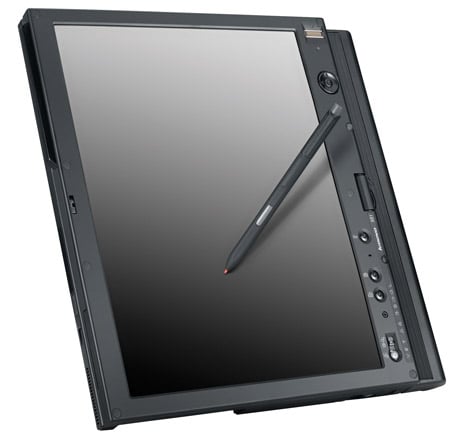 The X61 touch screen can distinguish a point contact, which is rather neat
There's the integrated Tablet support for one thing, as well as support for a TPM 1.2 module and fingerprint reader for added security. Lenovo has also worked to improve the usability of its excellent software package with ThinkVantage System Update 3. It connects to the Great Server In The Sky to check for updates and then installs them within Windows.
There's none of that DOS nonsense that ThinkPad users of old remember, but the system isn't perfect. Connecting to the server can take a while and downloads can be quite erratic, so we suffered some anxiety when we saw there were three critical updates of which the largest was Rescue and Recovery 4.0 for Windows Vista v1.01 (why not v4.01?) which weighed in at 572MB.
In the event, it took 20 minutes to download and install 45MB of important updates while the enormous critical update happened in just a few minutes, which suggests that it was actually far smaller than 572MB. Although we were unimpressed by the speed of the hardware, we had no such problems with the quality of the X61.
The chassis is made from a magnesium alloy, so it's reasonably light at 2.02kg, yet it is very stiff and resistant to distortion - you can press hard on the lid without distorting the picture. The keyboard, mouse buttons and TrackPoint all live up to ThinkPad expectations and there are a number of handy features including function keys to change screen brightness or to enable Wi-Fi and Bluetooth.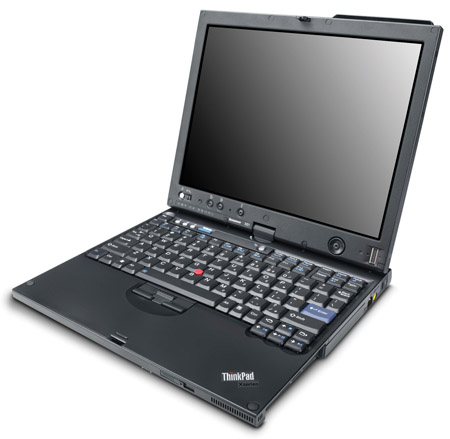 The chassis is made from a magnesium alloy and weighs just 2.02kg
We were disappointed to see that the keyboard illumination LED appeared to be missing from our sample, but it also prompted us to flip the screen around and change to Tablet mode, where a number of notable features stood out. Tablets use a digitiser behind the screen, which is why you need a special Tablet stylus and can't just use the end of a pen or a finger to click on buttons and hyperlinks.
battery test - constant use (in hours)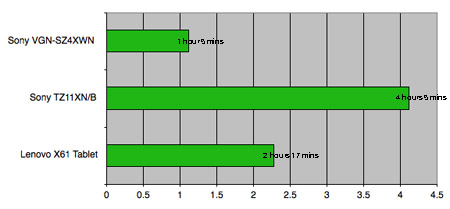 Longer bars are better
The X61 is different from other Tablets as it also sports a touch screen, so when you prod the screen a ghostly mouse symbol appears and the cursor moves around as if by magic. The reason Tablets don't usually have a touch screen is to avoid confusion when you place your hand on the screen so you can use the hand writing feature. The X61 touch screen appears to distinguish a point contact, such as your finger tip and ignores your whole hand, which is rather neat.
3DMark06 benchmark test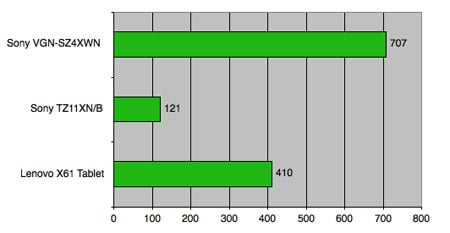 Longer bars are better
There are more control buttons on the Tablet screen than you might expect, including a four-way navigation pad, an Escape button, and a button to jog the display around 90° at a time as you switch from portrait to landscape mode. In fact, this last button isn't strictly necessary as the X61 has an internal accelerometer that judges when you turn the screen. However, it takes a few seconds to make the change.
PCMark05 benchmark tests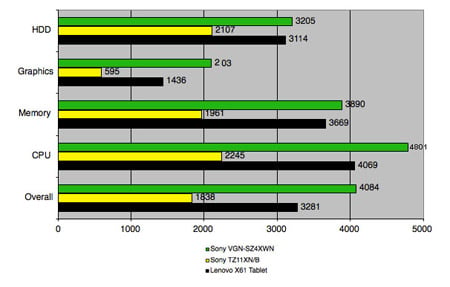 Longer bars are better
Verdict
The X61 is a decent laptop with the caveats that the processor is a dog and the screen is low resolution. Switch it into Tablet mode and it comes into its own, as the screen works well in both portrait and landscape. Added to that, Lenovo has included a number of useful controls that make this the most useful Tablet your reviewer has ever seen. Two problems remain; it's a bit heavy and it's far too expensive.