Original URL: https://www.theregister.co.uk/2007/08/07/review_motorola_moto_q/
Motorola Q 9h smartphone
Will this smartphone eat BlackBerries for breakfast..?
Posted in Personal Tech, 7th August 2007 10:13 GMT
Review On first viewing, the Moto Q 9h is reminiscent of a calculator; despite going for a BlackBerry-style layout, its square features haven't quite captured the improved look of those devices, and pulling it out of your pocket could see colleagues and co-workers stifling a few laughs.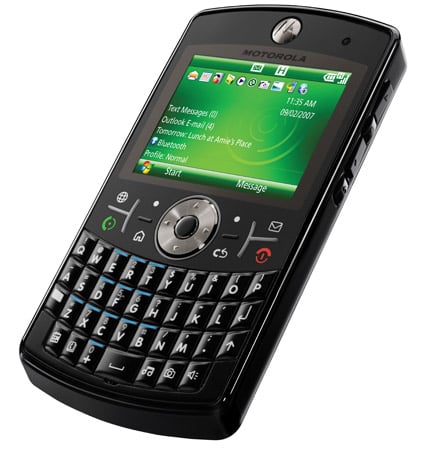 Motorola Moto Q 9h: icon shortcut keys allow quick access to applications
The big question is, does what it's packing inside make up for the lack of exterior elegance? Well, under its wide but thin hood is a 325MHz processor, 256MB of Flash ROM, and 96MB of RAM. That slightly outpaces the BlackBerry 8800's 312MHz processor and keeps Windows 6.0's loading wheel off your screens for all but the most taxing tasks.
At just 1.18cm thick it's also thinner than a BlackBerry 8800 by more than 2mm and shaves just 0.2mm off the thickness of a Samsung SGH-i600.
Shame that at 6.6cm wide and 11.5cm long it still really does look like a calculator. At least it uses that space to good effect. The 320 x 240 screen is big enough to make you think it should have touch screen capabilities, and if you've just been using this kind of phone it'll take you a while to stop prodding it with your finger.
But it's the keyboard that benefits the most. Icon shortcut keys allow you to quickly access music, camera, phonebook, calendar, messages, and the web browser. Those additional keys below the qwerty keyboard, and the placing of the number keys as functions off other letters, means the layout does take some getting used to. For instance, the first time you go to unlock the device with the star symbol it takes a keen eye to spot the blue '*' function sitting on top of the 'Z' key.
However, as the keyboard becomes more familiar you can start to improve the speed of your typing, especially in conjunction with the predictive text. The keypad even lights up to make it easy to use in the dark. Programs displayed on the screen also benefit from an automatic adjustment that boosts the brightness depending on the quality of light at your location. As well as the function quick keys, the last 10 programs are also displayed at the top of the 'Home' screen for easy access. A four-way wheel with a selection button at its centre, coupled with 'Home' and 'Back' keys, make for general ease of navigation.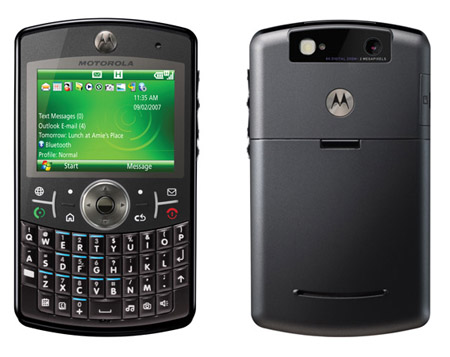 It boasts a 2-megapixel, 8x zoom, 1,600 x 1,200 pixels camera
As the phone runs Windows Mobile 6.0, email set-up is a piece of cake. There are quite a few screens of information to fill in, but you'll be up and running in no time. A built-in File Viewer lets you peruse popular formats such as Microsoft Word, PowerPoint, and Excel files, as well as PDFs and zipped files. However, it only shows the first page of a document and there's no option to edit and make changes.
While the lack of editing again puts it on a par with the BlackBerry 8800, it would have been nice to see the Moto Q h9 take a lead here. At least the phone features McAfee VirusScan software as standard.
Access to the internet is via the installed Opera web browser. The phone intelligently sizes content to fit the width of the screen, so there's no need for horizontal scrolling. What that means in real terms is that elements of the page are broken down and presented out of order. Side menus sit at the top, with main content a scroll-and-a-half away further down the page.
Usefully, flipping between functions is easy as the browser is just one of the programs that runs in the background. This allows you to access other phone functions by hitting the 'Home' button, before returning to the page you were on by pressing the prominent internet quick key. The phone also comes with messaging options, with MSN Live Messenger included as standard.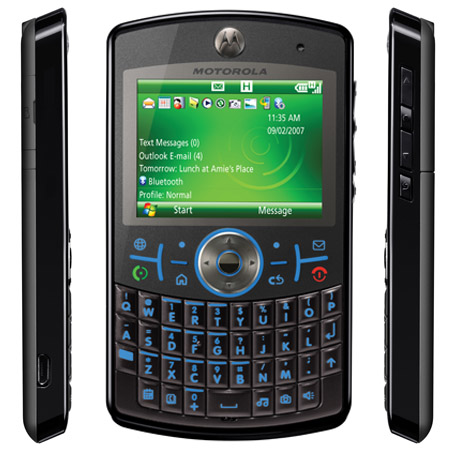 Motorola Moto Q 9h: thinnner than both the BlackBerry 8800 and Samsung SGH-i600
Signing into this service automatically adds those messaging contacts to your address book, allowing you to IM them more easily in the future. One slight niggle was the ability to kill running programs and save power. To end functions that are running in the background you have to do it the old fashioned way, by going to the Task Manager in the System Tools and manually shutting them down. That's a chore when you compare it to something like the HTC Touch phone, which has a one-click command to kill all running programs on the main screen.
While the Moto Q 9h's usability isn't in question, what is worrying are the two obvious omissions from a modern smartphone. First of all, where the hell is the Wi-Fi connection? The Q 9h has the kind of decent-sized keyboard and viewable screen that makes it ideal for logging on without bothering to power up your PC.
It currently connects using Quad-band GSM/GPRS/EDGE; UMTS 2100, and has HSDPA capabilities built in. HSDPA eventually might make up for a lack of Wi-Fi connection, with its theoretical download speeds of up to 3.6Mbps.
But RIM has already announced its plans to add Wi-Fi into the BlackBerry 8820, while Samsung has got there already with the SGH-i600. The other big omission is a lack of GPS satellite technology. With Nokia planning to build this into every phone it puts out – smartphone or not – pretty soon any device that doesn't come with it as standard is going to look like it was fashioned out of wood in the dark ages. You'll be better off with a BlackBerry 8800 if you need this feature.
The decision to use the Motorola MicroUSB connector rather than the standard mini-USB connection is also a tad annoying. With so many devices using mini-USB, chances are it would have saved you doubling up on the leads you have to carry around. Where the Moto Q 9h performs surprisingly well is in its entertainment functions. Video plays well on the screen, supporting a variety of formats such as MPEG4, WMV, H.263 and H.264 video.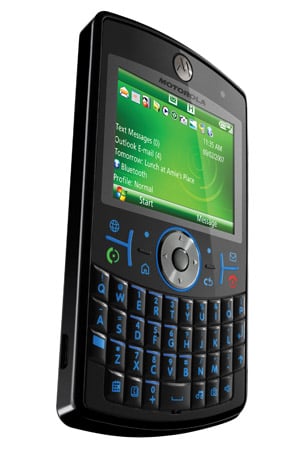 Where the hell is the Wi-Fi connection?
Battery performance is harder to judge since the device draws power from your PC every time you plug it in – and that will happen a lot if you're using the cable to sync or to mess with files on the MiniSD card. Worryingly, Motorola doesn't state a guide time for talk and standby in its official stats, but when we did take it away from its natural habitat and use it for longer than a day the indicator never sunk below two bars.
But it's the sound quality that really impresses when you playback your MP3, WMA and AAC files. The built-in speaker handles difficult songs well, even at the highest volume, and it's possible to stand the device up and use it as a mini-stereo. There's also Bluetooth support for a wireless stereo headset, using A2DP and AVRCP technology. The phone also boasts a 2-megapixel camera – something that a BlackBerry shuns for corporate security reasons.
This offers up to 8x zoom and takes images up to 1,600 x 1,200 pixels. It will also shoot video, although it only goes as high as 320 x 240 resolution at 15fps so won't make you the next Spielberg. Sadly, the screen size isn't used to full advantage, with menus placed at the bottom of the picture rather than in the unused space at the sides or as see through menus over the image. You can put the camera into full-screen mode for when you actually take the shot, but it defaults back again after that.
The camera does have a flash of sorts, although this consists of a static light that stays on while you size up your image. If you're not into night photography, it doubles as a great torch, although expect your battery life to be affected appropriately.
Verdict
Not the prettiest of smartphones and crucially lacking Wi-Fi, document editing, and GPS functions, the Moto Q 9h is nevertheless very easy to use. Its robust and well spaced keys make it easy to handle messaging and the entertainment functions outperform its uncool looks.