Original URL: https://www.theregister.co.uk/2007/08/02/nokia_new_coke/
Nokia's New Coke moment?
The Communicator software debacle
Posted in The Channel, 2nd August 2007 14:17 GMT
Analysis Some products bewitch because of their style or inventiveness - such as the iPhone. But others earn their keep through sheer usefulness, and for a decade Nokia's Communicator has proved itself to be one of the latter. Until now, that is.
While it may be too early to call this Nokia's "New Coke" moment, MBA students may be studying the saga of the E90 Communicator phone in the years to come, as an example of how not to do product development and marketing. Even if the fate of this obscure range of mobile phones doesn't concern you, it should be an important wake-up call for Nokia, and hopefully the whole mobile phone industry.
By any scale, the sudden demise of the "brick" is a strange story. Although the Communicator is a niche category in terms of volumes sold, it's an important one for the company and one that Nokia has nurtured, protected through patents, and made a great investment in for what really is an eternity in the mobile phone business.
The first Communicator, the Nokia 9000, appeared in 1996. Despite its bulk, its awkward keyboard (even then, no match for the Psion PDAs of the day), and slow and expensive data connectivity, it won instant popularity with some important markets. Sales staff could send and receive faxes to make a proposal or clinch a deal, while the self-employed found it even more useful - it was an office computer in the pocket.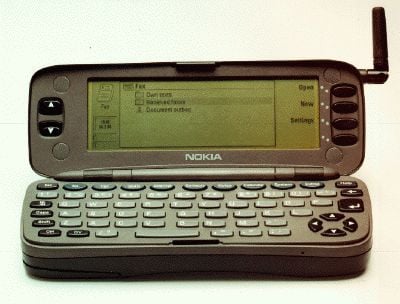 The original 1996 "brick": Nokia's 9000 Communicator
Since 2001, the line has been based on Symbian, which has delivered what it had always promised: great battery life and rock solid reliability. Ease of use became a strength of the product too - as Nokia used the acres of interface space to the full. And as text messaging became established, it found wider markets - it was rare to see a Nokia employee without one, for example, and a strong catalog of VPN, database and messaging ensured it was viable in important enterprise markets too. As a consequence, Communicator owners have great loyalty to the product - they can get an awful lot out of it.
Now the latest version, the E90, is finally available - but the backlash from the loyal Communicator community is something to behold.
"E90 is a dissapointment (sic)," writes one user. "Bought the long awaited E90 2 days ago and sold it off yesterday. In functionality it is a step or two down from a 9300i. I've gone back to the latter."
"E 90 NOT a communicator."
Another adds:
"I bought the E90 last week, and sold it after 4 days. How come Nokia calls this device a communicator, where it has the same platform as all other N-series phones? It's double the price of a N95 and has less features than the N95.
"Sorry for being so emotional but, NOKIA has really done a lousy job on bringing out the E90 as a Communicator."
Are these fickle gadget fans who burn through a device a week? Not so - in fact they love it! Over at My-Symbian, for example, we learn what missing features enthusiasts valued have now disappeared. It's not a short list.
For the E90, Nokia dumped the well-loved and sophisticated QWERTY user interface (Series 80) that had served it so well for a decade, and replaced it with S60, a user interface designed for use with one thumb! Missing are the neat "cue card" buttons which made complicated operations a doddle. Gone are the Ctrl and Shift keyboard accelerations, or multiple levels of zoom. In place of the Mac or Windows-like pull down menus, everything hangs off one menu - in some cases, more than 30 items. Standard Communicator featues such as fax and the ability to send timed SMS messages haven't been put back into S60 for the E90 - and the bundled office suite is a pale shadow of the Series 80 Communicator applications.
So Series 60, which performs the one-thumb role adequately enough, has simply been stretched too far, and potential customers have caught on to the ruse.
"Using Symbian S60 3rd for the "Communicator" was a huge mistake," explains one admirer of the hardware.
"The E90 has a great concept and it works pretty well with the latest FW version but for serious business stuff, this device is pretty much useless right now."
You get the idea.
It's rather like upgrading to the latest Porsche, only to find the leather upholstry has been replaced by the cheap plastic of an old Trabant. The manufacturer has added waterskis and a propeller - so you can claim it's the most "feature rich" Trabant in your street, but the pleasure as well as the practicality of the user experience is gone, leaving owners you feeling severely downgraded - as well as $1,000 worse off.
Debate rages on, split along user demographics. Gadget enthusiasts are positive, while the core market of business users regard it as a regression.
"I think the E90 is NOT a communicator but is a very smart smartphone (despite what it says on the box), and is disappointing in many small but incrementally large ways in the user interface," says one another.
"The E90 cannot be used as a good enough planning tool," laments another, while a French business journalist mourns the passing of the rich software suite inherited from Psion (see here and here.
Now, before we come to why this tale is really so interesting, we must first take a minor historical detour, which will explain the confusion and corporate in-fighting behind the E90, the "Cargo Cult Communicator".
In 2002, with the launch of the first Symbian-based Communicator only months behind it, Nokia laid out a grand roadmap to ensure the Communicator would set the standard for mobile enterprise computing in the decade ahead.
It teamed up with Psion, which unbeknown to most of its loyal fanbase, had decided to re-enter the business of designing and selling PDAs and phones - only this time carefully targeting the enterprise market. Psion developed the user interface, codenamed Hildon after the bottled water, on which Nokia would base a range of Symbian products.
Psion itself intended to knock out RIM by producing a Revo-like communicator that did first-class push email. This UI supported a pen interface, which Nokia's Communicator range had never had. The two companies planned to launch products in early 2003, with a pen-based Communicator as Nokia's showpiece.
But as so often in recent years, corporate in-fighting at Nokia led to a review, and weeks from announcement, the Hildon Communicator was cancelled, causing great dismay in the company.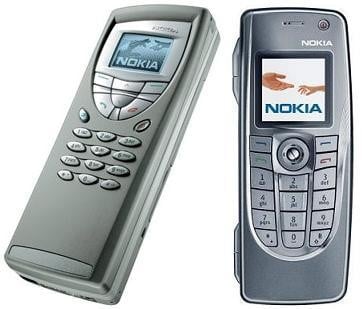 Nokia 9200 (2001) and the much smaller 9300i (2006)
Two tablet phones based on this work were eventually launched, the 7700 becoming a test vehicle for Nokia's mobile TV work, and its successor the 7710 in early 2005. Today, the user interface lives on almost unchanged, in Nokia's promising Linux-based Tablet, and the (now) open source user interface API still bears the Hildon name.
Instead, Nokia gave minor tweaks to the Series 80 UI that had debuted in the 9200, and in February 2004 pushed out a much-improved "brick". Hot on the heels of this came the announcement that Nokia had miraculously shoehorned this into a smaller, slimmer design not much larger than its venerable business phone of the day. That was the 9300, and a year later the final Communicator tweaked with the addition of a better battery and Wi-Fi made it to market.
However, corporate disorganisation - remember that Nokia's Enterprise division has never turned a profit - had struck again. Nokia gave up the pretence of supporting the orphaned Hildon user interface, but also said it would standardise all its phones on Series 60. That made sense from a marketing perspective, and most people expected the rich UI to become a subset of Nokia's principle smartphone platform. Hardly anyone expected those features to be jettisoned altogether. But that's where we are today.
Classic marketing mistakes #94: Buzz marketing
I've called it the "Cargo Cult Communicator" because gadget-fans, who aren't its core market, are the ones who enthuse the most.
The most charitable explanation is that Nokia has taken a cynical approach to marketing what it surely knows is a severely weakened product. It has tried hard to create "a buzz" among gadget enthusiasts on tiny phone blogs - but it's a strategy that is backfiring disastrously with the people who should be buying the phone, business users. Phone bloggers tend to love shiny new objects, and their coverage reflected through their nauseous "unboxings", reflects an infantile celebration of the packaging, while ignoring the real utility of the product.
These "unboxings" make us all a little more stupid.
Hence the bloggers' incomprehension at the loss of something as vital to users as the fax. While business users cry out for dependable technology, the blogging gadget enthusiasts lose interest very quickly - after all, there's always something new and shiny along next week. Reading through the defenses of the E90 on web discussion boards, they come from users who have multiple devices, and/or change their gadgets with great frequency. That's not really the enterprise or SME demographic Nokia needs.
(While neglecting the core IT market, Nokia does pamper the uncritical element of the blogs, packing them on their way with a freebie and the message, "Nokia is listening to you, keep writing, ranting and whatever it is you're currently doing".)
So "buzz marketing", which has become a lucrative business for expensive 2.0 consultants, actually plays to all of Nokia's weaknesses and downplays all its historical strengths.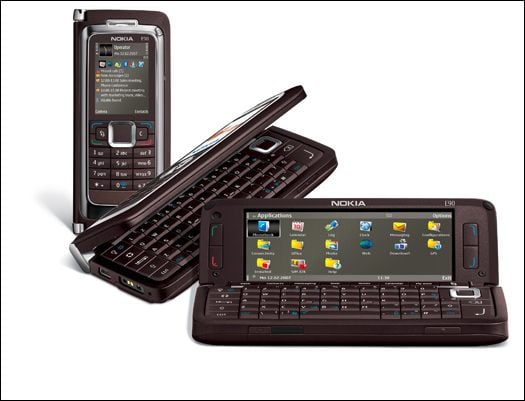 Nokia's E90 the "Cargo Cult" Communicator
There may be an even less generous explanation than Nokia simply making the best of a bad job. And that it's only listening to what it wants to hear. The gadget bloggers tell Nokia they want more shiny gadgets, and Nokia obliges, downgrading important software investment. This generates a closed feedback loop - acknowledged to be one of the darker aspects of the internet. Views become reinforced and polarised, and a company can lose touch with the reality of what core users need.
Evidence to support this theory comes from the E90's dual screen functionality: the front "phone" is a full S60 one-handed smartphone. But this is a feature that no Communicator user ever expressed a desire to see on the boards: they wanted a faster front display, and T9 predictive text, but clearly didn't want the "main" internal display compromised to accomodate a richer "front" display.
When bloggers fear to speak
However, the blogging sites have served one useful purpose for Nokia - to spread a piece of misinformation that justifies its lack of investment in the new Communicator software platform. Which is, that it was so technically complex to port Series 80 to the more modern version of Symbian, 9.1, that it wasn't economically justifiable. This is easily falsifiable.
Symbian is modular architecture, allowing licensees to radically alter the user interface layer - the EIKON and CONE libraries are independent of the application engines, the Symbian middleware and the kernel. So undertaking a new UI from scratch may be an expensive business - but porting one is not. So we made some enquires. Now remember that development costs can vary wildly depending on the organisation, and depends on how bureaucratic it is (think of government IT projects, for example). Engineers who have been able to compare their experiences working within the S60 team and at other companies invariably describe Nokia as the most bureaucratic place they've worked.
Nevertheless, after consulting Symbian experts, who know the source code well, we can conclude that the cost of porting Series 80 to the newer operating system was trivial - far less than amount Nokia spends on "buzz marketing", and probably less than its marketing program for bloggers. Nokia simply wanted to kill off Series 80 to save money, but crucially didn't want to spend money on replacing the missing features and developing the S60 user interface either.
Companies make these choices - and have to live with the consequences.
What now for Nokia software?
The E90 has arrived to the sound of flapping, as a lot of pigeons come home to roost.
Nokia's corporate in-fighting continues, although the idiotic divide between the consumer division, which Nokia calls "Multimedia" and Enterprise divisions was only resolved in the recent June re-organisation, which abolished both business units. This divide led to developers having to negotiate two citadels of corporate bureaucracy (and fill out two sets of forms) if they wanted to view the Symbian source code. It also led to idiocies such as Nokia crippling its business phones, the E-series, so phones such as the E61i and E65 don't sport a consumer-friendly feature such as Bluetooth stereo, found on its consumer N series. At the same time, Nokia for a while crippled its Mail For Exchange client so N-series owners couldn't install even this most basic enterprise client.
It's important to keep things in proportion. Nokia's hardware engineers can still deliver the goods - there are few complaints about missing hardware features in the E90, and Nokia's almost miraculously small E65i shows it has a clear competitive lead. Nokia's fate also depends much more on the growth area of the sub-$100 market, rather than on the quality of devices costing $1,000.
Nevertheless, the rocky user reception to the E90 couldn't have come at a worse time. Apple's iPhone user interface has drawn renewed attention to the user experience, and it doesn't reflect well on the high-end products from the Tier 1 manufacturers.
But Nokia is also facing its stiffest competition ever from Windows Mobile, and for the first time needs to dispense with its traditional arrogance and take this seriously. I've been using an E61i alongside a Motorola Q9, which runs Windows Mobile. Readers with long memories will know we've been merciless on the shortcomings of Microsoft's phone efforts over the years - and in all honesty, these products have been so bad we've been kind to even honour them with ridicule. Microsoft long ago gave up its ambitions to compete in the mass market consumer phone business.
However, the Q9 simply kicks the E61i out of sight. Almost everything is easier and much, much quicker on the Motorola. And it's smaller, thinner, and has a better keyboard.
Nokia needs to address the complacency which brought about the E90 debacle. It should start by taking the buzz out of "buzz marketing", reconnecting with its loyal business users, and remove the dead wood from its software business. ®