Original URL: https://www.theregister.co.uk/2007/08/02/nasa_enceladus_recycling/
Cassini to make third Enceladus flyby
And NASA recycles a comet-chaser
Posted in Science, 2nd August 2007 14:35 GMT
NASA has announced plans to send the Cassini spacecraft back for a closer look at Enceladus, the Saturnian moon with famously leaky tiger stripes.
As part of its freshly declared budget clampdown, the agency says it wants to improve the value of space exploration by getting more science out of existing missions. Sending Cassini back for a closer look at the tiny but mysterious moon will help it do just that.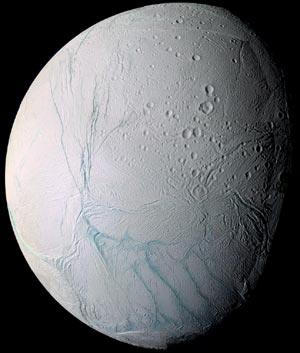 Enceladus: A baffling moon.
So far, scientists have seen that Enceladus has active plumes coming from its southern hemisphere, most likely from the tiger stripes, gouges that run across the polar region. The plumes are mostly water (about 90 per cent, according to Jim Green, head of NASA's planetary division), but traces of methane and ammonia have also been detected.
Green told reporters he was still baffled by the moon: "How can this body, only 500km across, have enough internal energy to sustain [the plumes]? The particles are being ejected with a velocity that is about half the muzzle velocity of a gun," he said.
"We are compelled to know more about this."
The plan is for the spacecraft to swing by in March 2008, on what will be its third pass of the moon.
The craft will fly very close to the moon, between 30km and 100km from its surface, and an approach angle of around 20° southern latitude. This, Green says, puts it directly in the plumes, which will allow much more detailed analysis of their origin, composition, and character.
"We'll skim through the plume on the outbound leg, and will move above the flow of the plumes. We'll get better resolution images, and better spectral information."
He says the team will also be able to do some more detailed thermal profiling that should help determine which of the tiger stripes is the most active, and where most of the material is coming from.
Another money saving enterprise will see the space agency teaching old space probes new tricks, as it plans to dig Stardust out of hibernation and send it to Comet Tempel-1. This is the same piece of solar system detritus on to which it crashed the Deep Impact probe.
Assistant administrator Alan Stern says: "We wanted to see how the comet has evolved since another [solar] closest approach. Nothing like this has ever been done."
The European Space Agency has already launched the Rosetta mission, scheduled to land on its target comet some time in 2014. This will actually attempt to land on the comet and observe it over a period of time. NASA says its plans for Stardust will give it snapshots, as compared to Rosetta's feature film. ®