Original URL: http://www.theregister.co.uk/2007/08/01/review_alienware_m9750/
Alienware Area-51 m9750
It's a laptop, but not as we know it...
Posted in Personal Tech, 1st August 2007 12:51 GMT
Review One word can describe the Alienware Area-51 m9750: big. It's as if the person designing it thought they were in Burger King and decided to Go Large at every opportunity. It's got two hard drives, two graphics cards, two processor cores and a whopping 17in screen. There's another thing that's big about the m9750 - its price.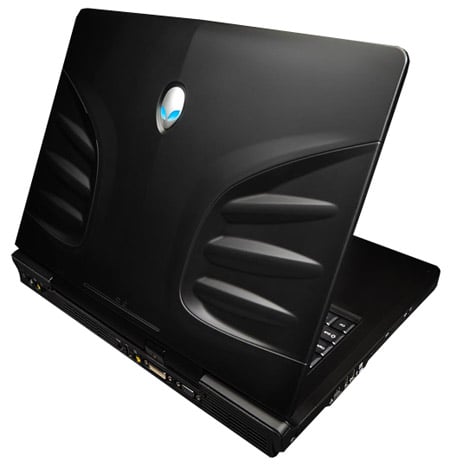 There's no skirting around the subject - £2,491 is a lot of money to pay for a laptop, no matter how you look at it. If you strip it back to its barest elements it can be yours for £1,197 but you'll have to pare down the specifications to just one hard drive and graphics card and lower the screen resolution, among other things.
There is no denying that Alienware has thrown a huge amount of technology into the m9750. Its 17in screen runs at an HD friendly WUXGA resolution of 1,920 x 1,200 pixels. The screen is fed by not one, but two 512MB nVidia GeForce Go 7950 GTX graphics cards in an SLI configuration, so unlike most portable computers gaming is a realistic option.
It's powered by an Intel Core 2 Duo T7600 running at 2.33GHz with 2GB of DDR RAM and comes loaded with a copy of Windows Vista Ultimate. It features two 250GB 5,400rpm Sata drives, which can be configured either as a 500GB RAID 0 disk or 250GB mirrored RAID 1 drive. It features an 8x dual layer DVD writer - with Blu-ray available as an option for £328 more.
Given the amount of technology housed inside the m9750, it's no surprise to learn that its case measures a bulky 39.5 x 29.9cm, although it's not actually as thick as you would expect at only 3.8cm. It's a pretty hefty laptop too, weighing in at 4.3kg - it's definitely not the sort of machine you'd want to lug around for a prolonged period of time.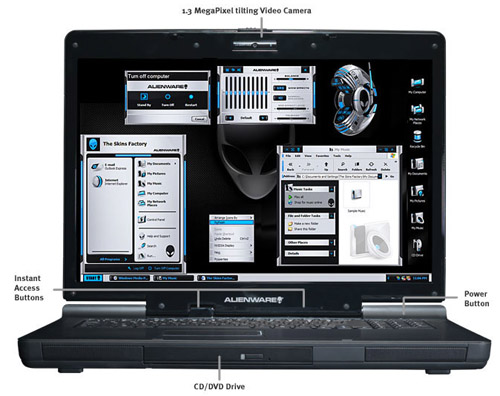 The outside lid features the traditional Alienware ribbing and glowing blue Alien head - whether you think that's a good thing or not is down to personal preference. The inside of the lid is surrounded by gloss black plastic, while the main body and outer lid are finished in matt black plastic that has a rubberised feel. While the finish looks nice at first, it is very susceptible to greasy finger marks, which show up quite prominently on the casing.
The keyboard is large and pleasant to type on - with big keys you would expect to find on a full size unit. There's also room on the right for a numeric keypad, although this does mean you're typing slightly off centre, but it's not a major problem.
The m9750 isn't short on ports and connectors - on the left hand side you'll find two USB and a mini-Firewire socket, gigabit Ethernet port, SD/Memory Stick card reader and Express Card slot. On the right there's another USB port, optical audio out, analogue surround sound connectors, headphone and microphone sockets, and a volume wheel - although you need to turn the wheel a fair way to adjust the volume significantly. On the wireless front, it has both Bluetooth and 802.11g Wi-Fi.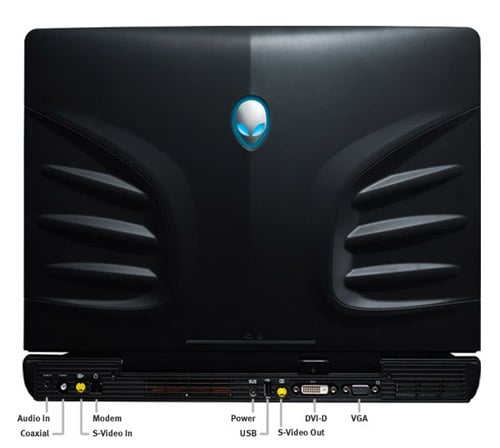 At the back there are both VGA and DVI video outs as well as S-Video. You'll also find a further USB port, mains power input, and connectors for the optional TV tuner card. At the front of the machine is the DVD writer, flanked either side by speakers. A row of touch sensitive buttons are arranged in a strip above the keyboard, providing quick access to applications and media controls. The touchpad is situated sufficiently far from the keyboard that accidentally activating it while typing is unlikely.
With such high end specs inside the m9750, its Windows Experience Index score of 4.7 is initially a little disappointing. However, since the score is represented by the lowest category score, it's the memory performance that drags it down to 4.7. For graphics and gaming it scores the current maximum of 5.9, while the hard drive performance comes in at 5.8, and finally the processor is rated at 5.2.
Running it through PCMark05 resulted in a reasonable overall score of 5,791, with sub-scores of 5,788 for CPU, 4,357 for memory, 5,804 for graphics, and 4,297 for hard disk.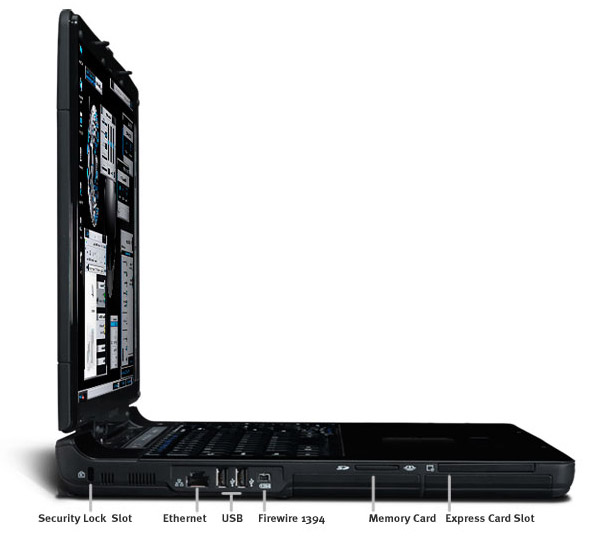 It's when it comes to games performance, however, that the m9750 really shines, racking up a 3DMark06 score of 7,343 - which is impressive for a laptop. Running it through Doom 3 came in with a result of 131fps at 1,024 x 768, 129fps at 1,280 x 1,024 and dropping only to 126fps at 1,600x1,200. Results for Halo were similarly impressive, with 146fps, 140fps and 130fps at the same respective resolutions.
Finally, Cinebench 9.5 rated its multi-CPU performance at a decent 708 and hardware OpenGL abilities at 2,102. All in all, very high numbers for a laptop.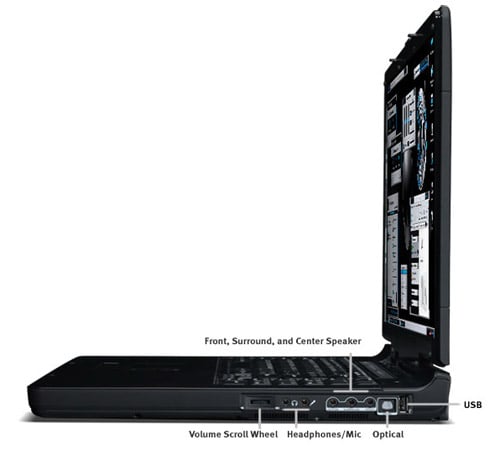 When it came to playing back 1080p HD footage, the results were still good, but not as impressive. The high gloss reflective screen produces great colours and when viewing 1080p WMV content the m9750 could mostly keep up. There was the odd slight judder, but the results were watchable. With 1080p Quicktime content, however, despite the huge amount of processing power available it still struggled to show the video without dropping frames, which is disappointing.
Claimed battery life runs at between 1.5 and two hours, which seems realistic. That doesn't give you much to play with, but given its size it's unlikely you'll be using it away from a mains power supply for that long anyway.
Verdict
If you value good 3D performance, but haven't got space for a desktop system, the m9750 won't disappoint. It's got great gaming credentials and a stunning screen to make the most of the graphics. The asking price is high, but so is its spec and, apart from the problems with Quicktime video and the easily smudged casing, there's not much else to complain about. If you've got more money than space it's a great option.