Original URL: http://www.theregister.co.uk/2007/07/18/review_lg_touch_me_fm37/
LG Touch Me FM37 MP3 player
...sounds like a one-hit wonder from the 80s
Posted in Personal Tech, 18th July 2007 14:47 GMT
Review The personal multi-media category is a crowded one and has risen to a very high point in terms of consumer awareness. However, it is still relatively young and product feature development is coming thick and fast. A bit of fresh thinking can go along way. And LG are as fresh as they come.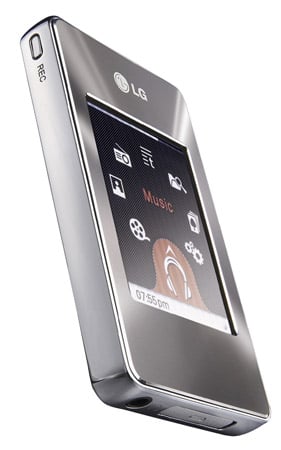 At 5.15 x 0.9 x 1.04cm and 63g, it's small enough to fit into most pockets
The category of personal multi-media players is a very tricky one to launch into with success for one simple reason, the iPod. This product dominates the scene so completely that in just a few short years it has achieved the transition that only mega-successful products achieve, when the very name of the device becomes short hand for the whole product category.
Many companies, large and small, have tried launching products into the personal multi-media world with varying levels of success. So, to come in with a new offering, you better have something good. Happily this is just such an occasion as the FM37 is a delightful little box of tricks that will quickly become a fast friend to anyone that invests in one. Two variations will be available: one sporting 2GB of Flash memory and the other with 4GB. Granted then this player in not going to impress with sheer processing power, but it has enough tricks up its sleeve to more than make up for this.
First off if you are going to call a product the Touch Me it had better feel pretty good in the hand. At first sighting we were a little worried that the brushed steel appearance of the device might mean that it had such a smooth finish that it would slip about all-to-easily in the palm of the hand. This is an annoying and increasingly common trait, especially with many mobile phones, which often means trying to maintain a grip is like trying to hold onto a wet trout. A frisky one at that.
However, the surface of the FM37 is textured so it sits comfortably and securely in the hand. Still, the real reason the FM37 is called the Touch Me is really its touch screen user interface. The user interface on any product of this type is often the make or break application...and we're back to the iPod again.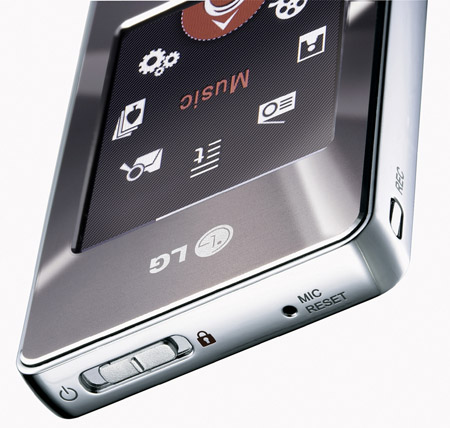 When not in recording mode, the mic port doubles as the reset switch
But this product is no slouch in that department either and can easily hold its own. The icon-based interface is extremely simple and fast to use. In fact, it couldn't be more simple, whether you're choosing between music, photo viewing or movie clips, or selecting a particular file - you simply touch the media category or file you want to interact with.
Navigation is also intuitive with straightforward little exit arrows that let you dip in and out of whatever you are watching or listening to. There is also a handy power down feature that kicks in as soon as the product is left alone for a few seconds and nothing is being played back. Over time this is a useful battery life saver and there is also a good locking mechanism, which means the product can not get accidentally turned on in a pocket or bag, a problem that a surprising amount of similar products have yet to successfully address.
All in all after only a few minutes we found that you could whizz around inside the menus with real speed and accuracy. The other thing about constantly touching the product is that it makes interaction feel more personal and that little bit more intimate. The only drawback is that the 320 X 240 resolution, 260k colour screen can get a little greasy - even at the best of times.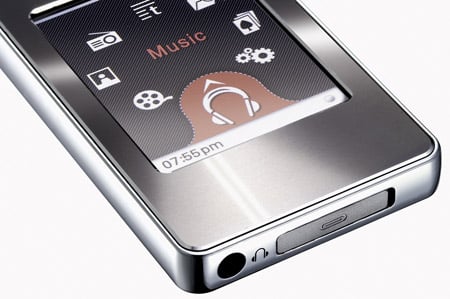 The FM37 averages 20 hours music and four hours video playback
Because of the memory size, the unit is probably going to be used mostly for music playback, and thankfully it delivers a solid performance. Normally with most of these devices we'd recommend that buyers invest in some decent headphones, as those supplied are usually pretty basic. However, the headphones that come with this unit are definitely a cut above the average. There is genuine depth and detail in the delivery, quite rare for a pair of supplied in-ear headphones.
The unit also has an automatic equaliser that uses the information on a tract's ID3 tag to choose which setting to playback in. This works well most of the time, the Concert option delivers a nice clean sound, Club takes the brightness up a few notches and pushed any vocals to the front of the mix, Room simplifies the delivery and gently squeezes all the sounds closer together. However, Stadium is best avoided, it actually sound like you are listening to the music with your head stuck in a bucket of glue. Wembley Arena it isn't.
Thankfully you can easily access the menus and manually adjust what style of playback you want.
The unit has all the organisational options you would expect, including playlists and random selection options. One nice feature of the random options is that you get the feeling that the unit is using its whole data base to select from. Often with some other products of this kind you get the distinct impression that only a portion of the database is being selected from, as for a few plays the same albums will feature rather heavily, before the player moves onto another part of the data base.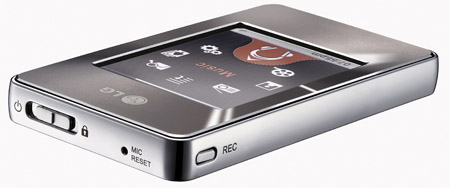 The display is a 2.4-inch QVGA TFT Color LCD touch screen
The photo viewing and movie playback options also deliver a strong package. LG know a thing or two about LCD technology and this unit has one of the best quality visuals we've seen in this category. The FM37 is helped out by LG's own XDEngine processing, which really does help deliver clear and crisp images.
There are also enough picture control options such as adjusting the level of screen brightness so the player can adapt to whatever type of material is being played. In the photo playback suite there are also some nice interactive options available, such as setting a slide show to music - and despite the memory size - movie playback can go up to four hours, helped by the unit's compatibility with MPEG4 (along with WMV, H.264). On the audio front, MP3, VBR, WMA and OGG is supported - but no AAC, and BMP, JPEG and GIF formats for images.
Setting up the player is extremely straightforward. A few mouse clicks and LGs own Media Center software is loaded onto your computer, a few more and all your media files migrate into the software's menu system. The player actually works pretty well with windows media player also, but you will need the LG software for loading movie content. It works on Windows 2000 and XP operating systems and requires Windows Media Player 9 or higher - so sadly no Mac compatibility.
Verdict
Ultimately this is a really friendly little machine and its touch screen operational interface is a particular treat and doesn't feel gimmicky at all. The touch screen approach works so well and feels so natural that perhaps one day all players will shift to this way of operation, perhaps even the next generation of iPod.