Original URL: http://www.theregister.co.uk/2007/07/16/review_netgear_xeps103/
Netgear XEPS103 powerline power brick
Why plug two boxes into the mains when you only need one?
Posted in Personal Tech, 16th July 2007 10:58 GMT
Review We at Register Hardware like powerline networking - using mains electricity cabling to send data throughout your house - very much, but an issue with most powerline adaptors is their 'one power socket, one data port' implementation.


Netgear's XEPS103: it's a power brick, a powerline network adaptor
Each device you connect needs its own powerline adaptor, every one of which needs a separate power socket. These two products from Netgear provide different solutions to that problem.
The first, the XEPS103, will appeal almost exclusively to people who already own a Netgear router. Let's say you've a Netgear WPN824 Rangemax router and you want to extend it with a powerline link. Your router's power brick takes up one power socket and the powerline adaptor another. The XEPS103 simply melds AC adaptor and powerline box into one. The upshot: you get powerline networking and wireless networking both through a single socket.
Genius, really, though you have to ask why the idea has taken so long to come to market and why Netgear's not bundling these things with its routers as standard.
The downside is that combining these elements makes for a chunkier box than either adaptor on its own, so the XEPS103 is fed through a power cable rather than being plugged directly into the wall. The 12V power feed and Ethernet cable it sprouts are bonded together for convenience, splitting apart only at the end.
The XEPS103 provides power to 15 Netgear routers and switches - you can find the full list on Netgear's website - and it may work with other devices, but check the 12V, 1A feed's polarity and size carefully first - remember, you proceed at your own risk if you try this.
You don't have to connect the XEPS103 to a router, either - it will work just fine as a standalone powerline adaptor.
The unit uses the 85Mbps HomePlug 1.0 Turbo powerline standard, so it's compatible with other such devices and slower, 14Mbps HomePlug 1.0 adaptors. Not, though, Netgear's own HDX101 200MBps powerline adaptor - reviewed here - however, and it's a shame this new product uses the older, slower powerline technology.

Netgear's XEPS103: space saver
We tried the XEPS103 with the aforementioned WPN824 router, linking it over the mains to a second 85Mbps powerline adaptor from Devolo - reviewed here. The Devolo was connected to a Belkin N1 802.11n router, and it was a matter of minutes to blanket a London home with wireless coverage using two extra power sockets instead of three.
Incidentally, Netgear is preparing a starter kit that combines the XEPS103 with an XPS103 85Mbps powerline adaptor. Whether bought on its own or in the starter pack, the XEPS103 needs a Windows PC to run the configuration utility, needed if you want to change the password used to encrypt data - using 56-bit DES - sent across the powerline link.
The XEPS103 is also compatible with Netgear's XE104, also an 85Mbps HomePlug 1.0 Turbo product. Unlike the XE103 adaptor, this one operates as a switch and packs in not one, but four 10/100Mbps Ethernet ports. Again, a smart idea because it allows you to connect four networkable devices through a single power socket.

This would have been a Godsend a while back when we were testing Sonos' Digital Music System, a Logitech Squeezebox and a Sling Media Slingbox all at the same time. All three operate through a LAN but, thanks to a lack of free power sockets, had to be connected one at a time to a single powerline adaptor.
This time, we tried the XE104 with said Squeezebox and a Samsung Q1 UMPC we're using as a very small form-factor music server. Once again, the XE104 was linked over the mains to the Devolo powerline adaptor connected to the N1 router.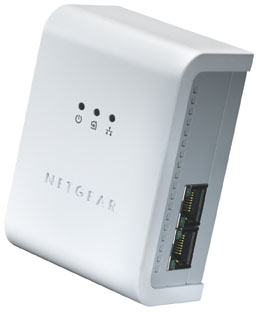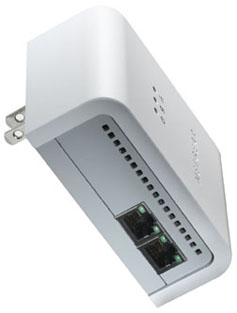 Netgear's XE104: one power socket, four devices
With the two devices connected up and the XE104 powered, they were nicely able to stream songs from UMPC to Squeezebox even when the N1 was turned off - just make sure you use static IP addresses rather than DHCP-assigned ones. With the wirless network operational, we were also able to have the UMPC stream songs to a laptop running Softsqueeze 2.0, the virtual Squeezebox app. The only limit is the capacity of the 85Mbps powerline link, much lower than 85Mbps - more like 20.5Mbps - in the real world.
So are any of these worth having? We have to say yes, they are. The XEPS103's utility is limited to anyone who owns a compatible Netgear router, switch or access point, but since the gadget will set you back around 40 of your hard-earned, which is pretty much what you'll pay for a regular 85Mbps powerline adaptor, why wouldn't you favour the Netgear product and gain a power socket into the bargain? If you have a Netgear router and you also have a powerline network - or you want one - the XEPS103 is a must.
The same is true for the XE104. Powerline's all very well if you have plenty of free sockets, but as more devices come with network ports - next-gen optical disk players, games consoles et al - the ability to network two, three or four of them through a single power socket is going to be essential. And it's only slightly more expensive than one single-port 85Mbps powerline adaptor.
The one flaw, of course, is that they're not 200Mbps products, so they're of little value if you've already made the jump to that speed.
Verdict
Netgear's XEPS103 and XE104 make a pair of very smart space-saving items for folk who've gone for 85Mbps HomePlug-standard powerline networking. Only the fact they don't support the latest, 200Mbps version of technology loses them points, and Netgear's to be commended for charging as little for these products as it does for other 85Mbps products so you don't pay a premium for the tremendous convenience they offer.