Original URL: http://www.theregister.co.uk/2007/07/12/review_netgear_sc101t/
Netgear Storage Central Turbo SC101T network storage box
SAN not NAS, OK 4 U?
Posted in Personal Tech, 12th July 2007 11:42 GMT
Review Storage for digital documents has never been cheaper, but what's the best way to make it available to all the computers in your home or office? You've got a network - why not use that? Enter the network-connected storage box...and to tempt you to spend your hard-earned this week is Netgear's Storage Central Turbo SC101T.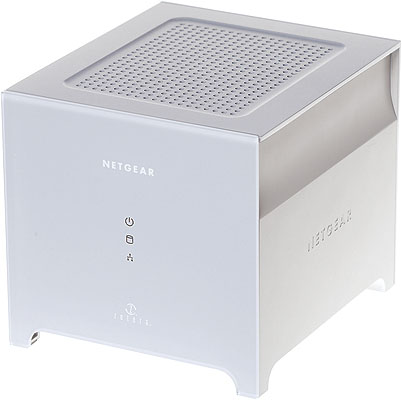 The SC101T comes in a consumer-friendly square shiny white and grey casing that's more reminiscent of Apple's ill-fated Power Mac G4 Cube than the toaster-like look of its predecessor, the SC101. The metal base and plastic top are drilled with plenty of holes to ensure a good, fan-assisted flow of air through the case, while the top quarter of each side is indented to make carrying it easier.
The back is home to a single Gigabit Ethernet port, the connector for the power supply, a recessed reset trigger and an on/off button. Above them are two latches that pull back to push out either of the unit's two hard drives. Or, rather, your own hard drives you yourself will install.
To keep the up-front cost down, Netgear offers the SC101T without drives, which means you can choose whatever brand and capacity you prefer, but it also means that the device doesn't work out of the box. The drives slot into two bays exposed by pushing and removing the SC101T's front panel.
The Netgear box takes any SATA-connected 3.5in internal hard drive, of any capacity, and you can install one or two, depending on your needs or your budget. The drives slot in smoothly, popping out just as easily when you pull on the rear latches.
Drive(s) and network cable in place (supplied) you're ready to install the Windows-only software that will let you manage and access the SC101T.
First, a word on terminology. The SC101T is a SAN box. That's Storage Area Network, and it's the sort of configuration you usually find in complex corporate computing environments. In effect, it's a collection of storage devices all of which appear to the user as if they were directly connected to his or her computer just like a standard external drive. SAN kit can talk unto SAN kit, which makes it easy, say, for a hard drive-based archive to work with a tape back-up drive without having to negotiate the transaction through a server.
That's good news for big businesses with a whole heap of storage systems, but of little value to homes and small offices. Instead, in such locations you usually find NAS (Network Attached Storage) boxes. While still connected to the network, they aren't accessed directly, but are reached as if they were a server somewhere out on the net.
Is one approach better than the other? Maybe to a big-business IT manager, but in the home, there's probably not a great deal in it. SANs are supposed to be faster and more reliable than NAS set-ups, but whether you'd see such a benefit in the home or small office is open to question. However, there are differences even here, though they're subtle. The extent to which they affect you will depend on what you want the storage for, as we shall see.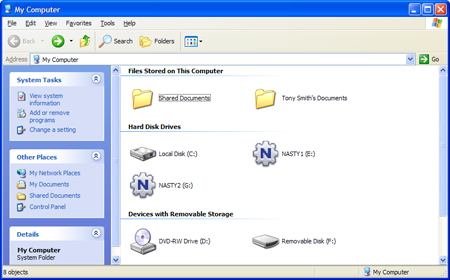 The SC101T's drives appear as if they were external HDDs
The main advantage of the SC101T over a NAS box is that it appears in Windows' "My Computer" window just like an external hard drive and is immediately available to you and your applications. Not on the network? Then the drive icons are hidden. That makes it very easy to access once it's been set up - just double-click on the icon and there's your storage space. Compare that to a NAS box, where you have to explicitly create a link between Windows and the storage unit, which will then appear as a 'mapped' hard drive. User accounts need to be set up and provisioned with passwords.
The SC101T has passwords, but they apply to the drives directly rather than to users. But we're getting ahead a little, so let's go back to the set-up process. The SC101T uses SAN technology from Zetera, but the software is custom-branded with Netgear's name. The installation adds all the software your PC needs to read the proprietary Zetera File System the SC101T's hard drives will be formatted with, along with a drive management tool that will need to be installed on every PC you're going to connect to the SC101T.
And Windows XP PCs at that: there's no Mac OS X software, there's not even any Vista software - yet. Zetera told us it has pre-release versions of Vista and Mac code ready, and Netgear said it expects to make the Vista beta software ready for downloading in a couple of weeks, with a final version due late August. The Mac drivers will follow the Vista release.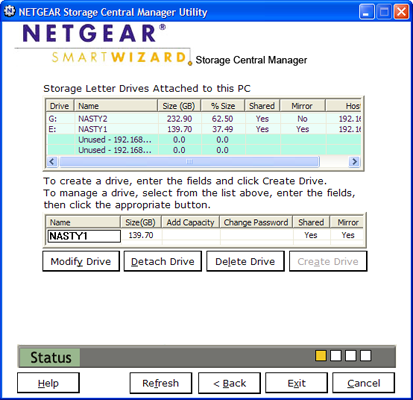 With the software installed on the first machine, setting up the drives is relatively straightforward: just follow the wizard. Each disk appears as a separate network entity with its own IP address, which is a little confusing if you're used to disks rather than networks. Netgear and Zetera could go a lot further to hide away the techie stuff to make the SC101T easier for non-tech-heads to set up.
We happened to have two hard drives handy: a 150GB model and a 400GB unit, both from Western Digital. The software allows you to mirror the contents of one drive on another for a modicum of data security - if one drive goes up the Suwannee, you still have the other, with all your files intact. Using the Netgear software, we split the 400GB drive into two partitions: one to mirror the contents of the 150GB drive and the other as un-mirrored space. Ideally, you'd use two drives of the same capacity for this kind of configuration, but the approach we took shows how flexible the set-up can be.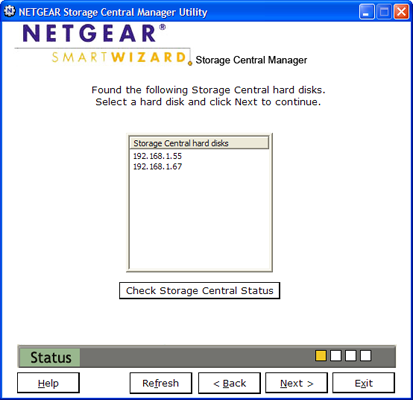 Er... which drive is which, please?
We should point out that this wasn't our first configuration - initially, we formatted both drives as separate, single-partition entities. We mention this because changing the configuration was a little tricky, involving 'deleting' the drives first then setting up the 400GB drive before, mirroring one partition to the 150GB HDD, then establishing the second, unmirrored partition. There are several steps here that Netgear's software could perform automatically to make life easier for the person managing the SC101T.
Indeed, the management utility is the weakest part of the SC101T package. The Netgear unit is aimed at consumers, and it wouldn't take much work to make the utility much more consumer friendly. The Wizard could actually work like a wizard - in fact, it presents just a simplified sub-set of the settings listed under the "Advanced" option.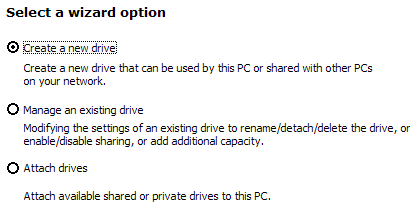 The SC101T's 'Wizard' versus...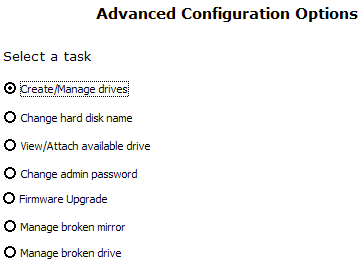 ...its Advanced settings
Recovery from a disk failure isn't automatic. If a drive gives up the ghost, the SC101T's LEDs will tell you which one it is. Powering down and removing the offending hardware is easy, but to get back to where you were, you have to duplicate the good half of the mirrored array, delete it, recreate the data store and its mirror on the two drives and then finally copy back all the data. Phew.
While that's better than losing all your files completely, and might be a run-of-the-mill activity for IT professionals, it's not exactly a consumer-friendly process. It assumes you have a third drive big enough to take all the data on the surviving drive, which, since the SC101T is likely to be your back-up system, you probably don't.
We didn't perform speed tests with this product because it all depends on the drives you use and how they're configured. The drives we used are a year behind the times and weren't the same specification as those in NAS boxes we've tested in the past, so again, speed tests wouldn't yield meaningful information. That said, it's not too nippy when run in mirrored mode, though read-backs felt as quick as similar units we've tried.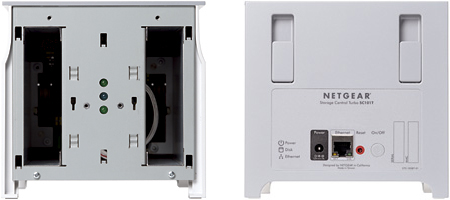 Netgear's SC101T: front off, and round the back
What we can say is that with the drives formatted and the access software in place, using the SC101T's storage is straightforward, whether you're copying files back and forth, or using back-up software to do the transfers. The SC101T relies entirely on your router's DHCP server to get IP addresses for the drives - there's no manual addressing - but the access software easily coped with changes to the drives' IP addresses, which is handy if you like to power-down all your infrastructure overnight.
If you want a simple file store available to any or all of the PCs on your network, Netgear's box is ideal. And it's quiet, as these things go.
If, on the other hand, you need something a little more sophisticated, you're not going to like the SC101T. Unlike NAS boxes, which are, to all intents and purposes, small PCs with big hard drives, the SC101T has no native operating system, which means you can't install and run any apps on it. So while you can, say, use it to hold your music collection, you can't serve your songs from it. Nor can you expose it to the internet, to enable remote access, whether by FTP or some other protocol, directly or through a Virtual Private Network (VPN).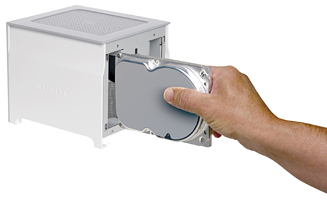 Look, ma: no screws...
Incidentally, the SC101T isn't Netgear's first SAN box. That honour goes to the SC101, still available for around £70 - £50 less than its £120 big brother. The catch is that the older model only takes slower IDE hard drives and has a 10/100Mbps Ethernet port to the SC101T's 1000Mbps connector. But unless all your wired network links run at that speed, Gigabit Ethernet is no advantage over 100Mbps. Worth a look if you're on a tight budget.
By the way, 320GB 7200rpm 3Gbps SATA drives can be had for around £60 a pop, so kitting out the SC101T isn't exactly expensive
Verdict
Netgear's Storage Central Turbo SC101T is a smart way to provide basic network-accessible storage space without having to muck about with file-sharing, firewalls and passwords. Its buy-your-own-drives approach means you can tailor it to your budget and capacity needs safe in the knowledge it'll be upgradeable down the line. It's a doddle to use, but its advanced features aren't as useful as they could be.