Original URL: https://www.theregister.co.uk/2007/07/11/review_harman_kardon_gps-500/
Harman Kardon Guide+Play GPS-500
Providing directions, or just leading you on?
Posted in Science, 11th July 2007 13:02 GMT
Review What more do you want from a GPS unit than the ability to get you from A to B when you haven't got a clue where you are or which way to go? Well, Harman Kardon is hoping that multimedia features will also feature highly on your shopping list as its new Guide+Play GPS-500 also features video and audio playback.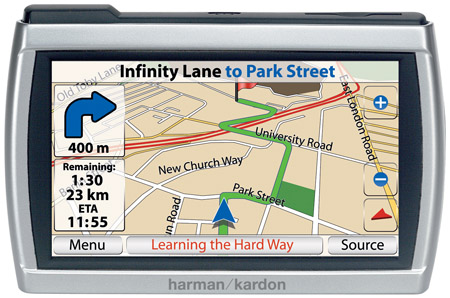 The GPS-500 is a standalone satnav unit and it comes pre-loaded out of the box with everything you need, so there's no messing around hooking it up to a PC to load maps before you get going. In addition to UK maps, you'll also find other European countries covered too. Countries included are: Andorra, Austria, Belgium, Denmark, Finland, France, Germany, Ireland, Italy, Luxembourg, Netherlands, Norway, Portugal, San Marino, Spain, Sweden, Switzerland and the UK.
It's a neatly designed unit measuring 11.8 x 7.5 x 2cm, with few buttons or controls and a large 4in touch-sensitive widescreen display for input instead. At the top of the unit you'll find a power switch, SD card slot and GPS antenna. Down the right are a volume control, headphone socket and USB port, which also doubles for power. Over on the left hand side you'll find a hold switch and a connector for the TMC (Traffic Message Channel) aerial. There's also a socket on the back for connecting an external GPS antenna.
In the box you'll find a cigarette lighter power adapter, suction mount, mains power supply and a case. There's a printed quick start guide included, but no full manual.
The SD slot isn't used for satnav functions - it's solely for audio and video files. You can't store media on the internal memory, so if you want to make use of the multimedia functionality you'll need to splash out on an SD card as well, although it only supports cards up to 4GB capacity.
Switch on the unit and you're presented with four options: Navigation, Music, Video and Settings. Once you've got further into the menu system, a tap on the Source button in the bottom right-hand corner will return you to this menu so you can quickly change function.
You can access the music and navigation menus at the same time, but once you select video all navigation functions are suspended - which makes sense. It's one thing to listen to music while you're driving along, it's another to try and watch a movie and keep your eyes on the road.
The GPS-500 provides a number of options for specifying your destination - from entering a street address to a full postcode search. You can also specify a city centre, road intersection or points of interest - such as restaurants, museums or petrol stations. You can save locations to a list of favourites, providing quick access to places you visit frequently - although you have to do this by entering the address manually, you can't just point to places on the map.
When you start typing an address using the on-screen keyboard, the GPS-500 searches its database in real time, which helps with finding the right location. As you type, letters that don't match anything in the database are dimmed and not selectable. For example, if you wanted to enter 'London', after you typed 'L' a number of letters on the keyboard, like 'X' and 'Z', would dim since there are no places that start 'Lx' or 'Lz'. The display also shows you how many matches it has found for the text you've entered so far, so you can select it from a list if there aren't that many.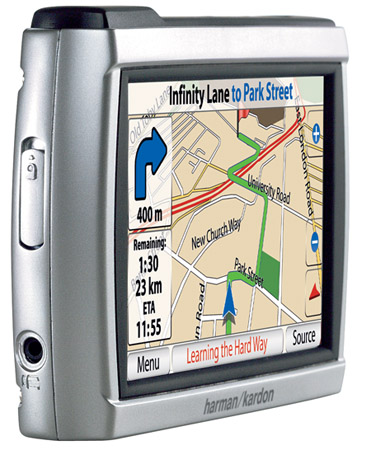 Once you've told the GPS-500 your destination, hit Go and it will start guiding you along the way. Instructions are clear and given well in advance so you've got time to prepare, but there's no text-to-speech option to read out road names. So while it will tell you to take the second exit at the roundabout, it can't tell you to turn left onto Charlotte Street.
Take a wrong turn and it's fairly good at finding a new route - for a while it will try and make you turn back, but push on further and it will find another way round.
The unit supports TMC data, which in theory should alert you to any upcoming traffic problems in your area and allow the GPS-500 to find a route that avoids any queues. During testing, however, although the unit was able to pick up the TMC channel, no updates ever came through - so although the facility is there, it doesn't seem to be used much.
The GPS-500 did occasionally lock up during testing, refusing to respond for what felt like minutes at times. This never occurred during navigation, thank goodness, but would happen when entering place names or just moving around the menu. Resetting the unit using the pinhole at the bottom seemed to solve the problem temporarily, but it frequently came back.
Other than that, it's an easy to use and accurate satnav unit. When it comes to media playback, however, the results are less satisfactory. Playback controls are extremely basic, for example, and the interface feels quite sparse.
There's no software included for syncing media to the device, but it can function in MTP (Media Transfer Protocol) mode, so can be used with Windows Media Player 10 to convert and synchronise files. It supports MP3, WMA and AAC for audio, and MPEG4 and WMV for video. If your files are in the correct format, you can copy them directly to the memory card in disk mode without using Windows Media Player.
Audio quality through the built-in speaker was quite poor, and occasionally MP3 tracks would pause for a very short, but noticeable, time during playback. When playing back video files, Xvid-encoded files played but it was less happy with Divx. However, the Xvid files showed dropped frames and weren't that satisfactory to watch. Files encoded at a lower resolution in WMV by Windows Media Player performed better, but still occasionally dropped frames.
Battery life is claimed at five hours, which should be easily achievable - after three hours' use, mixed between music and video playback, and navigation, the battery dropped to half.
Verdict
The GPS-500 is a very good satnav unit with a second-rate media player bolted on. It's got a great display and provides easy to follow instructions when you're driving around. At £345, it's a bit on the pricey side, and the random freezing in menus was disappointing.