Original URL: https://www.theregister.co.uk/2007/07/10/review_motorola_z8/
Motorola Z8 'kick slider' media phone
Does this 'multimedia monster' shape up?
Posted in Personal Tech, 10th July 2007 15:29 GMT
Review After years of flogging the Razr to death, and some very uninspired siblings, Motorola finally has something interesting to offer for the more demanding end of the market. The Z8, announced in May and available in the UK this week, is a well-designed capable media phone. But the Z8 is a rare thing in this day and age: a product the manufacturer actually cares about.

The most immediate eye-catching aspect of this phone is its "kick slider" design. This differs from a regular slider phone as the base contains a hinge - giving it its distinctive 'banana' shape when open. The hinge has some give, which means the phone flexes a little once it's open. This is disconcerting at first, but it's a practical design decision that you appreciate after some use. Without this flexing, the phone would be brittle and break easily.
Motorola says that by bringing the earpiece closer to your ear, and the microphone closer to your mouth, phone calls are more comfortable to make, as the Z8 fits the curve of your face. In fact, what makes the Z8 so comfortable to use is more about balance than shape. The phone's large 'chin' gives it a low centre of gravity, seating it firmly in your hand. Unlike other sliders, it doesn't feel like it's going to fly out of the top of your hand. This is one of the first sliders to feel like its natural state is open, not closed. Hats off to the designers here.
These folk also strived to give the Z8 a smooth look and feel: buttons are recessed beneath the surface of the case, and there's no gory connector at the bottom of the device. This doesn't always work to the user's advantage: the numeric keypad could certainly be more responsive. The call-end button trebles up as both the power button and the keylock. A mini USB port serves for both charging, PC connections and plugging in a headset.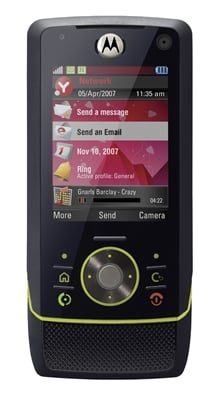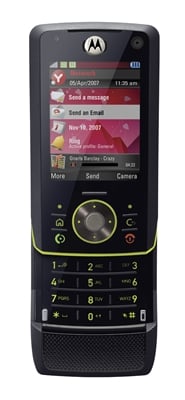 The Z8's other attention-grabber is the screen. With 16m colours on view, it isn't ground-breaking: but the quality, with the default font Motorola has chosen, is quite sensational. The balance of the aesthetics really works, unlike with Nokia's high-end models - where the text is either too large or too small - or the spidery lettering used by Sony Ericsson's own UIQ phones.
Yes, the Z8 also uses the Symbian UIQ interface - version 3.1, in point of fact - but nowhere does Motorola mention that this is a smartphone. UIQ is a pen-based interface that Motorola has used in the past - for the first Hutchison 3G phones - but the Z8 is the first phone to use the soft-key variant. There's no touchscreen, in other words. It soon becomes apparent that Motorola, like the Japanese manufacturers, has chosen Symbian as a base primarily for performance reasons. The Z8 is a top-class performer, with none of the performance lags experienced on many recent smartphones. And this is particularly true for video, which it handles with the grace and reliability of Christiano Ronaldo falling over in the opposition's penalty box unchallenged.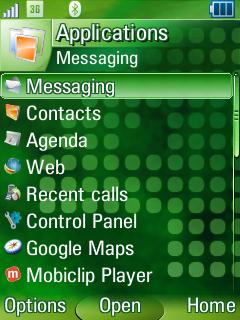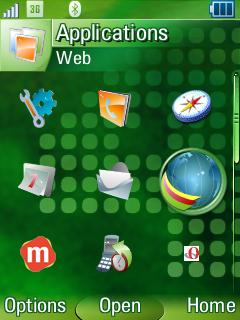 So we've figured out how to open the phone - what does it do?
In theory, UIQ also gives the Z8 application compatibility with third-party applications - but this is a new implementation of the UI, and so it's a rather more complicated picture. We'll go onto application compatibility further on.
Motorola bundles the Z8 with a Bluetooth stereo headset, a full-length movie... and Sky Anywhere, the remote control for your BSkyB box. The device is entirely focused around media playback and control, in other words, a focus that's reflected throughout.
Video playback is very impressive: at 30 frames per second it's a higher framerate, and a more fluid experience, than TV or DVD. The pin-sharp display means even subtitles are readable. Or put another way, you might even be able to recognise the features of Matt Damon, as the movie The Bourne Identity is bundled with the phone. Full-length movies pause and resume instantly after being dispatched to the background - although this does screw up the audio sync on the soundtrack. We found a couple of stop/starts were usually enough to resync video and audio.
Now, whether anyone wants to watch movies on a 2.2in, 240 x 320 screen is another matter. The long and ignoble history of mobile video suggests this is technology looking for a market. If the screen was a little larger, we could imagine watching 30-minute shows on a train or a plane at a pinch. Fortunately for Moto, the Z8 doesn't stand or fall on the public's appetite for mobile movies.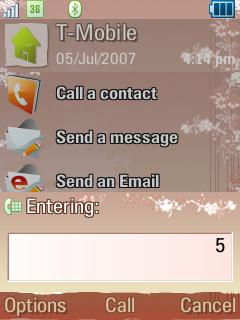 Making a call from the standby screen
The Z8 includes a two-megapixel camera, with eight levels of zoom. This is adequate, but there's no auto-focus. As is the norm with phones these days, it defaults to landscape - you take snaps with the phone aligned horizontally. Confusingly at first, when the Z8's slide is open, it uses the lower-resolution front-mounted 3G video-call camera, rather than the main, rear-mounted camera. Moto bundles the Shozu photo-sharing app with the Z8 - an excellent choice.
The handsets proved rather good for audio playback too. Note that although the retail Z8 is bundled with Moto's own new stereo wireless headset, it doesn't take a standard headphone jack, but instead uses mini USB. With the final retail package unavailable, we tested them with Sony Ericsson's lovely HBH-DS70 stereo headphones, and it worked very well indeed.
A major advantage is the lack of an artificial ceiling on media. The Z8 takes Micro SD cards, but it will be able to handle 32GB cards when they're ready: a welcome bit of future-proofing. And it's good to know there's now another home for the likes of SanDisk's 4GB Micro SDHC card, reviewed here
Unfortunately, there's no TV output. While I can't imagine a mass-market for tiny-screen video, we can envisage video enthusiasts using the phone as a portable cache for content they've acquired - as a kind of sneakernet - particularly since the USB transfers are rapid.
The Z8 uses the standard UIQ applications bundle, which includes a rich messaging client, Tasks, Notes and Calender - here called Agenda. However, as text input is so limited, the Z8 is really a read-only device. And you'll need to install Documents To Go or RoadSync for Office compatibility. The Agenda application demonstrates how good UI design - sensible layout and judicious use of fonts - can make a limited space effective.
The Opera web browser is included and, as with its UIQ 3.0 predecessor, can display pages vertically or horizontally. Here's an example: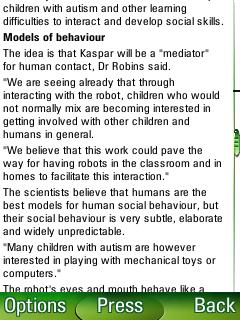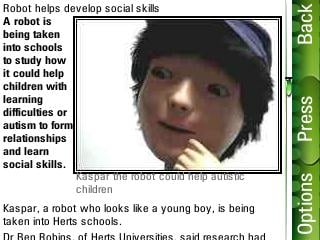 And here's the same page horizontally
We missed the single-key shortcuts that make Opera the most usable browser on mobile devices. Keystrokes such as '2' for the Bookmarks page, '5' to toggle between 'use cached' and 'get all new' images, and particularly the '3' that takes you right to the page's main content, were all absent.
While mobile video and 'user-generated content' are the two great white elephants of our age - giving us tools to control our own media goes largely untapped. It would have been great to see Orb and Sling supported out of the box, two services that in their own way, allow you to access your home media library on your mobile. Moto has left this choice to the operators. Instead, it's opted to bundle the Sky Anywhere player. This is a big deal indeed, giving subscribers the ability to program their set-top box on the go. Given the HDSPA fast download support this is not only feasible, but practical.
We tested the Z8 on three 3G networks: O2, T-Mobile and 3. Call quality was excellent, and improved as we implemented firmware upgrades. We comfortably got two days' use out of the phone, and were pleased that it chugged along on 'no bars', giving an alert sound loud enough to clear a building, for a considerable time.
The Z8 is a brisk performer. It acquits itself well indeed against rival high-end smartphones. So many recent Nokia S60 models can leave you waiting for ages - 30 seconds isn't atypical - wondering if the application has crashed or hung. There are no such problems with the Z8, which grew more dependable with time: the home screen and apps deck are never more than a couple of seconds away at the worst. Nor was the phone plagued by the memory scarcity that dogged recent Symbian 9.1-based smartphones. Only when the camera was used did the phone need to close down other applications. A movie stayed contentedly in the background for several days. And even after being closed, picked up where you left off.
The Z8 allows pluggable applets to be added to the standby screen: profiles, make a call, view calendar, music player. This is now a standard feature of Nokia's S60, but was pioneered on the Sendo X - itself designed by the same team that created the Z8; Motorola acquired the team two years ago. It's much easier to configure than on S60, however, and can be set from the left soft-menu key with a couple of clicks: there's no need to drill down several layers.
The phone has improved immeasurably over recent firmware updates - and unusually for a modern mobile, the manufacturer appears to care about the user experience and is keen to improve to it. Motorola incorporated feedback throughout the development cycle, with some important enhancements. Unlike Nokia, which very humbly solicits feedback through its bloggers, then very arrogantly throws their replies in the bin.
But there's still some room for polish.
We found there's a delay that's just a fraction of a second too long when the slider is opened: it should be instant. The icons need some work, too: they're infuriatingly indistinct, and too many look alike. We were obliged to view the applications deck and control panel in List view. Here's an example: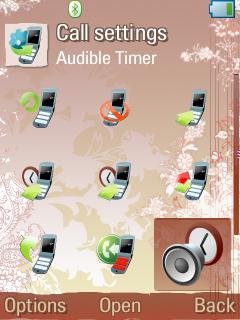 Motorola's bundled "Guess the icon?" game.
The Z8 isn't a flip phone, Moto...
The task switcher, invoked by holding down the Home key, bobs disconcertingly usually once, but sometimes twice.
That said, it's evident that the Motorola team has worked hard to remove UIQ annoyances where it could. For example, the default UIQ address book is notorious for making look-ups difficult. You can either search by first name or last name, and to change between them you need to change the display order: a quite asinine decision. The Z8, however, finds contacts regardless of whether the search string is a first name or surname.
In other areas, alas, Motorola had to deal with the new, verbose UIQ. This really needs a brutal redesign: too many functions take too many clicks to accomplish. Some user interface controls require manual confirmation - you have to explicitly confirm the change using the left soft-menu key. Others don't, you simply go back to the previous screen knowing the change has been made. It's inconsistent and infuriating.
For text input, this phone uses Motorola's preferred iTAP - which takes a couple of days to get used to if T9 is embedded into your motor movements. It's actually a bit faster once you're familiar with it - recognising phrases as well as words - although it demands a little more concentration.
As for compatibility, UIQ 3.0 themes work without any trouble. Some applications may need to be tweaked to take into account the subtly different input. We tried the Salling Clicker 3.0 client designed for the W950 phone, and discovered it installed and ran. High-profile Java apps such as Google Maps and Yahoo! Go 2.0, naturally work very well.
Verdict
From its styling, the Z8 appears to have been designed to appeal to blokes who talk very loudly in the gym. This, with the BSkyB bundle, is probably very astute marketing. The real bellweather technology adopters aren't phone nerds but the guy in Brentwood with a decent disposable income. The BSkyB remote control is a very handy feature if you're a subscriber, in which case everything else is gravy.
For the rest of us, the Z8 shows great promise - we particularly liked the balance and comfort. We look forward to seeing the user interface annoyances ironed out, and seeing the Z8 appear in different colour schemes and with more of a music focus. It has the potential to give Sony Ericsson a run for its money, and at once provides a complacent Nokia with some long overdue competition at the top end of the handset market.