Original URL: https://www.theregister.co.uk/2007/07/06/helium_balloon_record/
Helium balloon Brit breaks distance record
3,434km across the Atlantic
Posted in Science, 6th July 2007 10:19 GMT
Intrepid Brit adventurer David Hempleman-Adams this morning broke the distance record for a AA-06 (37,000 cu ft) helium balloon, having by 4am travelled 3,434km across the Atlantic, thereby claiming the FAI (Federation Aeronautique Internationale) crown.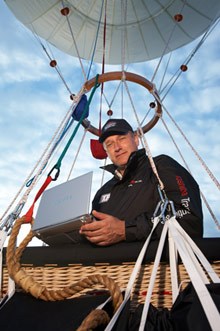 Hempleman-Adams, 50, set off from St John's, Newfoundland, at 00:00 GMT on Tuesday aboard the "smallest gas balloon ever to attempt this flight", boasting a basket of just 4ft by 4ft.
According to the press release, he's "barely slept in the last four days" while surviving on a typically British diet of pork scratchings and ginger nuts.
Previous record holder Benoit Simeons sportingly wished Hempleman-Adams luck during the attempt, noting: "This adventure is without any doubt the most daring flight ever tried with this kind of balloon." In 2005 Simeons 2005 clocked up 3,400km in a similar balloon during the Gordon Bennett Race*.
After passing Simeons' milestone, Hempleman-Adams enthused on his blog: "We've done it! I've just passed the distance I needed to get the world record for the class of balloon I'm flying. I can't believe it. We've done it. I'm so pleased, thank you everyone."
Hempleman-Adams' previous daredevil stunts include flying to the North Pole in a balloon, and making the first crossing of the Atlantic in a Roziere balloon (lifted by a combination of helium and hot air). He was this morning drifting gently over France, and you can see his current whereabouts on this handy flight tracker. ®
Bootnote
*No, we couldn't quite believe that name either.