Original URL: https://www.theregister.co.uk/2007/06/30/miles_from_broadway/
Theatre and democracy in Second Life
Everyone gets a part
Posted in Policy, 30th June 2007 02:02 GMT
Column Sometimes, when the right people are together, the most mundane conversation can lead to interesting and unexpected observations. In this case, an argument with a Second Life friend about a dress evolved into a decent discussion of online RP environments like SL, and just how much theatre one brings to the game, and how much of oneself.
There's no question that SL is a game and residents are playing a character or characters, but there is a range of participation which starts at simply playing oneself as well as one can, to creating completely fictional, even fantastic, characters.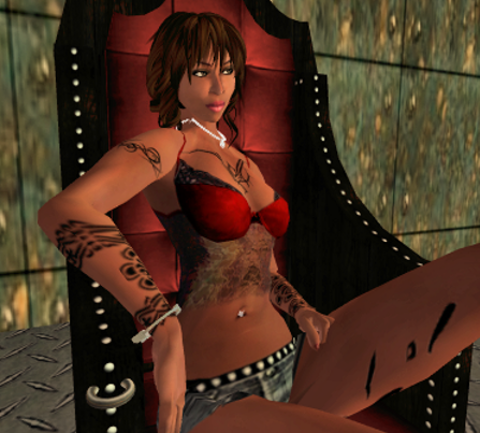 For most SL residents, it's natural to imagine one's primary, or default, character as an extension of oneself, but not necessarily a mirror image. There's a grey area between playing it absolutely straight, as yourself on the one hand, and indulging in fantasy at every possible level on the other hand. And I think this grey area represents the balance that most residents are seeking to achieve. I would say that overall, your default character is not you precisely, but it's not totally imaginary, either. Of course there are exceptions: some residents do play it completely straight, and others do go for a concocted online persona. But I sense that most residents are looking for balance, with a consistent primary character that reflects them in real life, but doesn't define them, and therefore allows for some playfulness.
Layering
Of course, there might be roleplay on top of this, in which a person temporarily adopts a fantasy character or characters for particular scenes and later returns to their default character, where they remain most of the time. This permits some compartmentalisation, allowing for fantasy and yet for a certain level of fidelity or integrity at once. (Although some residents have come to enjoy roleplay so much that their RP characters have become their default SL characters, and they basically experience SL through a fictional, or even fantastic, avatar.)
For a slightly different approach to compartmentalising your characters, it's also possible to establish more than one SL account in order to create characters with different names, and quite possibly different sexes, races, even species. These are called alternates, or alts. They can be useful when, for example, you want a second avatar that is not know to your original avatar's in-world friends.
Using an alt unknown to one's friends could possibly invite some mischief, but there are many valid reasons for having one. You might, for example, wish to play across sex once in a while, and you might not want the world to know it. If you were to create a different avatar under your original SL account, the avatar would have the same name, the same friends, and so on. It would not be long before your friends observed you playing an opposite-sex character, and that could turn out embarrassing - for you, and possibly even for them.
Another perfectly good reason for using an alt is simply to enjoy SL without your friends IM'ing you every five minutes. If you are a long-term and well-connected resident, an alt can provide a little holiday from your in-world social life, which can be quite demanding. However pleasant it is to have lots of in-world friends, you still might enjoy quietly knocking about on your own in SL every now and then.
So obviously, there can be many layers of fiction and fantasy behind a person's avatar. Nevertheless, I sense that for a majority of residents, the primary, or default, character tends to remain reasonably reflective of the person playing it in real life.
Who's the boss?
That's why it surprised me when I saw that a significant change to my avatar's appearance could affect the way I play my role. After changing its looks, I noticed that the character's behaviour began to change, and I noticed as well that I started feeling different and thinking differently while online.
This was well illustrated during a disagreement with a friend over a dress. Yes, silly girl stuff, I know, but instructive nonethless, so bear with me. This was a shoulderless party dress with a corset-style top and a poofy, floor-length overskirt. It came in several colours, and my friend urged me to try it in pink. I resisted. My character doesn't wear frilly, pinky, femmy stuff.
Well, I did try it on, and I can't deny that, objectively speaking, it looked fabulous, but I felt that SL Destiny would be uncomfortable in it. I see her as a tough, proud woman who might drop you with a left hand that comes out of nowhere if she didn't care for your attitude, like the Rasta princess of your nightmares.
She's also a Domme with a house of her own - that is, a nice property, but more importantly, a family of submissives to whom she is the Matriarch. There is a logic to this character, to this clan leader and Mistress, and there are certain actions and certain things that would simply be out of context. Like frilly, pinky, femmy clothes, for one example.
Now, SL Destiny 1.0 adored fluffy clothes and strappy shoes, and she would call that pink number "to die for". And if someone told her, "it makes you look incredibly feminine", she would go "oooohhh" and get all squishy inside. But I'm quite certain that SL Destiny 2.0 wouldn't be caught dead in such a costume.
Interestingly, the sight of Destiny 2.0 in that poofy pink outfit made me uncomfortable. And I think this reflects my tendency to remain in character while playing in SL. It's a matter of my observing the character's own internal logic, sanity, consistency - of maintaining her integrity. As the one who created the role, and the one who plays her, I've developed a sense of loyalty: I simply do not want her presenting herself in a way that would be inconsistent with her, well, with her feelings, actually.
Because, she does have feelings, and they're not always my feelings. Certainly she's not real in the sense that you and I are real, but she is a fairly well-developed character nevertheless. I'd say she is real in the sense that a well-drawn character in a book or a movie seems real. And some very authentic RL emotions can be involved here, because, ultimately, there are real people behind the avatars. Sometimes, SL Destiny's experiences can affect me, and the people I contact in SL through her, emotionally, much the way that a movie or a book can affect our real-life feelings. We all know it's fiction, but anyone who hasn't laughed aloud or wept aloud while reading a book or watching a movie really ought to seek professional help.
Art and fiction do generate real emotions. The actual source - a book, movie, painting, etc - is the product of someone's imagination, but the effect it can have on us is absolutely real and the emotions we experience are perfectly authentic. And I think that games like SL can work in a similar way, only here you are not only a witness; you're also a contributor. Everyone is audience member and player at once.
Naturally, if one intends to be loyal to one's character, one will be conscious of presentation. We present ourselves in many ways; clothes are merely one element. Still, if you're going to play a character with integrity, you are always quietly conscious of what they would say, how they might interact with others, how they would respond in a certain situation, and of course, how they look. Ideally, you learn to play your character well enough not to think about any of this: it all becomes second nature.
While I searched for a way to explain to my in-world friend why SL Destiny would never wear such an outfit, and why I, the real-life person playing her, am actually uncomfortable with it, she raised several good points. Where is the harm to a Domme in showing a softer, more feminine side? Would it seem like weakness? Can't you let your hair down among family and close friends? Does a Domme always have to be so strong? If you can instruct your subs to top you occasionally, why can't you wear a pink party dress?
Off off off off Broadway
Those were interesting questions, involving the unconscious, second-nature elements of how I play my character, and whether, in a sense, my character has started reading from its own script, so they deserved answers better than, "that's just the way I feel".
I do sense that my character has taken on a life of her own which appears to be developing independent of my conscious control, primarily through contact with other, regular "cast members": i.e., SL Destiny's in-world friends. And if we keep the theatre analogy going, one could say that the play in which she's a character is being written and performed daily by myself and the people behind the avatars that SL Destiny is most often in contact with. It's a play with many authors and many directors, performed on the fly, by people who come and go as they please.
So, carrying the analogy one step farther, we can see this more precisely as a marathon improv session in which regular characters enter at will and contribute as they see fit, allowing story lines to evolve through everyone's continued personal interactions, and through each player's tendency to form new connections outside the core group, and bring new players in.
So, what holds it together? Why does it not deteriorate into irrelevant chatter? Well, it often does, in fact. I've met more players than I care to remember who cannot or will not keep their behaviour relevant to the situation they are in. In roleplay, typically there are rules, or at least conventions. And yet, even with RP, it's common for a scene to break down into out-of-context chat, debate, and bickering over roles and regulations.
That can be bad enough sometimes, but when you play your default character in SL at large, you're on your own, as are the people you meet in world. There are no rules or conventions; you decide the character's appearance, behaviour, speech, and backstory. Meanwhile, everyone else is doing pretty much the same with their default characters, at least outside of RP. This means that the majority of residents you meet are going to have quite different ideas about what they are doing on the grid, and what they imagine others ought to be doing.
Indeed, it's a miracle that it works at all. But it can work, and sometimes it works surprisingly well. For one thing, sims and clubs are themed - sometimes rather broadly, sometimes more narrowly - giving you an opportunity to increase your chances of meeting like-minded residents.
If you want to join others who are fairly serious about how they play the game, and willing to collaborate on a long-term story, you'll need to hook up with players who are committed to their characters and respectful of the virtual environments in which they operate. For all the residents you'll encounter wandering aimlessly about and propositioning everyone they meet for cybersex, you'll find others who take the game seriously. If you should as well, you will eventually find a few of them, and those acquaintances will lead to other acquaintances, and so on.
I'm by no means suggesting that anyone ought to take the game seriously, but I've found it to be fun, and all the more fun if you put some thought and effort into your character, especially when your in-world friends do the same. It would be too simple to say that you get out of it what you put in, because what you get depends on what others put in as well. So, yes, you need good friends to have a good Second Life. But then, that's true everywhere. ®
Previous Columns
Role-players amok in Second Life
My big, fat, lily-white Second Life (NSFW)
BDSM blossoms in Second Life (NSFW)
The ins and outs of a Second sex Life (NSFW)
Reg embeds hack in Second Life (NSFW)