Original URL: https://www.theregister.co.uk/2007/06/30/first_apple_iphone_review/
Apple iPhone
May return it
Posted in Personal Tech, 30th June 2007 17:09 GMT
Review No, Apple didn't send us an iPhone. Newsweek got one. And The Wall Street Journal. And The New York Times. But Jobs and Co. have a very different attitude towards El Reg. We weren't likely to get an official review unit even before our very own Ashlee Vance publicly questioned the sanity of the company's PR staff. We had to wait in line like everyone else.
Friday afternoon, I turned up at the downtown San Francisco Apple store just past 4pm West Coast time – nearly two hours before the cell phone/handheld/status symbol went on sale - and the line stretched up one block, across another, and down a third. No fewer than 350 people were camped out on the sidewalk, including everyone from a twentysomething with a Mohican and a pinstriped suit to a 70-year-old with an "I'm a Mac" T-shirt. That's 350 camped out for a retail product. Apple's customers are in worse shape than its PR staff.
"Are you waiting for the cable car?" a woman stopped to ask.
"No," I said. "The Apple iPhone."
"That's ridiculous," she said.
It wasn't quite as ridiculous as I expected. An army of overly-hip Apple employees moved buyers in and out of the store so quickly, I had my 4GB iPhone within an hour of the doors opening. Well, the waiting wasn't as ridiculous as I expected. Those black-shirted Apple automatons applauded me as I walked into the store – and applauded again as I walked out.
The iPhone itself? Once I got it home, I couldn't help but enjoy the novelty of it all. The "Look Ma, no stylus!" interface. The visual voicemail. The display image that rotates as the device rotates. Fresh out of the box, the iPhone is so much fun because it's such a departure from what's come before. But even during this wide-eyed honeymoon period, frustrations set in from time to time, and you have to wonder how the device will fare in the long-term.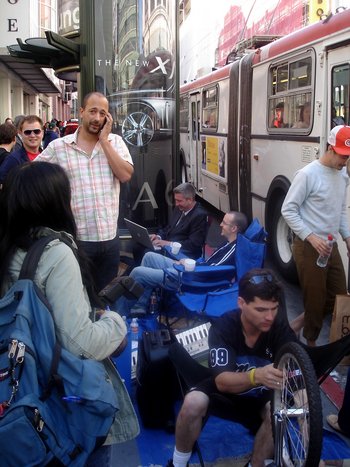 The front of the queue...
The Setup
Setup couldn't be easier. No, really. It couldn't. You can sign up for wireless service and activate the device without a phone call – much less a trip to the local cellular store. Apple gives you the option of handling the entire process online, through its iTunes service.
All told, it took me the better part of an hour to set the thing up. But that's because I'm delinquent when it comes to updating my desktop software. The iPhone won't work without iTunes 7.3 and Mac OS 10.4.10 - or Windows Vista or XP Service Pak 2, if you're on a PC - and I was running much older versions.
Once my desktop was updated, I had the phone activated in less than ten minutes. There was a moment where AT&T's website struggled to pull up my info, but after an extra try or two, it finally responded.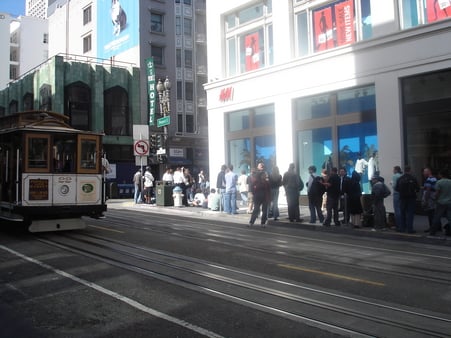 The line for the Apple iPhone - not the cable car
The Software
But enough with setup. The real revelation is Apple's stylus-free GUI. The interface is so intuitive - and so responsive - you can do almost anything without a second thought. To open an app, you simply touch it with a finger. To move an item back and forth, you slide your finger to and fro. Giving you the power to do almost everything with a touch to the screen, Apple includes only the one hardware button.
The ability to navigate with your bare hands lends a little something extra to almost every application – from the calculator and the weather widget to email and visual voicemail – but it's particularly handy when it comes to using Google Maps and browsing the web. You can zoom in on a map or a web page simply by touching two fingers to the screen and then spreading them apart. If only it were that easy on the desktop.
The only part of UI had trouble with was the on-screen keyboard. Even after a few minutes of practice, I hit the right key maybe 50 per cent of the time. My wife, by contrast, took right to it. But her fingers are considerably smaller than mine, and she has a general knack for showing me up. For most, I'm sure the soft keyboard will take some getting used to, and if your hands are on the bulky side, I question whether you can ever master it completely.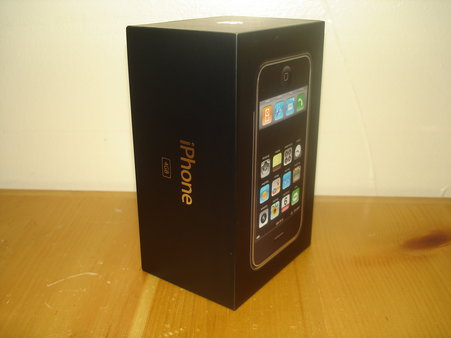 The coveted box
The Sights and Sounds
How does the device rate as a phone? As a media player? Call quality is nothing special. Calls sound like, well, cell phone calls. But the speaker phone - easily accessed, like everything else - works unusually well.
Music playback is brilliant – whether you're listening through headphones or in the open air. And you can't argue with the look of photos and videos - as long as they're of decent quality to begin with.
I must admit that, once I had my iPhone up and running, the first thing I visited was YouTube, the iPhone "mystery app" that wasn't announced until early last week. In some ways, YouTube videos look even better on the phone's 3.5in screen than they do on the average PC display. There's a certain immediacy you don't get on the desktop.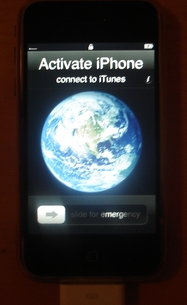 The first screen - pre-activation
The Snafus
The flipside is that I still haven't gotten through an entire YouTube video without it stalling on me. Performance was dreadful over AT&T's wide-area Edge network, and I still had problems over local-area Wi-Fi - though I've yet to determine why; there should be plenty of bandwidth.
Loading standard web pages wasn't a problem with Wi-Fi, but it certainly was with Edge. I've used my iPhone for half an evening, and already, I wish it had faster wireless access. I'm also wishing it had a better camera. Even in good light, its two-megapixel shooter is dreadful.
My other big complaint concerns email. Accessing my Gmail account took no more than a few minutes - in addition to entering my user name and password, all I had to do was log on via my desktop and set up my account for POP download - but the phone ended up tossing all my mail into a single container. Received messages. Sent messages. Everything.
These complaints aren't going away, and as I continue to use this thing, I'm sure that others will crop up. El Reg Associate Editor Andrew Orlowski says you can never draw conclusions about a phone unless you've used it for at least a month. He even predicts that users will grow weary of all that screen touching and call out for more hardware buttons. We'll keep you updated...
Key specs
Dimensions: 11.5 x 6.1 x 1.16cm
Weight: 135g
Capacity: 4GB or 8GB flash drive
Display: 3.5inwidescreen multi-touch display
Resolution: 480 x 320-pixel at 160 dpi
Mac system requirements
Mac computer with USB 2.0 port
Mac OS X v10.4.10 or later
iTunes 7.3 or later
Windows system requirements
PC with USB 2.0 port
Windows Vista Home Premium, Business, Enterprise, or Ultimate Edition; or Windows XP Home or Professional with Service Pack 2 or later
iTunes 7.3 or later
GSM: Quad-band (850, 900, 1800, 1900 MHz)
Wireless data
Wi-Fi (802.11b/g)
EDGE
Bluetooth 2.0+EDR
Power and battery (claimed)
Built-in rechargeable lithium ion battery
Talk time: Up to 8 hours
Standby time: Up to 250 hours
Internet use: Up to 6 hours
Video playback: Up to 7 hours
Audio playback: Up to 24 hours