Original URL: https://www.theregister.co.uk/2007/06/29/review_zyxel_nsa-2400/
ZyXel NSA-2400 network attached storage box
Four-drive central storage for your LAN
Posted in The Channel, 29th June 2007 11:04 GMT
Review Ever more capacious computer hard drives encourage us to stuff more and more content on them, which means backing it all up can prove to be a pain. And what if you have more than one computer in your household? Enter the ZyXel NSA-2400, a single, shareable repository for all your data storage needs.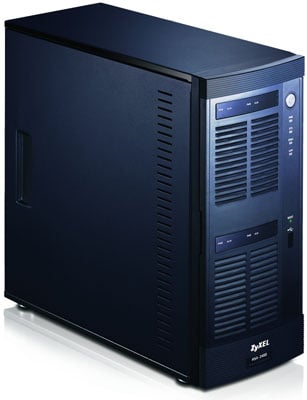 The NSA-2400 isn't the most consumer-friendly of storage units, but then we guess since it'll spend its time tucked well out of the way, looks don't need to be among its strong points. It's a bit smaller than a typical mini-tower desktop computer - it's 30.5 x 30 x 14cm - and it's all decked out with green LEDs and black air vents to give it that IBM server appearance much beloved of small- and medium-sized businesses.
The front of the NSA-2400 is one large door that opens to reveal the four 3.5in 1.5Gbps SATA hard drive bays, pre-populated in our unit with four 250GB drives for 1TB in total. Ours ended up without the door, not out of personal preference, but because the steel hinge pins fell out so often we decided to keep them out.
The drives themselves are fitted into frames for easy removal and replacement. Just push the frame's spring-loaded handle to release it then the slide out the drive. The HDD is held into the frame with four closely positioned screws, so replacing drives if they've failed or you're upgrading is no chore at all.
However, the drives are not hot-swappable, so you can't change them without powering the unit down first. Unless you're using the NSA-2400 for its fault-tolerance, this shouldn't matter much. It's not the kind of box you'd use to host data that you absolutely can't have out of commission for even a very short period. This is a unit for communal data and back-up space - we used it for media sharing, for instance - and it's RAID hard drive configurations provide sufficient security to keep your files safe.
The front of the NSA-2400 has LEDs to show power status, system and network activity, and for diagnostics if something goes wrong. There's also a USB port so you can add extra storage space. You'll find two more USB ports on the back, along with the power connector and the Gigabit LAN port.
Plug the machine in, hook it up to your network - in our case, the Register Hardware wireless router - turn it on and, after a minute while it starts up, you're ready to go. All the NSA-2400's configuration options can be accessed through a web browser, so it's easy to manage on a cross-platform network. Well, almost. If your router automatically hands out network addresses, you'll need to run ZyXel's NSA Discovery Utility to sniff out the box's IP number so you can type it into your browser. Unfortunately, the utility is Windows only.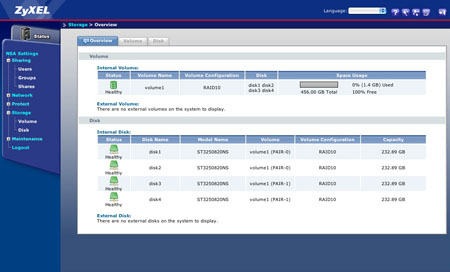 Zyxel's NSA-2400: drive status screen
Click for full-size image
You can, of course, administer the NSA-2400 using more Windows-only software, but we chose to do it through the browser. This displays the customary status display, along with, on the left-hand side of the screen, hierarchical menu access to the various groups of settings: users, the network, the drives, back-up and maintenance.
However, you're more likely to set up the NAS box by running the set-up Wizard, which guides you through the basics: configure how the NSA-2400 connects to the network, set up the drives, decide whether you want to enable FTP access, choose how the NSA-2400 logs problems - and whether you want it to email reports, set the server's clock, and finally add users and groups.
You'll need to access the settings directly if you want to set up things like back-up routines - to back up the back-up to another NSA-2400 or an external hard drive, if you have one big enough - save data change snapshots, make a copy of the configuration files and so on.
The browser screens are well laid out, but we found them frequently slow to load, leaving us wondering if anything was going to happen.
Assigning private space to named users is straightforward. You can give each of them a quota, though the NSA-2400 will happily let you assign more storage than it has available. You can also set up public and shared folders on the NSA-2400, and again that's easy to do. Sharing is handled using SMB/CIFS.
Disk setup can only be run through the Wizard, which makes sense since you're probably only going to want to do this once. Thoughtfully, ZyXel separated the drive and the system set-up into two Wizards - though the latter will invoke the former if you want it to - making it easy to change the drive configuration without running through the complete set-up process. That said, the Wizard doesn't automatically recreate users' private spaces after you've reconfigured the drive, leaving you to add all these back manually. User and Group data is retained.
The drive set-up utility provides five configurations, and does a decent job of explaining the options to the non-technical users. You can combine the drives into a single volume, either using one after the other (JBOD) or striping the information across all four drives for higher performance (RAID 0). You can mirror the drives to reduce capacity, but allow protect the data, but with enforced striping too for higher speeds (RAID 10). RAID 5 is available too - it sacrifices write speed, but gives you more capacity and higher data security than RAID 10. Finally, you can set three of the drives into RAID 5 mode, reserving the fourth as a spare in case one of the others fails.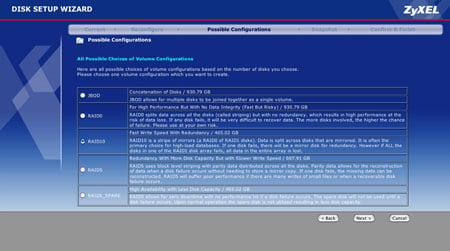 Zyxel's NSA-2400: drive configuration screen
Click for full-size image
Which you choose depends entirely on whether you value capacity over security or vice versa. You get a good selection of alternatives, but not so many that you're left umming and ahhing between two or more very similar just slightly different options.
Plugging in a USB disk makes it accessible as a public share. Anyone can read and write files, provided the disk is FAT-formatted - NTFS disks are read-only. Linux EXT1, EXT2 and EXT3 formats are supported too.
What drives you install is up to you. ZyXel sells the NSA-2400 without drives, so you can pick whichever brand of drive you prefer or just go for the cheapest. That's also true of a more consumer-centric NAS box like Netgear's SC101T Storage Central Turbo unit, though it only offers two drives. Still, it costs around £120 to the NSA-2400's £520, though you can get the ZyXel for as low as £420 if you look. A four-drive, 1TB LaCie Ethernet Disk RAID currently costs around £589, but since you can buy four 250GB hard drives for the difference, there's really nothing in it, though the LaCie, unlike the ZyXel is hot-swappable.
Verdict
ZyXel's NSA-2400 is a solid, if uninspiring, network storage unit. It gives you the flexibility to add your own drives - which also keeps the up-front cost down - but doesn't scrimp on the features you need to make the most of the machine. The look's a bit corporate for us and the price is totally par for the course. It doesn't excite, but then it won't disappoint either.