Original URL: https://www.theregister.co.uk/2007/06/28/hp_ibm_marketing_king/
HP steals agenda setting crown from IBM
Playing with its big stick
Posted in The Channel, 28th June 2007 09:15 GMT
Comment It took the well-dressed businessmen hanging upside down from the rafters, the acrobats with iPAQs and the data center porn to mush the concept all over my brain. HP has unseated IBM as the agenda setter in the IT game. Or at least that's what HP believes.
I'm ashamed to admit that it required the full force of HP's Technology Forum propaganda to sound the alarm. Many of you not present at HP's customer extravaganza held last week in Las Vegas may have already figured out what's up with the recent "Business Technology" marketing pushed by Hurd and Co. HP wants to define the next major data center movement, just like IBM did a few years back with the "On Demand" onslaught.
Having overtaken IBM as the world's largest technology company, HP apparently sees this market setting plan as its right. I happen to agree with HP and am impressed with the speed at which it concocted the Business Technology concept.
For the unfamiliar, Business Technology, as best as I can tell, means that HP is ready to talk to customers about more than the gigabytes of storage in an array, the ROI of a web server rollout or how many transactions per minute an Itanium box can crank. Instead, HP wants to discuss a "phase where IT assets are managed in only one way – just on the business results" they deliver.
HP wants to brawl with Nick Carr who infamously asked, "Does IT matter?" and then more or less told us "No."
The argument makes sense given the recent fluctuations in technology spending. In the boom times, companies would pay anything to obtain the latest and greatest technology. During the bust times, they spent nothing. Of late, companies have turned to things such as VMware hoping to get the most out of the gear they're willing to buy.
The end result is an IT spending scenario where companies dish out most of their cash to maintain data center status quo and have just a small fraction of their budgets leftover for fresh, allegedly innovative projects. That's a horrible turn of events for companies such as HP and IBM that need to increase revenue $10bn to $20bn per year if they're to please investors.
Hurd's Fiorina impression
HP's Business Technology browbeating appears in its full glory when the company talks about itself.
CEO Mark Hurd's favorite speech documents HP's goal to shift from spending about 75 per cent of its IT budget on data center maintenance and 25 per cent on new technology projects to the exact opposite formula. HP will accomplish this, in part, by moving from 85 data centers scattered around the globe to two centers each in Houston, Austin and Atlanta. The same program has HP cutting back from around 20,000 servers to 5,600 – half of them blades – and retiring thousands of software applications. (At the same time, HP will go from 4,000TB of non-shared storage to 10,000TB of shared storage and from 435 "next-generation" switches to 6,500.)
HP wants to finish off this Herculean task by Oct. 31, 2008 – call it All Hallows Judgment Day. (The company, however, has a long way to go, having cut its data centers down from 85 to just 79 over the past year.)
More often than not, HP refers to its IT shrinking as a "transformation." And it's the very same transformation most of you are meant to undertake.
HP's example proves far more dramatic than other sweeping, past pitches from the likes of IBM, Sun Microsystems and Dell. Looking at the numbers above, you can tell HP is going whole hog on an unprecedented scale. It's looking to do the IT work now, so it can get on with the BT work later.
Marketing master Carly Fiorina failed to pull off a dog food eating/propaganda exercise on this scale. She used to talk about invention, everything going digital and HP's ability to molest you from the PDA to the Superdome. Mark Hurd's HP says, "We're revamping our technology infrastructure in a controlled, albeit radical manner, and this is the way forward for everyone. Spend now to make money and enjoy innovation later. Spend now. Spend now."
While impressive, HP's ambitious message delivery could use some fine-tuning. For example, the company locked reporters out of the Technology Forum press room for three out of the five days of the conference. It's tough to whore for the company when you can't find a reliable internet connection and even tougher when you don't have a free sandwich to make all the slideware palatable.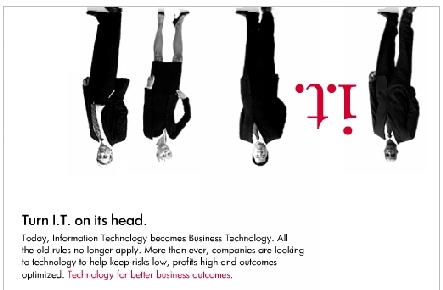 We feel sick
In addition, HP refused to provide me with CIO Randy Mott's Technology Forum keynote material that documented all the numbers behind the Grand Transformation. Mott gave the speech in front of a few thousand people, and I copied down much of the relevant information. Sadly, I missed some of the figures on Mott's rather figure-packed slides.
If HP is so proud of its work, why does it refuse to reiterate the details? Guess we'll have to go digging through its garbage. Blush.
Petty gripes aside, HP fails, at the moment, to really pull off the Business Technology discussion in style given that just about every conversation of merit still revolves around IT. HP would like us to believe that the world has moved past bits, bytes, bandwidth, OSes, chips, application servers and the like. You all know that's not true.
So, HP, in its first effort as the world's most important IT vendor, has picked a very lofty end goal. Such is the nature of the beast.
IBM, for example, never really shipped much On Demand technology despite its numerous claims about having done so. The biggest boy on the block always talks huge, hoping to intimidate others into action and hoping to seem more important than it really is.
If HP wants to be taken more seriously than Big Blue, it will have to slave away at improving the state of technology over the next few years through both practical application and relentless research and development. I'm yet to be convinced that Hurd's HP is up to this task, but will concede that it might be.
If nothing else, HP has seized on its rightful place as the IT market's prime cheerleader. The messages doled out by HP will ripple throughout the industry.
HP might not be able to turn its vision into reality, but the company does seem to be taking its responsibility as the IT alpha male seriously.
To that end, I'm pretty sure that it's not completely wasting your time.®