Original URL: https://www.theregister.co.uk/2007/06/27/google_search_rivals_sound_fury/
Google search rivals full of sound and fury
Signifying nothing
Posted in Software, 27th June 2007 13:02 GMT
Analysis The rumor hit the web early this month. Citing an anonymous source, TechCrunch's Michael Arrington reported that Microsoft was putting together some sort of uber search team at its Silicon Valley outpost in Mountain View, California. Gathering at least twenty "rock star" developers - including 23-year-old wunderkind Sanaz Ahari – and putting them to work on a "next-generation" search platform, Microsoft was intent on challenging the web's runaway search leader in its own backyard.
Two days later, a Microsoft VP denied the rumor. "When they get it done, I hope they'll send me a link to it so I'll know about it," Satya Nadella, corporate vice president of Microsoft's search and advertising platform group, reportedly said at the Search Marketing Expo in Seattle. But Arrington's chit-chat raised an interesting question. Let's say Microsoft has put together this crack team of developers. Let's imagine that Ahari and the gang managed to build that new-age engine, completely reinventing the notion of web search. Would it make a difference?
According to the latest study from Nielsen/Net Ratings, Google now handles 56.3 per cent of all US web searches, and its search traffic is growing at a rate of nearly 45 per cent a year. Microsoft just launched a brand new search engine in March of last year - the ho-hum Windows Live Search - and the company still controls less than nine per cent of the market, with year-over-year growth almost nonexistent.
When it comes to search, Google is so dominant, Microsoft is lucky to maintain the status quo. Even with a superior technology in place - and good luck making that happen - the company would be hard pressed to lure web users in a new direction.
"This isn't just a question of Google's technology. It's a question of their brand and overall market dominance," says Rebecca Lieb, editor-in-chief of Search Engine Watch, the ten-year-old website dedicated to all things search. "Google has become synonymous with search. It's part of the lexicon, like Xerox and Kleenex."
The same task faces Ask.com and Yahoo!, the only other Google competitors even remotely worthy of the name (AOL's search engine is driven by Google). Ask launched a brand new engine - Ask3D - the day after Arrington spread his Microsoft rumor, and Yahoo! recently introduced a new ad platform in support of its search engine. But neither shows any sign of stealing share from the market leader. Nielsen/NetRatings puts Yahoo!'s share at 21.5 per cent - little more than a third of Google's – and Ask's at a meager two per cent.
"Ask.com has done a terrific job with its new user interface and new algorithm, but it's not enough to change people's habits," says Jupiter analyst Kevin Heisler. "The most brilliant thing Google has done is to make people think that their competition is just a click away. But the reality is that there are no competitors."
Before Yahoo! CEO Terry Semel resigned his post last week, as company shareholders fumed over his $71.7m compensation package, there was a call to restructure the package and attach his compensation to the company's share of the search market. Talk about a pay cut. You might as well tie his compensation to Sisyphus and that rolling rock. Competitors can certainly challenge Google in other areas, but search is a lost cause.

Microsoft's new Windows Live search engine launched in March of last year.
The China Analogy
In China, Google's situation is reversed. By the end of 2006, says the China Internet Marketing Network Information Center, the Mountain View outfit handled less than 25.3 per cent of all Chinese web searches - and its share was shrinking rapidly. Baidu, a site born and bred in China, is the runaway leader at 62.1 per cent.
Based on a study by the research arm of Enquiro, a search engine marketing firm, Baidu's dominance isn't down to technology. It's down to brand. In a blind taste test carried out by the firm this month, the Chinese version of Google significantly outperformed its rival.
"With Google, the average search took around 30 seconds," says Gord Hotchkiss, Enquiro president and CEO. "With Baidu, it was up around a minute." But, for whatever reason, Chinese users prefer Baidu.
Google's dominance here in the States mirrors Baidu's in China. Most pundits agree that the Google search engine is superior to its American competitors, and other blind tests by Enquiro would seem to bear this out (though the company has yet to test the new Windows Live Search). But Google's hold on Western consciousness is so great, the question of quality is almost irrelevant.
"It's not so much Google's technology that's superior," says Jupiter analyst Heisler. "It's the brand and the aggregated audience."
Some feel that Google could be challenged through some sort of vertical search engine. With video playing an increasingly important role on the web, for instance, there might be an opportunity to gain some ground via video search.
But Google already has a hand in all sorts of vertical search markets, including video, and with its new "universal search" platform, it's done a pretty good job of latching these efforts to the success of its main engine. "People are more likely to use Google's video search engine than they are to navigate away and use someone else's," Heisler continues.
He believes that any serious threat to Google's search hegemony will likely come from somewhere other the traditional Web. "Just as Microsoft's success was tied to the desktop, so too is Google's. Google works for people who are sitting at their desks. They don't dominate wireless in the same way."
But a recent study says otherwise. Market research firm M:Metrics just released its latest list of the top mobile destinations, and Google ranks number one, with almost twice as many visitors as both Microsoft and Yahoo!.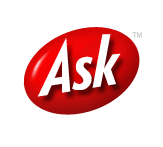 Ask.com launched its new Ask3D engine launched just weeks ago.
Ask Admits Defeat,but...
Ask.com acknowledges that Google is un-catchable. After Microsoft and Yahoo! declined our request for interviews about Google's search supremacy - "We don't comment on our competitors," said a Yahoo! spokesperson. Ask is frank about the possibility of anyone taking over the top spot in the search market. "We can't compete with Google in all areas and we're not trying to," says Doug Leeds VP of product development. "We're trying to be the other search engine people go to."
But he also points out that, despite Google's elephantine market share, there's still a huge amount of opportunity left over. "Just in the US, 25 million people a month are coming to Ask to do search, and 50 million are using us worldwide," he says. "Next to Google that's small. But next to Amazon, that's huge."
Yes, search sites from Microsoft and Yahoo! are also reaching an enormous number of users. But their situation is a bit different. As high-profile public companies with an eye towards share price, they can't help but worry about overall market share. Witness Terry Semel and his compensation package.

Yahoo!'s search engine is backed by a new ad platform known as Panama.
The Money Game
And that's not all these companies have to worry about. Google is also well ahead when it comes to search advertising - the money maker in this market. According to American Technology Research, Google makes roughly 12 cents for each search, whereas Yahoo! makes only eight. Considering the huge gap in market share between the two companies - and the enormity of the market - Yahoo!'s yearly search revenue isn't even in the same ballpark.
From 2005 to 2006, Yahoo!'s overall revenue grew from $5.3bn to $6.4bn. That's a decent increase - unless you compare it to Google growth. Over the same period, Google's overall revenue leapt from $6.1bn to $10.6bn.
With its new Panama ad platform, Yahoo! had hoped to bridge that cents-per-click gap. Early days yet, but the service hasn't been as successful as the company hoped. "Already, Panama has come up short as it tries to mirror Google's ability to monetize ads," says Jupiter's Heisler. "Any time you have new algorithms like this, there tends to be a very steep learning curve."
Launched in May of 2006, Microsoft's ad platform, AdCenter, sparked a 23 per cent increase in Microsoft's online ad revenue in the first quarter of this year, but its market share is less than half that of Yahoo!'s. "As Google makes money hand over fist in this market, Yahoo! has had some hiccups and Microsoft has certainly not been as successful," says Lieb, of Search EngineWatch. "The market is on this hockey-puck growth curve and they haven't kept up."

Google controls between 56 per cent of the search market - and its popularity is growing.
If You Can't Beat Em, Join Em
Last week, in the wake of Terry Semel's resignation The New York Times ran a piece in its technology section called "After Shake-Up, What Now for Yahoo?". Quoting an "experienced Silicon Valley venture capitalist," it asked whether Yahoo! should give up on its own search tools - and off-load everything to Google.
A Yahoo! spokesperson said the company intends to remain a player in the search business, but The Times has a point. And that point may extend to Microsoft.
With Yahoo! unveiling Panama, Ask.com introducing Ask3D, and Michael Arrington rattling on about Sanaz Ahari leading a new Microsoft search team, there's been plenty of talk about changes to the search market's competitive landscape. But Google is still very much in the driver's seat. And it's gonna stay that way.®