Original URL: https://www.theregister.co.uk/2007/06/26/sun_constellation_supercomputer/
Sun's new supercomputer and switch are bigger than yours
Market's 90-pound weakling beefs up
Posted in The Channel, 26th June 2007 05:54 GMT
Sun Microsystems is sick and tired of rolling over while the likes of IBM and Cray dominate the low margin, high profile world of super computers.
There's little fanfare and few celebratory headlines for the company that builds the 9th largest supercomputer — not even a complimentary fruit basket. Such clamor is reserved for the folks leading the pack, and Sun has been staring at the waggling backsides of its competitors for too long.
"We've been somewhat absent from the supercomputer business as of late," Sun co-founder Andy Bechtolsheim admits. But the company has its second wind and intends to turn placidity into fighting spirit by aiming straight for the top.
The company is setting its game face with an answer to IBM's Blue Gene line of supercomputers, which currently occupy the top and third position in the market. Sun's new Opteron-based "Constellation" system will premier this week at the International Supercomputing conference in Dresden, Germany and promises to be the basis of the fastest-performing computer in the world - give or take an upgrade.
Sun has teamed with the Texas Advanced Computing Center (TACC) in Austin to build the first "Constellation" system. The box dubbed "Ranger" is a Linux cluster with a peak performance in excess of 420 trillion floating point operations per second. The system is packed with 1.7PB of disk storage, and when finalized, will have 105TB of memory. The setup will take about 3 megawatts of power to run.
The 420 TFlops would put the TACC system ahead of a Blue Gene box at Lawrence Livermore Lab, which has hit 280TFlops. IBM, however, is in the midst of upgrading that system, so it remains to be seen how the Sun kit will compare with IBM when the November Top500 supercomputer list comes out. (A mid-year version of the list will appear this week.)
Such a top score would do marvels for Sun's supercomputing reputation. The one-time HPC (high performance computing) star fell off the Top500 list, only to return recently with an Opteron-based cluster in the #9 slot.
If a customer had all the money in the world, they could buy a maxed-out Constellation system able to reach 2 petaflops of peak performance, while boasting 1TB/sec of I/O with 1 exabyte of disk capacity (that's one quintillion bytes). Constellation can be built for Solaris or Linux depending on the customer requirement.
The key to Constellation's might comes from a Bectolsheim-designed mega switch.
The switch, code-named "Magnum" (yes, Magnum*) promises to top industry scales. It's a massive, 3,456 port InfiniBand system with a total bandwidth of 110Tb/s. Each switch can hold 1152 cables, at 12 connections per cable.
*Sadly the name isn't making it out of beta. Sun was crushed to learn the name Magnum is already trademarked by a startup.
Why so huge? Bechtolsheim explains when it comes to InfiniBand, cables begin to cost more than the silicon itself. By putting everything in one box, he claims the switch has a 6:1 reduction in interconnected cables than if they used traditional switches to match the specs. Sun also decided to build its own because nobody has a switch large enough, and bottom line it was cheaper to make its own for the project.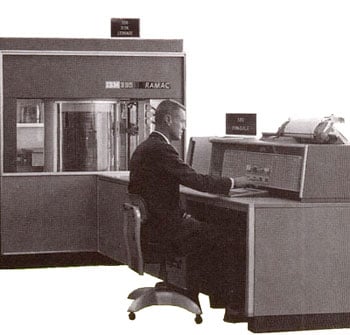 Sun PR has yet to supply us with a picture of Constellation
Sun will craft scaled down versions of the switch for HPC customers.
The "Constellation" boxes also tap Sun blade servers using AMD's forthcoming quad-core processors code-named Barcelona. These particular blades are new four-socket versions of Sun's recently released two-socket 6000 blades made specifically for high performance computing.
TACC's system will be outfitted with the blades in the next quarter, and the new blades will then be available to the not-so-general public in the fourth quarter.
Each Constellation configuration is centered around a design that accomdates 48 blades per rack with 16 cores per blade.
Sun won't talk exact price figures, but the total reward for the Ranger contract is $59m. Sun says the hardware cost is somewhere below that. The company will begin to assemble Ranger in TACC's new building constructed for the computer "shortly." It will take about two months to set up the beast. Cable assembly alone is expected to take about four weeks.
An exact time frame for Ranger's booting, however, remains hazy. A key ingredient is missing — the chips. Sun chose AMD's quad-core Barcelona for its superior floating point performance, but has yet to receive the package in the mail.
"We have a contract to get the chips in time for building the computer, but we haven't gotten them yet," Bechtolsheim said.
In fact, Sun is resting the entire Constellation line on its laurels while it waits for Barcelona's arrival. Sun assured reporters that the product launch it was announcing was not in fact a product launch, "but a strong indication that one is on the way." But trucks rolling into Texas full of Constellation systems destined for a newly-constructed building in an supercomputer center made keeping silent about the affair somewhat of a sticky wicket.
Sun's showdown will begin in Texas, but the company promises it is aggressively seeking bigger project bids. Bechtolsheim said he hopes to see Ranger in the top position in November's Top500 ranking of supercomputers. Even if a faster competitor pops up, he is sure it will make one of the top spots.
And then comes fruit baskets. Oh, the plantains are to die for! ®