Original URL: https://www.theregister.co.uk/2007/06/26/sheffield_floods_hit_servers/
Soggy IT pros check in from flooded Sheffield
Wellies and pizza keep servers running
Posted in The Channel, 26th June 2007 12:50 GMT
We're getting reports of rampant heroism from IT support staff in flooded Sheffield. The city received about two months rainfall in a matter of hours yesterday. Three people have been killed by the floods and thousands forced to leave their homes.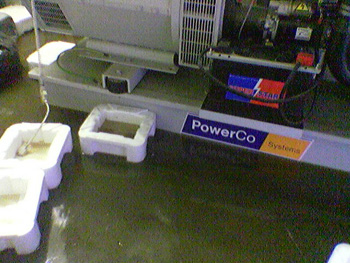 Water getting a little too close for comfort
ISP Plusnet is based in the city and is struggling to keep service up to scratch despite many staff being unable to get into the offices.
Plusnet's HQ is close to where Sheffield's rivers converge and is slightly up a hill - so while the offices may be safe getting to them can be difficult. Many staff who left yesterday afternoon gave up and returned to work.
Pizzas, that standby of IT disasters, were ordered for hungry staff as they waited for the water to disperse.
Plusnet customers are asked to be patient and, if possible, contact support through the website rather than phoning in. Many staff were unable to get in this morning and where possible they are working from home.
A spokesman for Plusnet said: "Although Sheffield has been dramatically hit, we've kept services running. Many staff are unable to get into work so we're asking customers to put queries through the website which is easier to manage. The rains have eased off although many rivers are still flooded. Obviously the heavy rain will affect copper lines is some local areas."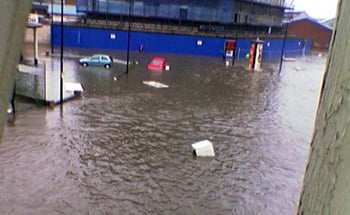 Is that our rack? No, it's a swimming fridge.
There's more on Plusnet's forums here.
Also fighting the good fight were support staff at Morecomputers.co.uk.
Its servers are kept offsite but in an area badly hit, as you can see from these pictures. The servers are on the first floor and stayed above water level.
Support engineer Mark Johnston stayed all night and kept the servers running. He said it was eerily quiet with no sound but helicopters and emergency sirens but at least he had a generator to provide power. The offices are clear of water now but many Morecomputers staff are stuck at home.
A spokesman for Morecomputers said no stock was damaged because that is kept at another site.
Flood warnings are still in place but the Met Office reckons the worst of the weather is now over.®