Original URL: https://www.theregister.co.uk/2007/06/26/review_casio_ex-z75/
Casio Exilim EX-Z75 and EWC-10 underwater case
Diving with a digicam
Posted in Personal Tech, 26th June 2007 11:33 GMT
Review How do you sell a seven-megapixel camera when so many rivals are doing the same? You can't rely on the usual features - big LCD, anti-blur tech, slimline metal casing, etc - because everyone else has those too. No, you need something a little different, and in Casio's case that means offering your latest compact camera with an optional underwater kit.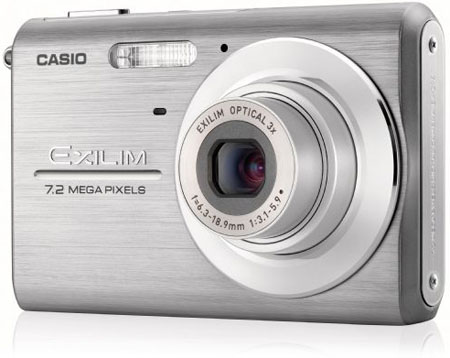 The camera itself is the Exilim EX-Z75, and it's a lovely looking compact. It's decked out in two-tone brushed metal and is thin enough to be eminently pocketable or danglable - there's a rotating lanyard attachment on the side - but not so thin it feels like it won't withstand the rigours of a holiday. The design is very much all smooth lines, scoring point instantly with everyone at Register Hardware.
The controls are laid out in a straightforward manner and well thought-out. Apart from the power key and the shutter button on the top, they're all on the back, to the right of the large, 2.6in, 479 x 240 LCD in ready reach of your right thumb. From top down you have the standard zoom keys; two buttons to switch between picture viewing and picture taking; a circular five-way navigation control with Set in the middle; and, next to each other, Menu and Best Shot buttons.
The standard viewfinder display positions the image on the left and settings - picture resolution, flash, timer, sensitivity and so on - in a strip down the right. You select them by moving the nav control up or down - as each icon is highlighted, a horizontal panel pops out displaying icons for the available settings, including Auto. The settings default to automatic, but this layout makes it easy to apply specific settings when you need to, without have to move from one shooting mode to another.
For young kids and folk who really don't want to be bothered with options, there's an Easy mode, selected with an icon that looks like a four-leaf clover. Selecting it reduces the options to image size, flash mode and timer. Choosing any of these, or pressing the Menu key, pops up a full-screen panel with comments to illuminate the icons.
Push Menu in the standard mode, and you get options listed under three tabs - Rec, Quality and Set Up - each of which stretch up to three screens full of items. Unlike the main user interface, it's not the easiest of UIs to navigate - you can't quickly hop from a setting under, say, Set up, to one in Rec, for example - but then it's a place you go occasionally rather than every time you want to take some shots.
Missing from the menu structure is an option to adjust the brightness of the LCD. We found this no easier to view in bright sunlight than any other camera display we've seen, but my own personal Sony Cyber-shot at least has an optical viewfinder for such occasions. Not so with the EX-Z75, and when on traveling overseas this particular feature was very much missed.
Casio expects you to spend most of your time in Auto - semi-auto really - or in one of the pre-set shooting modes, accessed through the Best Shot key and menu. There are 33 of them, all presented as an array of photos, each one appropriate to the mode, so you know exactly what it does. Press the Zoom key Right at the end is an icon which saves you're current settings as a new Best Shot mode for fast access in future. Second in line is the Movie mode, which it shoots at 640 x 480 and 30fps, as per pretty much every digital camera these days.
The slim base of the EX-Z75 is home to the tripod screw; a covered proprietary I/O port that connects to either the bundled TV cable or a USB link for a computer; and the cover the protects the camera's removable battery and SD card slot. All to often the cover was accidentally knocked open, but since both the memory card and the battery lock in place, they never fell out inadvertently, so ultimately this was more of an inconvenience than a problem.
The camera can take SDHC cards - we used a 4GB SanDisk card - and a good thing too. The Casio has a measly 8MB of on-board memory, big enough for three seven-megapixel shots at the Normal quality setting, or just one if you select Fine.
We took a series of shots to take a look at what difference the quality setting makes. The images below are both seven-megapixel images at full size but cropped, the first an Economy shot, the second a Fine picture. The originals are, respectively, 1.3MB and 4MB in size, but there's not a lot in the picture quality.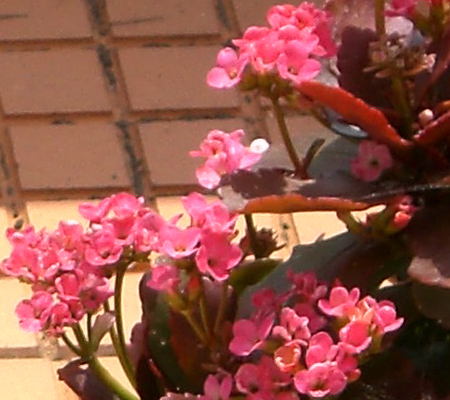 EX-Z75: Cropped Economy Quality image at 100%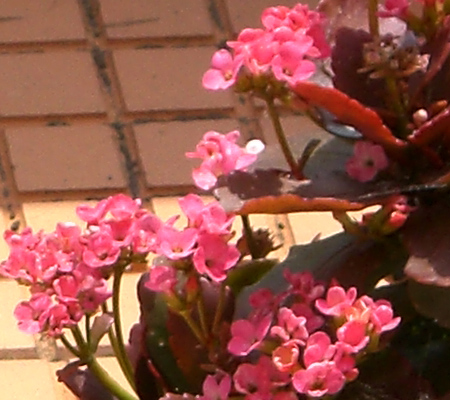 EX-Z75: Cropped Fine Quality image at 100%
You won't see any substantial difference when you compare seven-, five- and three-megapixel images, all of which the EX-Z75 allows you to take. Obviously, the more pixels you have the bigger you can print an image without losing detail and quality, but you could easily drop down to five-megapixel and save a megabyte on the size of a Fine image and print out standard sized pictures through a decent high-resolution printing service without being able to tell any difference with seven-megapixel images.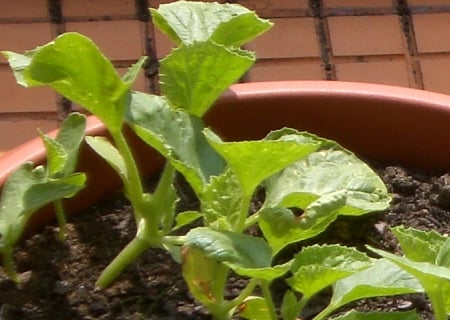 EX-Z75: Cropped 3Mp Fine Quality image at 100%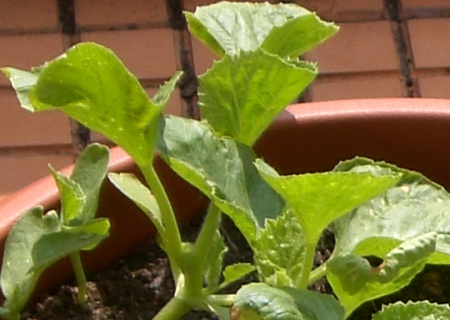 EX-Z75: Cropped 5Mp Fine Quality image at 100%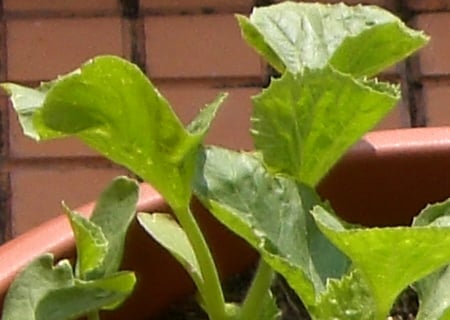 EX-Z75: Cropped 7Mp Fine Quality image at 100%
A nice touch with this compact is that not only can you delete one image at a time, you can delete all of them in one go: a handy trick that saves you negotiating the complex settings screens to reformat your card and the camera's own memory.
Inevitably, the EX-Z75 incorporates image stabilisation technology to counter camera shake. This is a tricky one to assess - after taking pictures long enough to be able to hold a camera reasonably steady, we think, we found that when taking considerable care, images on the Casio were not any sharper than comparable pics snapped on an old Cyber-shot for example, which has no image stabilisation system.
Still, it could cope with deliberately shaky hands much better, and while the images weren't perfect - the Casio won't eliminate excessive shake - they were much better than those taken the same way on the Sony.
Pushing the power button gets the camera ready to take pictures in a smidge over a second; certainly less than 1.5s.
Casio offers an underwater-photography casing to go with the EX-Z75, and we took the opportunity of an overseas trip to a rural Cretan villa - pool included - to try it out. The camera fits neatly into the underwater casing - dubbed the EWC-10 - cushioned with a couple of rubber pads. All the controls are replicated, so using the camera beneath the waves should be just as easy as using it on land.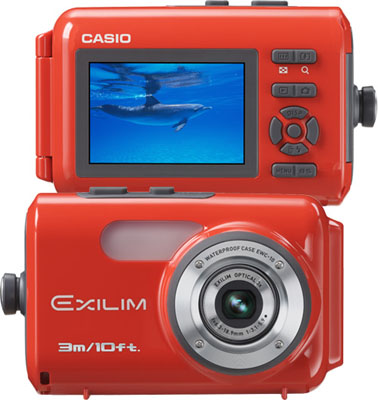 Casio's EWC-10 underwater casing
Shutting the case is just a matter of clicking the lock into place - just pull the latter out and twist it to open the latch and free the camera. Casio has moulded a small bay inside the case in which you place a silica gel sachet - ten are included with the casing - to absorb any condensation that might otherwise interfere with the camera's electrics or optics. It also supplies a wrist lanyard with a tie to ensure it doesn't slip off your wrist while you're swimming.
Casio recommends trying the case out in five inches of water to make sure the seal works as promised, but in a true spirit of consumer adventure we chose to utterly ignore the usually unread manually and leap straight into the pool, camera in case.
A lack of bubbles escaping from the case suggested the camera was safe within, so it was activated and the submersed snapping started. The results were good: all the keys connected with the buttons on the camera that they were supposed to, and we was able to zoom in and out, take pictures and make adjustments.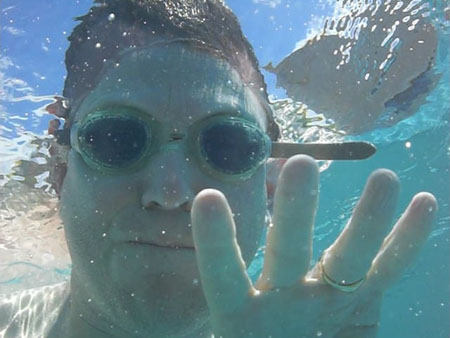 Our illustrious editor does his Nirvana album cover impression
One flaw with the EX-Z75 is that its LCD is darker than some, and while it's easy to shield from sunlight when you're taking a picture out of the water, that's not so easy to do underwater. Being a contact lens wearer, I had my swimming goggles on and these are tinted, making it even harder to see the screen and frame the shot.
Go deeper and this is likely to be less of a problem, and if you're using tanks or even just a snorkel, you can at least take the time to arrange the hand that's not holding the camera to steady the device and shield the screen. But you really notice the lack of an optical viewfinder, and the underwater casing could be improved no end with just a fold-up sight.
Verdict
First, the camera. Casio's EX-Z75 is a lovely little snapper that'll help you take a decent shot, no matter how ignorant of photographic procedures you happen to be. Squint into a picture blown up to 100 per cent on a computer screen and, if you're a photography buff, you may spot noise creeping in - at high sensitivity settings you won't have to try too hard. But on a standard-sized print, run out by a good print-making service, you shouldn't be disappointed.
Especially if you've used the EWC-10. It's not a cheap add-on, but it's hard to put a price on the fun you'll have with it, particularly if you get out into sea in search of colourful marine life. Even messing around in the pool was a hoot, and if you're after an EX-Z75, you should certainly avail yourself of the EWC-10.