Original URL: https://www.theregister.co.uk/2007/06/25/review_acer_travelmate_6292/
Acer TravelMate ProFile 6292 business laptop
Acer's... um... ace up its sleeve?
Posted in Personal Tech, 25th June 2007 12:10 GMT
Review The Acer TravelMate 6292 is the first of the company's new ProFile range, which promises to be "concrete, protective and productive", apparently. Designed for a hardy life on the road it features a magnesium alloy cover that's supposedly 20 times stronger yet considerably lighter than plastic. Would you like to know more?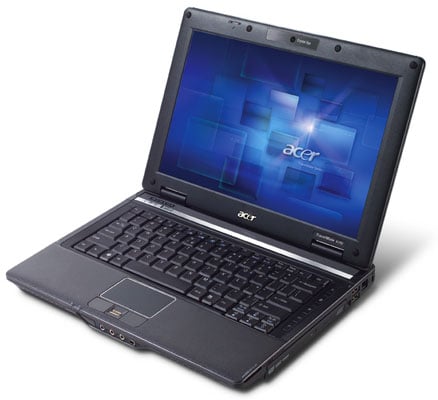 While it would be hard to compete with the bullet-stopping capabilities of the ThinkPad, the 6292 certainly feels solid enough. However, although the casing appears sufficiently sturdy, there's nothing to latch the screen in place when it's folded, so it could still be susceptible to damage while travelling in your bag, if you're not careful.
Acer is touting the 6292 as an ultra-portable. While it's small, measuring just 30.5 x 22.5 x 3.5cm and weighing 2kg, it's still a bit on the large side to truly merit that description. It's no Sony Vaio TX, for example. It's certainly small enough to lug to the office and back everyday, but you probably won't want to take it with you everywhere you go.
The screen only stretches to 12.1in, which seems a little bit of a waste given the available space inside the lid. The large bezel running around the edge reminds you that you could have had a bigger screen if Acer had managed to squeeze one in. Resolution support is adequate, with a widescreen resolution of 1280 x 800, aka WXGA.
Given the relatively small screen size, you probably wouldn't want a higher resolution unless you've got extremely good eyesight. The display isn't overly reflective, but as a result it's not as vivid as the screens such as Sony's X-Black range, for example.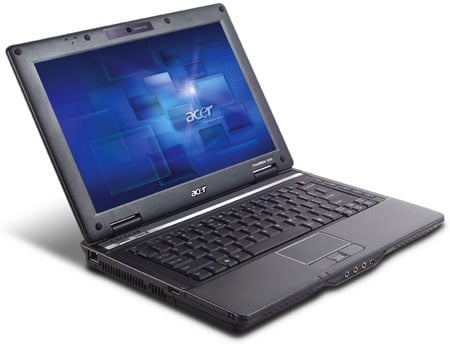 The 6292 sports Intel's latest 'Santa Rosa' Centrino Dup spec, which means you get a Core 2 Duo T7300 running at 2GHz, Intel GMA X3100 integrated graphics and 802.11n Wi-Fi. There's a healthy 2GB of DDR 2 memory thrown in and there's oodles of storage space on the 160GB hard drive. Acer has also included an internal 8x multi-format DVD writer, so you don't need to mess around with external units - another sign the 6292 isn't as ultra-portable as Acer might like us to think.
When it comes to performance, Windows Vista pegs the 6292's Windows Experience Index (WEI) at 3.4 out of 5.9. The overall WEI is determined by the lowest scoring category - in this case graphics. Gaming graphics was also low - just 3.5 - while hard disk and memory scored 4.4 and 4.8, respectively. The processor racked up the highest component score, managing 5.1.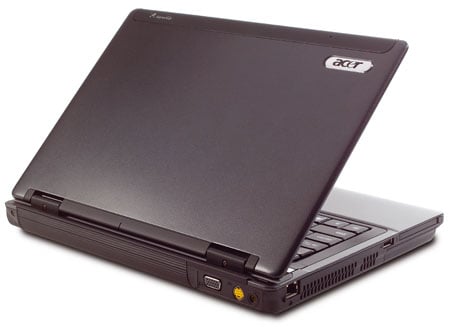 Running the laptop through the PCMark05 benchmark suite resulted in a decent score of 4,069 but when it comes to 3D performance, the numbers aren't as great. It only managed to attain a paltry 551 in 3DMark06 which isn't really going to give you sufficient oomph for decent gaming. However, the 6292 is aimed more at the business market than the consumers, so it's less of a problem. And that's integrated graphics for you.
The keyboard feels a little bouncy to type on at first, but it's pleasant enough once you get used to it. Like the screen, though, it does feel like it could have been made a little bit bigger, with wasted space down the sides that could have been put to use for slightly bigger keys or a less cramped layout - or even a smaller laptop, if Acer really wanted to push the ultra-portable line. For example, the five quick-launch buttons down the right-hand side of the keyboard would no doubt be better housed along the strip at the top where the power and Empowering Technology buttons are.
The Empowering Technology key activates a sort of Apple Mac OS X Dashboard view, which dims the main screen and shows you foating widgets that let you perform tasks such as change your power settings or Wi-Fi options.
The touchpad sits below the keyboards and in between the left and right click buttons you'll find a fingerprint reader, which you can use for various security features which would normally require a password.

On the panel on the front edge of the machine there are headphone, line-in and microphone ports, along with a four-pin Firewire connector. The front panel also houses an infrared port, a technology long forgotten on most new models. Bluetooth 2.0 is also included for those after more modern wireless technology.
Round the left-hand side you'll find both USB and Ethernet ports and a PC Card slot. Over the other side is the DVD tray, modem port, two more USB sockets and a card reader that will take SD, xD and Memory Stick media. The bulk of the rear of the machine is taken up by the six-cell battery, but there's also VGA and s-video connectors and a mains power input. There's a webcam built into the top of the screen, but it isn't independently adjustable so you'll need to move the whole screen if you're not in shot.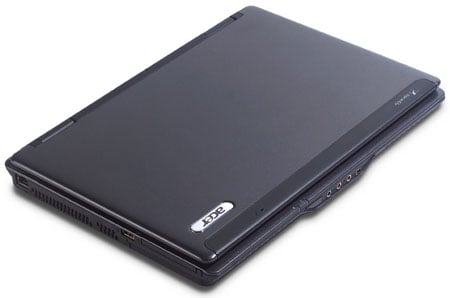 The review unit came with Vista Business pre-loaded, but according to Acer the 6292 will initially ship with Windows XP Pro installed instead, with a switch to Vista coming later in the year. The price will be the same regardless of which operating system is installed.
According to Acer, the battery should last for five hours, which obviously isn't sufficient for a full day away from the mains but should be enough if you spend most of your time plugged in at a desk.
The 6292's asking price of £1029 is reasonably when you consider what you're getting, although it could do with a slightly bigger screen and roomer keyboard given that there appears to be space available in the chassis.
Verdict
The TravelMate 6292 certainly feels well built and able to stand up to the harsh life on the road. While you'll obviously still need to exercise some care when handling it, it should be able to take the odd knock or bump without keeling over. It doesn't quite fall into the super portable, take-everywhere-you-go category, but it's not far off. When it comes to performance, you shouldn't have any complaints in terms of office apps or Windows work, but it'll struggle more if you try and throw games at it. But this is a business laptop, so you won't be playing games on it, will you?