Original URL: http://www.theregister.co.uk/2007/06/20/review_evesham_alqemi_v_and_vx/
Evesham 26in Alqemi V and VX HD TVs
Hi-def, lo-price
Posted in Personal Tech, 20th June 2007 12:57 GMT
Review Evesham is rapidly building a rep for releasing inexpensive but decent low-cost LCD TVs, and its Alqemi line is leading the way. The range stretches from flat-friendly 26 inchers right up to palace-perfect 42in models, but we decided to audition its two cheapest: the Alqemi V and the Alqemi VX.
While both screens are identical in size, the V is clearly the inferior of the two models, not only because it doesn't have a built-in digital tuner, as the VX does, but its design isn't as sharp either. Evesham has tried to save a few clams on the V by moulding the casing in a matt plastic finish and giving it a thinner stand, making it feel less stable.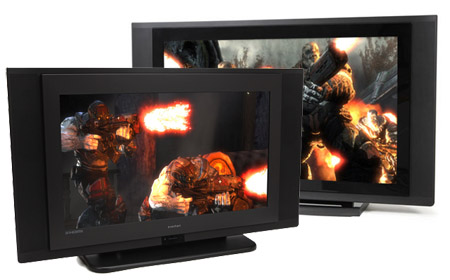 Evesham's 26in Alqemi V and VX HD TVs
While these may sound like minor aesthetic gripes, they do make the V model seem cheap in comparison to the VX. The VX has a thicker stand - helping to make the set feel sturdier - and a black-lacquer finish. Evesham claims both models weigh the same, 11.4kg, and both are wall mountable, with brackets supplied.
The V and VX are the smallest models in Evesham's Alqemi range, which tops out with the 42in SX. They all come with a three-year in-home swap out warranty.
The V and VX both feature buttons of their left-hand sides for stand-by, TV/AV, the on-screen menu, programme scrolling and volume adjustment. Since the power button is located in a sunken section at the rear of both sets and neither models feature swivel bases - such as on Samsung's 26in LE26R74BDX - locating the switch and powering on the set could easily become a little annoying. The solution: leave it on stand-by, not an approach that'll do much to reduce your carbon footprint.
Evesham's technical specifications state both models are near identical in terms of picture display abilities. Both have an aspect ratio of 16:9 and a contrast ratio of 700:1. The resolution for the V and VX is also identical - 1366 x 768 - as is the display area of 57.5 x 32.3cm and 0.6 x 0.6mm pixel pitch. Both models can display a mind-boggling 16.7m colours, though we didn't manage to count all of 'em. Time waits for no man and so image response time is crucial. The V and VX claim refresh rates of 8ms - impressive, yes, but it took both between one and two seconds to display a picture from the moment the channel was selected. This meant we sometimes flicked past a channel because it wasn't displaying an image quickly enough, especially when scrolling through AV inputs.
Setting up TV sets for first time use can be a laborious process. Thankfully, the V and VX have near identical Electronic Programming Guides (EPGs) and idiot-proof picture-guided menu systems that help to make setting selections for the picture, and features such as sleep time and parental lock reasonably straightforward.
The remote controls are the same and so equally confusing. An assortment of buttons in a Stonehenge-style arrangement, combined with small, grey and difficult-to-identify ones meant we spent 15 minutes just working out the vital controls, like the main menu, for example. Selecting some options within the menu system can become quite tricky because it requires the user to navigate between sub-menus and select options with a variety of random buttons of the remote.
The remote's design could be improved with a splash of ergonomic styling and a rubber under-sole to prevent it slipping off the arm of a sofa. Since it doesn't even boast an Evesham logo on it, the remote could easily fade into another piles of faceless controls around the house, leaving you wondering, 'What's this one for?'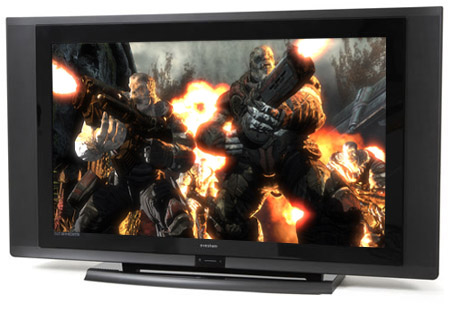 Evesham 26in Alqemi VX HD TV
Back in the menu systems, both the V and VX did allow us to fiddle around with the colour temperature – a nice feature, but one that in reality made little difference to varying shades of blue menu displayed on screen.
Both models carry the HD Ready logo, so each has an HDMI input. Alongside that are a pair of Scart connectors, along with an array of s-video, component-video, DVI and even VGA port. We connected each up to our HD DVD-equipped Xbox 360 via the component connectors. On each model, the connectors are positioned at the back of the set, low down and within a recess, so reaching any of them is - put simply - a major pain in the arse.
The VX model has a slight connectivity advantage: it features a Common Interface/Conditional Access Module smart-card slot on its right-hand side so it's ready for TopUp TV. It also has an extra HDMI port.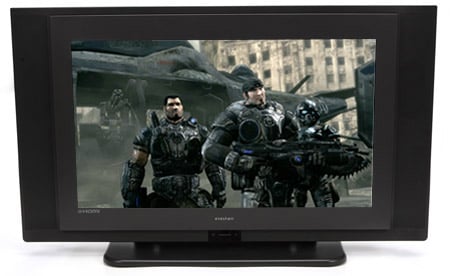 Evesham 26in Alqemi V HD TV
Before we'd even had a chance to experience the image quality of King Kong in full HD glory, we were hit by the sound quality. Built in 8W stereo speakers on both models work to an exceptional level, ensuring that the great ape's roar was clear, full of bass and distributed evenly from the left and right-hand speakers. Vocal clarity also remained exceptionally good throughout the film - is more than you can say for the movie itself.
Various pre-defined sound modes are available, such as rock or jazz, but we found the user-defined setting was the most effective at delivering the best strong bass and a fat sound. Neither the V nor VX model appeared to have a screen setting that would allow us to turn the screen off while still listening to sound - or digital radio channels in the VX's case - which is becoming a more common feature with some TV manufacturers.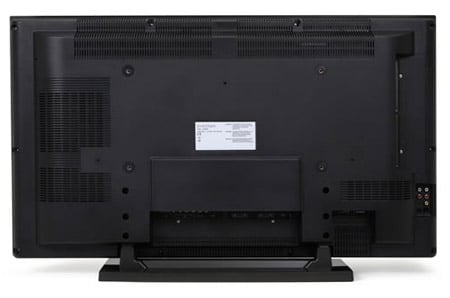 Evesham 26in Alqemi VX HD TV
Image quality is where the V and VX models start to differ, despite the comparable specs. Surprisingly, the V, the cheaper of the two, gave us the best picture quality. It provided sharp and pristine viewing to the extent that individual hairs on King Kong's enormous arms visibly waived in the breeze as he shuffled though the jungle to collect Naomi Watts from her suspended sacrificial state. The Alqemi VX, though, gave Watts' normally flawless complexion a slightly peppered look and reduced Jack Black to a washed out (or should that be washed up?) shade of white.
Contrast, unfortunately then went on to be a recurring problem for both sets, with blacks lacking true depth and whites appearing too harsh. This problem has also been noted on Evesham's 32in Alqemi TX model, reviewed here.
While the Alqemi V is capable of displaying HD sources in exceptional quality the VX model in good(ish) quality, both still require the colour setting to be set at the maximum level before a vaguely natural image is displayed, especially when showing faces.
This became particularly evident while watching a trashy early afternoon chat show - for review purposes only, of course. The faces of the two presenters - we'll call the Adam and Sarah - appeared either too dark to too white and over-saturated.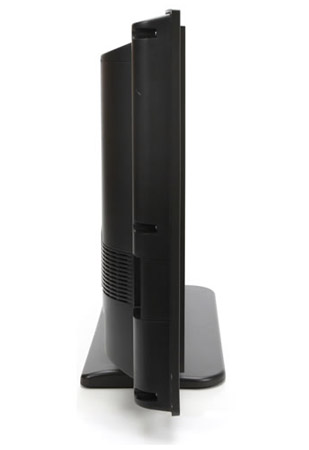 Evesham 26in Alqemi V HD TV
We tried messing around with both sets' brightness and colour settings. There are pre-defined image settings, such the unassumingly named Dynamic, which we found helped to produce a half-decent image – but still it was not as good as we might have expected.
Neither models struggled with sharpness and provided crisp images on screen, without any noise around the edges of say, a tall building. We were also pleased to see that ghosting was never a problem with either model, even with fast moving images, such as a car chase or a soccer match.
For gaming, the V and VX are both a good choice - once you've overcome the cable connection reach-over that is. We ran Gears of War for the Xbox 360 and were again impressed by their ability to cope with fast moving images, without occurrences of colour banding or noise.
As we directed Team Register to run, craw and "MOVE, MOVE, MOVE" across the bullet-riddled terrain, sound quality also remained strong, with the sound of individual shots often clearly defined and sturdy bass undertones remaining.
Verdict
It's difficult to separate these two models. Both have almost identical features. The VX's addition of a digital tuner is a bonus over the V model - unless you already own a Freeview set-top box - but it lets itself down with a poorer HD picture quality than displayed on the cheaper V. But the V isn't as stylish as the VX. Together, both sets provide high quality sound, a good array of connectors and make a sturdy choice for those looking to go flat-panel low price.