Original URL: https://www.theregister.co.uk/2007/06/20/gateway_battery_recall/
Gateway recalls 14,000 more laptop batteries
Posted in Personal Tech, 20th June 2007 09:57 GMT
Gateway has asked a further 14,000 of its customers to send back their laptop batteries in a recall that stretches back more than four years.
Unlike the broad battery recall the PC company announced in October 2006 in the wake a spate of incidents in which batteries from a variety of laptop vendors spontaneously combusted, the new programme centres on just two notebooks: the 400VTX and the 450ROG, respectively fitted with battery models 6500760 and 6500760. These are not machines and components included in the October recall.
Gateway said the affected battery packs were shipped to customers between May 2003 and July 2003, both within the named laptops and as standalone batteries. Some of the named laptops have different batteries, Gateway said, so it's important to compare both numbers before contacting the company.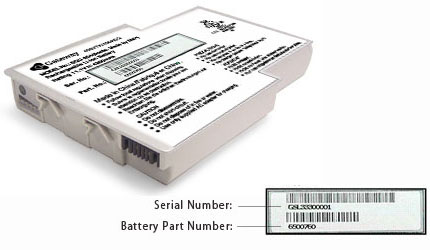 Where to find that battery model number
You can find out how to locate the battery numbers here.
Gateway's recall follows a warning from Toshiba that there are still plenty of users out there who haven't yet exchanged potentially faulty batteries. The Japanese company's statement followed yet another case of a burning battery, one which could have been replaced free of charge in last year's recall.