Original URL: https://www.theregister.co.uk/2007/06/19/review_tvonics_dvr250/
TVonics DVR-250 Freeview Playback DVR
Sky+ functionality... on Freeview
Posted in Personal Tech, 19th June 2007 15:02 GMT
Review The biggest obstacle on the path to mass-market adoption of digital video recorders (DVRs), or personal video recorders (PVRs) - is that many don't know what they actually are. Sure, some know they are a bit like Sky+, but many Sky+ owners don't know what that box does either. To the PC-literate, the notion of the hard drive-based media recorder is pretty simple. Try explaining it to your Gran though.


TVonics' DVR-250: Freeview Playback ready
The DVR-250 goes a long way to overcome this because it is simplicity itself to describe what it is and does: it's a Freeview box that lets you record TV programmes, even shows that are on when you are watching something else on another channel. Simple.
The DVR-250's installation can be described with an equal economy of language: plug TV aerial into DVR-250, plug DVR-250 into TV. Watch. Or record. Or both.
Coming in at around £190, the DVR-250 may not be cheap, but when you think that a half-decent Freeview box alone can set you back forty odd quid it looks a decent enough deal. And fair play to TVonics - a company set up in 2004 by some ex-Sony types - the gadget itself being manufactured in the UK by Sony, the specification is pretty high. A 250GB hard drive, dual tuners, two Scart sockets, a 3.5mm mini TOS optical socket, a good quality universal remote control for your TV, DVD and DTV - it bears a more than passing resemblance to the ubiquitous Sky remote handset - a very useful and well thought out on-screen help feature and a tree-huggingly low power consumption, more on which later.
Out of the box, the DVR-250 is a rather fine looking gloss black aluminium box - try saying that six times quickly - measuring some 19 x 23 x 7cm that can be laid flat or stood on its side using the plastic stand provided. Though somewhat prone to showing up fingerprints so nice looking is the box that it could run the risk of making the rest of your AV kit look a bit, well, Abigail's Party.
New to... Freeview Playback?

We all know Freeview is the UK's free-to-air terrestrially broadcast digital TV service, but what's Freeview Playback? In a word, an advertising slogan, introduced earlier this month. Sky and Virgin Media have branded DVR offerings and the companies behind Freeview have decided they need one too, or risk losing out.
Of course, consumers have been able to buy Freeview-ready DVRs around for more than two years, but they'll all now come with a little Freeview Playback sticker on the box to tell folk not in the know what this DVR thing is about. It means the box so labelled can record programmes, pause live broadcasts and so on, and isn't just a basic set-top box.
Set up is child's play. Switch the unit on, select AV on your TV, wait until the set-top tunes itself in and you're done. To start recording just open up the relevant menu or just press the big red R button on the remote. The on-screen menus are models of logic, clarity and orderliness, but if at any time you get confused just press the Help button and you will be redirected onto the paths of righteousness. There can sometimes be a slight lag in using the remote, but this is easily overcome by just taking a moment to ensure the system has executed command A before you ask it to execute command B.


TVonics' DVR-250 remote: controls your TV and DVD player too
At this juncture it probably bears saying in plain terms, as indeed it does on the box, that you can't use this device with either Sky or Virgin Media cable services, it is for Freeview only.
Picture quality is as good as you get from a regular Freeview box or digital TV, and playback offered no noticeable reduction in picture or sound quality on either a CRT or LCD TV. The system is also near silent in operation, further lending to the overall sense of quality that pervades.
The eight-day electronic programme guide (EPG) compares rather poorly to Sky's TV guide, but that's more down to the nature of the Freeview beast than to TVonics and will doubtless improve as Freeview matures. The unit allows 'series-linking', i.e. the recording of every episode of a series automatically, though at present not all Freeview stations support this. TVonics claims that as this functionality, and others, rolls out across the Freeview network, the DVR-250 will update itself via over-the-air downloads, making it pretty future proof.
The unit also has a parental lock feature to prevent junior turning his brain to porridge by watching illicit late night Big Brother. The 250GB disc should be good for around 125 hours of TV and/or radio before you have to start erasing things.
Don't expect to copy your most precious recordings off the box and onto a computer, either for viewing, for back-up or archiving to DVD. Unlike some other DVRs, the TVonics box has no serial or USB ports for this - or for applying system software updates directly.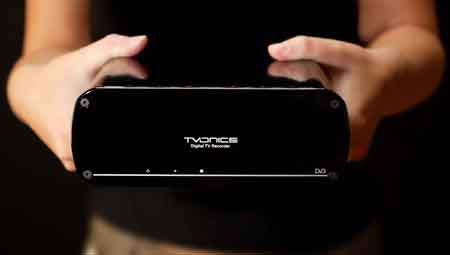 TVonics' DVR-250: small box, smaller carbon footprint
The DVR-250 primarily uses the EPG to select content for recording, but you can also programme it VCR-style by entering specific times. You can begin watching a programme that's already begun being recorded - the so-called 'chase mode' - and even watch live TV in slo mo, which is fun to try, but not something you'll do frequently, I suspect. The box will apparently automatically adjust the programme recording time to match any changes in schedule caused by breaking news items or over-running sports events.
Now, exactly how big a threat DVRs are to the delicate balance of the planet's ecosystem is not currently the subject of much in the way of scientific debate. We can find nothing in the Kyoto Treaty about it and Al Gore hasn't returned my calls. But in standby mode - which, let's face it, will be pretty much all the time you're not actually using the thing - the DVR-250 consumes a piddling 3W of power, jumping up to a hardly city-darkening 20W when it is doing its thing at full tilt. Now we're pretty sure that not taking a shower for a week would save way, way more energy, though you'd find yourself standing alone at parties. All joking aside, TVonics has made a laudable effort to reduce its gadget's carbon footprint.
Verdict
So, should every home have one? Well, we're not keen to hand my DVR-250 back, we can tell you that much. It looks the part, is easy both to set up and to use and is pretty decent value. So in short, yes. If price is your only problem, the DVR-250 has a smaller brother, the DVR-150, which is pretty much the same but comes with a 160GB drive - good for about 80-odd hours of content - and costs around £150.