Original URL: https://www.theregister.co.uk/2007/06/18/iss_glitch_fixed/
Atlantis readies for departure after ISS computer repairs
Records galore for astronaut Williams
Posted in Science, 18th June 2007 11:04 GMT
The computers on the International Space Station (ISS) are all fixed, and the crew of the shuttle Atlantis have completed their final spacewalk and are now preparing for the journey home. The guidance system is due for a final test today.
The astronauts had a busy weekend, completing two spacewalks as well as reviving the computer system in the Russian section of the ISS. On their spacewalks, NASA's mission specialists stitched together a torn section of insulation on the space shuttle, and finished installing the new solar power unit.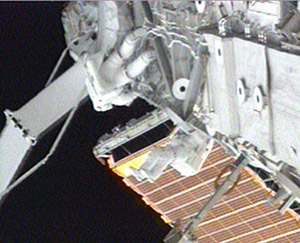 Another day, another space walk. Credit: NASA TV
On Sunday, astronauts Patrick Forrester and Steven Swanson went outside to finish off the installation of the space station's new starboard sections three and four (S3/S4). Most of the work was involved with activating the section's rotary joint, which lets the panels track the sun.
It is the new power unit that is thought to have triggered the computer crash which took out the ISS's guidance system and environmental controls. While the computers were down, the shuttle has been providing attitude control with its thrusters.
ESA's cargo module, due to be delivered and installed on the next mission to the ISS, has the same computer system as the Russian section of the ISS. As you might imagine, it is now going through some fairly rigorous tests to make sure it is not similarly vulnerable.
You might, earlier in the weekend, have seen the footage of astronaut John "Danny" Olivas fixing the hole in the thermal blanket. If not, check it out in NASA's video gallery. Mostly it is fairly dull: a man in thick gloves tries to complete a fiddly task using a medical stapler. But every now and then, the cameras give you a glimpse of the world below hurtling by at 17,500mph.
And that is truly astonishing.
As well as all that, astronaut Sunita Williams has added to her collection of records by becoming the woman with the longest continuous flight in space. She pipped previous record holder Shannon Lucid, who logged 188 days and four hours in 1996. During the mission, she has also taken the record for the longest time a woman has spent spacewalking, and for the first ever marathon competed in orbit.
Williams will join the departing NASA astronauts when they leave the station. The departure is scheduled for 6:23 pm EDT, but NASA is ready to extend the mission by another day if the test of the ISS's guidance system does not go well. ®