Original URL: https://www.theregister.co.uk/2007/06/12/toothbrush_rumpus/
LoveHoney in toothbrush vibrator trademark rumpus
Oral-B sex shocker
Posted in Policy, 12th June 2007 10:21 GMT
NSFW Online sex toy outfit LoveHoney has got itself into hot water over the promotion of its Brush Bunny Electric Toothbrush Rabbit Vibrator after deciding the best way to punt the product was to picture it beside the pleasure delivery platform of choice - an Oral-B electric toothbrush.
According to LoveHoney's sober report into the matter, it quickly received a missive from D Young & Co - "who proudly declare themselves to be representatives of 'The Proctor & Gamble Company family including Gilette Canada Company and Braun GmbH in relationship to trademark matters'" - and who declared:
It has come to our attention that the trademarks BRAUN and ORAL-B have been adopted and misused on the above mentioned website. Specifically, the use of the client's trademark can be seen at the following:

http://www.lovehoney.co.uk/product.cfm?p=10535
http://www.lovehoney.co.uk/product.cfm?p=9483
Yes indeed, LoveHoney also made the mistake of saying its Tingle Tip Electric Toothbrush Clitoral Stimulator "fits directly on to your Oral-B electric toothbrush".
The letter duly warns:
Our client's trademarks should not be used to promote and sell third party products nor indeed should they be promoted by third parties for any purpose other than that for which they were intended. Improper use of the trademarks BRAUN and ORAL-B in this manner is misleading to the public and could potentially result in injury.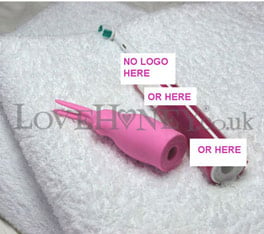 LoveHoney duly decided to pull the offending pic and Oral-B sex claims, and has posted a suitably censored snap, as seen here.
The sexmonger isn't taking the Tingle Tip Oral-B Clitoral Stimulator attack lying down, though. It says: "Our legal advice is that is OK for us to say that. We're not suggesting that Oral-B endorses the Tingle Tip (we wish!), but it's a statement of fact that the Tingle Tip does indeed fit directly on to your Oral-B toothbrush, or any other electric toothbrush for that matter."
Regarding the potential for toothbrush mounted clit-ticklers to cause injury, LoveHoney concludes: "That must be a first - improper use of P&G's trademarks could 'potentially result in injury'. Best be careful next time you're pulling off a few sheets of Charmin Ultra." ®
Bootnote
We'd like to point out that The Register in no way supports the use of toothbrush-mounted sex aids and warns that improper deployment of such devices may result in personal injury if not supervised by a trained professional. We also advise LoveHoney that The Register and its vulture logo are protected by trademark, so you can forget that El Reg-branded latex gimp suit. Our lawyers are watching.