Original URL: http://www.theregister.co.uk/2007/06/08/pcs_on_test/
PC or not PC? Ten desktops on test
Which system is right for you?
Posted in Personal Tech, 8th June 2007 13:51 GMT
Group Test The desktop PC is a truly versatile animal, capable of running both our business and personal lives as well as entertaining us like nothing else since the television entered our world. Whether you want an all-encompassing budget marvel or a high-end gaming beast, there's a system out there to suit you. It's just a question of finding it...
Apple Mac Pro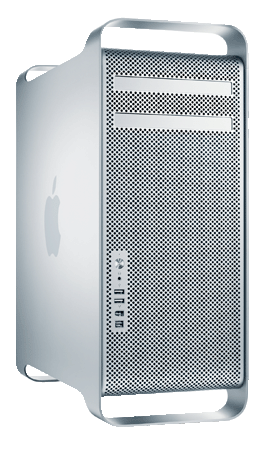 Apple continues its design for life ethos with the Mac Pro powerhouse. Long known as the preferred tool of the so-called 'creative', the Mac has always dominated the market where designers and design lovers have been concerned. And Apple's Mac Pro, replacing the Power Mac brand, only extends this domination thanks to its superlative design aesthetic, the inclusion of the latest Intel processors and a reasonable price point.
The Pro is all about choice, though. Whether you're a professional designer or a media-loving home user, Apple believes there is an option for you. Opt for the eight-core Pro and you get two quad-core Intel Xeon 'Clovertown' processors running at 3GHz, whereas the quad-core houses two dual-core Intel Xeon 'Woodcrest' processors running at anything from 2GHz to 3GHz - that's twice as fast as Apple's previous Power Mac G5 Quad. In its default configuration - at the £1699 price - there's a 250GB hard drive, 1GB of 667MHz DDR 2 ECC (Error Correcting Code) fully-buffered DIMM memory, 16x SuperDrive - DVD burner to you and me - and a pretty basic 256MB GeForce 7300 GT graphics card.
Even at this 'basic' spec, the Mac Pro is more than capable of delivering among the highest performance levels and speeds for everything from film and video editing in Final Cut Pro to 3D image rendering in Cinema 4D and page layout in QuarkXpress7. But as mentioned, the Pro is all about the upgrade. Internally, spare hard drive slots offer room for up to four Serial ATA hard drives and a huge 3TB of storage. Just below sit three open full-length PCI Express slots with configurable bandwidth and an optical drive bay for a second SuperDrive or Blu-ray Disc burner.
Connectivity abounds too with support for up to eight displays - great for heavy design applications where one screen just won't cut the mustard - five USB connectors, four Firewire ports, Ethernet and optional upgrades to Bluetooth 2.0 and Airport wireless networking. The Mac Pro is as dependable and exciting a PC as we've yet seen and typically ticks all the boxes from a style point of view.
Apple Mac Pro
---
Best for a designers
Apple continues to design stylish and powerful computers for the creative industry and the rest of us
Alienware Area 51 7500 SLI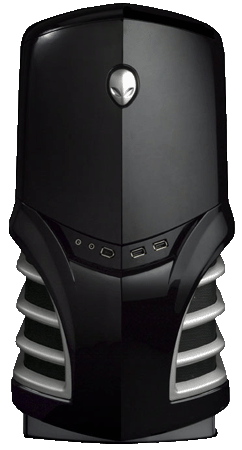 When confronted with a machine like Alienware's Area 51 7500 SLI, it's tough to know where to begin. Do you first comment on the now iconic alien-influenced design of its housing that stands it well apart from any rival manufacturer - and looks damn cool to boot, especially in 'Space Black'? Or do you launch straight into the fact that it packs quad-core processing with Intel's shiny new Core 2 Extreme chip and no less than two Nvidia GeForce 8800 GTX graphics cards for unrivalled 3D gaming?
Well, now we've mentioned these, we get down to the nitty gritty. The 8800 GTX SLI setup is the fastest graphics sub-system you can currently buy and is compatible with DirectX 10, the new API that works alongside Windows Vista to ramp up gaming performance immeasurably. Sweet.
The motherboard is an EVGA Nvidia nForce 680i SLI, with 2GB of Low Latency 800MHz DDR 2 memory and a 1TB, 7200rpm SATA hard drive. Also included is an 18x dual=layer DVD±R/RW Drive, the excellent Creative Sound Blaster X-Fi Xtreme Gamer sound card, and Logitech's MX518 gaming-grade optical mouse and supreme G15 gaming keyboard - complete with flip-up LCD panel displaying info like the time, memory utilisation and which song iTunes is currently playing.
In fact, the only thing you'll need is a serious high-resolution monitor and, if you're going all the way - which you might as well when you've invested in a system like this - some decent surround-sound speakers. The 7500 also benefits from full Blu-ray compatibility for playing back the latest HD films as well as offering superior media storage capacity.
As you'd expect with these kinds of stats, in operation the 7500 is as fast as it gets and kicks out the kind of graphics performance you have to see to truly appreciate. It will ably handle any game you want to play and, as long as you've married it to a winning display, will suck you in and never let go.
The only downside - apart from that hefty price tag - comes with the fan noise, which is undeniably loud. Sorry, LOUD. But with this kind of performance running from the graphics cards and CPU, if the fans weren't effective, you'd be left with little more than a pool of melted PC to play with.
Alienware Area 51 7500 SLI
---
Best for gaming
Alienware breaks out the quad-core processors to create the ultimate gaming experience
Fujitsu-Siemens Scaleo EV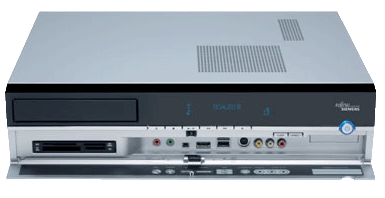 Looking more like a 1980s-styled video player than a home computer, Fujitsu-Siemens' Scaleo EV is designed for a life sitting under your TV as opposed to atop your office desk. Continuing on from the successful Scaleo E series, the EV is a media centre PC designed to operate as the central hub of your home entertainment setup, and as such offers control of your TV, DVDs, music, films, photos and radio via its single remote control.
Running Microsoft's Windows Vista Home Premium software and incorporating Intel's Viiv technology with a Core 2 Duo processor, the EV is ultra capable as both an office PC and home entertainment centre – but it's the latter we're most interested in. Housing a chunky 320GB hard disk drive, the Scaleo EV features analogue and digital TV tuners alongside a DVR so you can record one channel to the hard drive while watching another as well as pause and rewind TV, á la Sky+.
Also a DVD player and recorder, the EV supports 7.1 surround sound and HD audio to wring the very best from your films sonically, not to mention your music.
Crucially for an entertainment PC, the Scaleo EV is super-quiet thanks to the new housing and cooling system, its barely-there purr causing no distraction whatsoever to its multi-faceted talents. Connections are bountiful too, with HDMI for HD playback, dual Scarts for hooking up your standard-def TV, and 802.11b/g Wi-Fi.
It comes with a wireless keyboard with integrated touchpad for accessing more traditional PC applications like the internet and email via the TV. We like the Scaleo EV. It's a very capable and well thought out product designed specifically for living room use, but delivers ample PC capability too.
Fujitsu-Siemens Scaleo EV
---
Best for media
Ditch the DVD player, hi-fi, DVR and all those pesky remotes, because the Scaleo EV is here
Very PC Green PC 478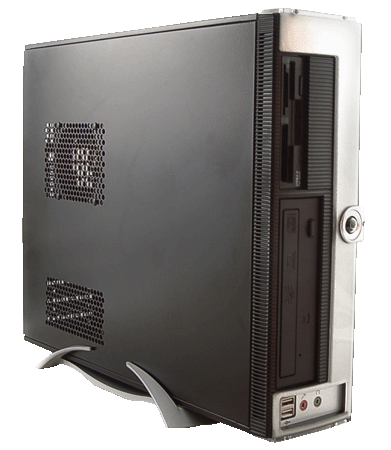 The Green PC 478 may look like an ordinary – and, to be honest, not very exciting – PC, but it has a few tricks up its black and silver sleeve. Very PC has designed this computer to run as energy efficiently as possible without sacrificing performance.
It does this by employing a low-power Intel Core 2 Duo T5500 processor running at 1.66GHz that was originally designed for notebooks. It also features a 100GB hard disk with 1GB RAM and a DVD writer with HDMI for HD output. Despite this, the PC 478 is super quiet, and runs using around 36W when on and 59W under full load – in some cases half that of most rival computers, which will result in lower energy bills and reduced environmental impact.
The PC 478 is smaller than most desktop PCs, making it viable as a living room computer. That HDMI port and the Dolby optical audio out make it capable as a home cinema, while the inclusion of a card reader means digital photos can be displayed too. Windows Vista Home Premium comes installed - or XP MCE or Linux if you prefer - for managing your media world.
Connections wise, there are six USB ports (two front, four rear), Firewire, and an HDMI-to-DVI cable takes the place of a direct DVI port. The smaller notebook processor is capable enough for running standard office and home applications on, but was left wanting with more demanding stuff like gaming. But it's a minor criticism against what isn't designed as a high-end machine. What the 478 does do is deliver the performance of rival PCs in the same price point, but at a lesser impact to your energy bills and the world around you. It may not offset the bountiful CO2 emissions created from its manufacture, but hey, every little helps.
Very PC Green PC 478
---
Best for environmentalists
Very PC tackles the eco issue with its energy-efficient green machine
Dell XPS M2010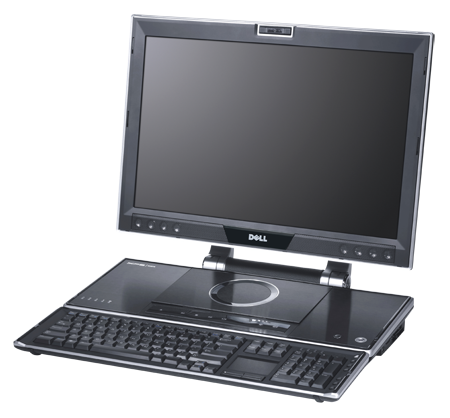 The first thing we thought when we saw Dell's frankly lunatic XPS M2010 was that it was just an oversized briefcase. But lay it down and unfasten the two clips holding it closed and it opens to reveal a mind-boggling PC the likes of which we've never seen before.
Inside that lid sits a whopping 20.1in 1680 x 1050 (WSXGA+) widescreen TFT display that's impressive enough in its own right. But cast your eyes down to the glossy black optical drive with its backlit ice-blue touch-sensitive controls and super smooth slot-loading DVD drive and then on to the Bluetooth-enabled detachable keyboard and you'll be utterly beguiled. Everyone we showed it to instinctively reached out with eager paws just to get a touch.
It's not all about the looks though - and at a price of £1879we're glad to hear it. The M2010 packs a serious operating punch, and housed in that body is a 1.3-megapixel webcam and, unbelievably, an 8.1 speaker setup complete with sub-woofer. Fully customisable, the M2010 is powered by a 2.33GHz Intel Core 2 Duo processor backed by up to 4GB of memory running any incarnation of Windows Vista you choose. Designed as a complete multimedia and entertainment solution, there's room for optional dual hard drives with a total capacity of 240GB of storage that can be configured to RAID 0 or 1 to protect all your family files. The AMD Mobility Radeon X1800 graphics chip is more than able to handle most multimedia applications and can run the latest PC games without breaking a sweat.
The hardest thing when describing the M2010 is explaining exactly who it's for. Powered by its own battery and folding into that enormous casing it's claimed to be portable, but weighing in at an arm-stretching 8.2kg you certainly wont be taking it on the daily commute. But if you are after a semi-portable and very powerful desktop system that oozes wow factor, you've come to the right place.
Dell XPS M2010
---
Best for concept
Dell breaks the mould and brings its ker-razy concept into the real world with fantastic results
Apple Mac Mini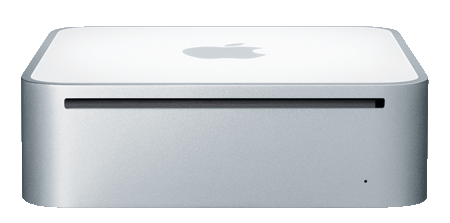 Ahh, the old Mac versus PC debate - the battle between the creative and the suit, the fashionista and the practical, the minority and the majority. But as the gulf between the two narrows Apple has sought to switch some PC loyalists to its side with the introduction of the Mac Mini in the wake of the iPod's boundless success.
Firstly, the Mini is exactly that - absolutely ruddy tiny. It weighs a feathery 1.4kg, at 16.3cm square fits easily into the palm of any normal-sized hand and comes en seule: no monitor, no keyboard, no mouse. The idea here being to keep the price way down and let new buyers use their old peripherals without needlessly forking out on new ones - or buy expensive Mac accessories. Smart move, Mr Jobs.
It has typically classy looks too. The Mini's exterior gives little away featuring a standard Mac disc slot rather than drawer and the power button and connections laid out cleanly on the rear.
Spec wise, the latest Mini comes in two incarnations: the first a 1.66GHz Core Duo CPU with 512MB RAM and a 60GB hard drive, the superior second a 1.83GHz Core Duo CPU with 512MB RAM and an 80GB hard drive, also featuring a SuperDrive DVD burner. Both come prepped with Bluetooth and Wi-Fi. Graphically, the Mini uses an integrated Intel GMA950 graphics processor, capable but by no means a high-end gaming specialist. Perhaps the real draw of the Mac is its inherent software. The Mini runs Mac OS X and comes with the brilliant iLife 06, a suite of easy-to-use applications designed to manage everything from photos and films to music and podcasts.
The Mini is a deliberately paired-down introduction to the world of Macs that benefits from a raft of add-on products that ramp up its price no end. But if you're looking to convert from PC or want a simple and sexy extra machine, you won't find better.
Apple Mac Mini
---
Best for minimalists
A no-frills introduction to the wonderful world of Macs
Dell Dimension C521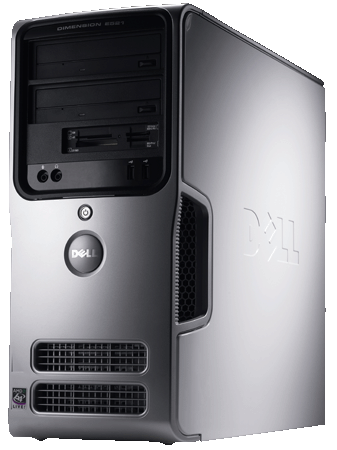 Dell's Dimension C521 has been tailored to the home entertainment and 'general needs' market and combines decent all-round features with an accessible price point, complemented by a bundled 19in LCD monitor. Notably, the Dell is a good-looking and supremely well-proportioned system, sitting at only 11cm thin when side-standing and finished in an attractive, sculpted black and silver chassis. It shouldn't look out of place in any home office or living room.
A general perusal of the specs list reveals the Dell's capable but not overly ambitious aspirations. Powered by an AMD Athlon 64 6800+ CPU and an ATI Radeon X1300 GPU, and with 1GB of DDR 2 RAM, it's located in the mid-range but is more than powerful enough to run the Windows Vista Home Premium it now sports. And even with modern software's seemingly insatiable appetite for running high demand multimedia applications, the graphics chip will ably cater to it, and the system run as quietly as a mouse with its mouth taped up.
Hard drive options in the C521 stretch all the way to a massive 500GB. The more storage you want, the more it will cost, though hard drives are not as pricey as they once were. There's also a DVD writer for further storage options that writes to all formats bar DVD-RAM.
On top of this comes 7.1 audio support, plenty of connectivity, that 19in display - which whilst nothing spectacular is perfectly respectable - and plenty of room to upgrade for the future. And all at a price that won't leave your wallet in serious need of resuscitation.
Dell Dimension C521
---
Best for the family
Fun for everyone with this family-friendly, PG-rated PC
Shuttle XPC P2 3700G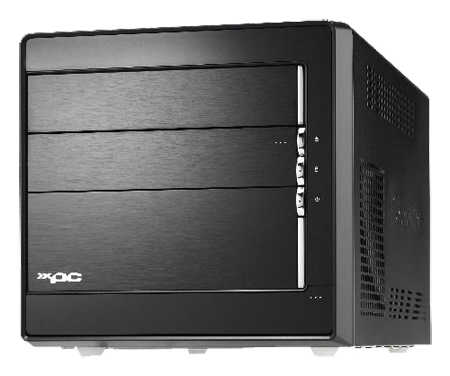 Granted, Shuttle's 3700G may not be the cheapest small form-factor PC currently available - and probably doesn't represent the best pound-to-gram ratio budget wise - but it is an unbelievably capable machine crammed into a tiny little box.
This is the very top spec model available from the Shuttle online system builder, as you can tell from the price, although opting for less memory, smaller hard drives and the like can significantly reduce the cost and hence the performance. The 3700G is a tiny system – half the size of your average desktop – and won't take up too much room no matter where you put it.
Pre-installed is a proprietary motherboard based on an Intel 975X chipset and Core 2 Duo Extreme X6800 CPU, and packing 4GB of 667MHz DDR 2 SDRAM. Shuttle has also managed to somehow cram in a 400GB Samsung SATA hard drive and 14x dual-layer DVD writer. So there's plenty of power and storage for numerous multimedia applications and storing your files, photos, music and movies. For gaming, graphics are looked after by the excellent Nvidia GeForce 7950 GX2 card - a dual-GPU board, it renders the Shuttle a very serious option for gamers as well as HD fans thanks to its HDCP compatibility.
Tooled up with Windows XP Professional Edition, and packed with so much high-end hardware, the 3700G is capable of performing absolutely any task you're likely to throw at it, and will do so with the smallest footprint on your home thanks to that minimal, cubist exterior.
Shuttle XPC P2 3700G
---
Best for small spaces
Shuttle proves that size isn't everything with this high-powered but compact PC
Acer Aspire T671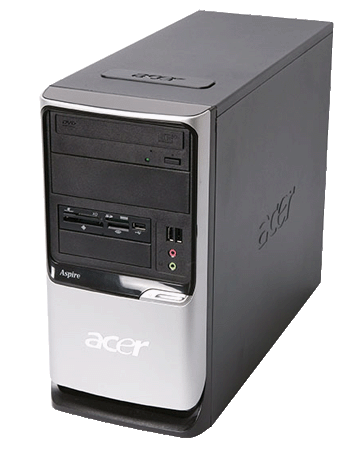 The Acer Aspire T671 is a system so cheap it requires a double take to check the price does indeed include the system's none-too-shoddy specifications. Designed from the bottom up to marry user-friendly pricing with competitive applications, it is aimed at the generic user and runs Windows Vista Home Premium. It's a fair-looking system offering a cleanly designed black and silver look in a bulky but well built body. Inside sits an Intel Core 2 Duo processor on an ATI RS600 chipset and connected to up to 4GB of 533MHz DDR 2 memory.
Storage is taken care of thanks to the 160GB SATA hard drive - with space for another should that capacity prove insufficent, which it likely won't should you engage in multimedia pursuits - and there's also a dual-layer DVD burner - again with a bay for another).
The integrated ATI Radeon XPress 1250 graphics core is pretty paltry and won't do serious gaming justice, but Acer has included a PCI Express 16x graphics expansion slot for an add-in, so you can always improve your gaming life at a later date.
The T671 comes without the usual bundled peripherals, so no monitor, printer, scanner et al.
Well-built, reliable and with plenty of room for upgrading and expansion, the Aspire T671 may not be the fastest or best spec'd machine available, but in its price point it's a great option.
Acer Aspire T671
---
Best for budget
Acer breaks the rules, but not the bank, with its budget PC
Mesh Elite E6600 Express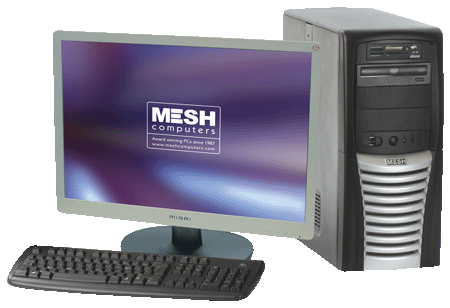 If you're simply looking to plunge into a computer purchase without the hassle of buying separate components and choosing which upgrades to opt for, this Mesh Elite Express is a great place to start.
Enclosed in a fairly traditional and utterly inoffensive black and silver casing - yet sporting a very bling silver radiator grille - sits an Intel Core 2 Duo E6600 dual-core processor running at 2.40GHz and supported by 2GB of 533MHz DDR 2 memory. Storage comes in the form of a 500GB SATA hard drive, alongside which sits a Sony 18x DVD writer, digital and analogue TV tuner card, and an Nvidia GeForce 8600 GT graphics card with 256MB of on-board memory. What this all essentially means is that in terms of multimedia use, gaming and file storage the Mesh is absolutely capable of taking care of your needs. From a software point of view the Express is loaded with Windows Vista Home Premium Edition, and has plenty of power and speed on tap to take full advantage of its many applications.
Connectivity poses no problems either with six USB ports, two Firewire connectors and a 33-in-1 card reader. But this computer is all about the package, and alongside the Mesh heart sits a very good 22in widescreen LCD screen, Logitech wireless keyboard and optical mouse, and a set of Creative T6100 5.1 speakers including a super punchy sub-woofer. These are supported by a Creative Sound Blaster X-Fi Xtreme Gamer sound card.
Mesh Elite E6600 Express
---
Best for the complete package
All aboard the Mesh Express – it's the complete package
Verdict
The ten PCs we have looked at here represent a huge cross-section of the computer market and as such offer varied functionality depending on specific needs and budgets. If you're looking for an imposing combo of power and potent design then the Alienware really should be your first and only port of call. For us, if money were no object we'd opt for the Dell XPS for its sheer bling factor, but in the real world give us an Apple Mac Pro and we're happy.