Original URL: https://www.theregister.co.uk/2007/06/07/tia_telecommunications_review/
Video and web access to keep comms healthy
To the tune of £4 trillion, TIA review says
Posted in Networks, 7th June 2007 16:03 GMT
Comment The Telecommunications Industry Association (TIA) report makes fascinating reading every year, mostly because it points to the sheer scale of the industry, but also because it highlights just how big the trends we have been following have already become and how big they are likely to become in a few more years, projecting out to 2010.
This year it's a 325 page report, and worth every penny if you are in and around the various $650 to $5,000 price tags that it carries in its guises from a straight paper copy up to a corporate pdf license.
The first thing out of the box that it tells you is that the global telecommunications industry is growing at 11.2 per cent and is today $3 trillion and by 2010 will make it to over $4 trillion. Effectively it's the biggest high growth technology market in the world – and then some.
Europe has the largest telecommunications market, measuring at $1 trillion, with the US second at $923bn and Asia Pacific third at $715bn.
But the report also immediately focuses the attention on two key factors, broadband and entertainment. It is abundantly clear that every thing that is growing at breakneck speed are related to broadband and entertainment, while most things like fixed lines are either shrinking in some territories or at least growing gently.
"Consumers are thirsty for broadband, and this report shows carriers are rushing to meet the demand," said Grant Seiffert, TIA president. "Technologies like voice over Internet protocol (VoIP) and broadband video, as well as new mobile data services, are sparking new growth in the telecommunications industry. As a result, carriers are offering more competitive all-in-one bundled packages, and consumers are seeing lower prices and more services."
That's hardly new, but when you collect together all of the evidence of every sub-market in telecommunications and find that collectively they are yelling "get me video and fast internet access" – everywhere, then it's no longer a debate.
The report forecasts growth for new broadband technologies like fiber, satellite, wireless and powerline, and says that combined these will account for around 11 per cent of broadband all subscribers by 2010 from around four per cent now. Today, the remaining 96 per cent is shared between DSL and cable, and dialup finally got overtaken by broadband. But by 2010 87 per cent of all internet access will be broadband.
But again, it projects only 700,000 Broadband over Powerline during that time, which is a reasonable number, though it's not if a company like DirecTV decides to back this as its main route into the US home, which it is threatening to do. A company like that might sell up to 1 million BPL customers each year and change the forecast radically.
The rReview is right in thinking that video is behind the resurgence in laying any kind of cable, whether or not it is fiber to the home, or to the loop, but for the first time the report gives a fair mention to IPTV services over telecom loops which are comparable to cable TV but without really forecasting them. Around 12 million miles of fiber was deployed during 2006, with 10 million miles of that being deployed by the phone companies, so just two decisions, at AT&T and at Verizon, have changed the global economics of fiber laying.
But while the fixed line market is in transition from voice to data to video, the mobile voice market, is still growing, but at the same time adding video and data anyway, just in case.
Multimedia and data only accounted for 10 per cent of US wireless revenue in 2006, but the TIA forecast says it will grow to become 24 per cent of all wireless revenue by 2010. Which is why wireless carriers are investing in network upgrades to boost speed and availability, which makes the equipment market healthy.
We have to say that we have been following the TIA Annual Review projections since 2002 and while they are not always accurate, this is almost always because the Review is projecting each technology based on what is known today, and sometimes major backers of new technologies accelerate deployments. In other words, we've never known it to be wrong because it over-projects, only once or twice when it projects linearly and its forecasts are exceeded. For instance, it has consistently under-predicted the take up of broadband lines.
In 2003 it could not predict the triennial review of the US telecommunications market which allowed US telcos, the RBOCs, to finally invest in DSL networks without having to share those connections with unbundled operators at what they considered uneconomic prices.
The result was that suddenly the major telcos could invest heavily in ADSL technologies, a move that they had been waiting for, and which has now accelerated the pay TV offerings on a DSL line in the US, and which has driven down the prices and driven up the speeds of DSL lines, and wrested much of the advantage in the provision of broadband away from US cable operators. It is the same decision that has stimulated fiber build out globally. Now the TIA review reports that it expects this to be reversed by cable operator investments in DOCSIS 3.0 so that the two broadband types in the US will run neck and neck from the end of 2008 onwards.
Below is one graph that illustrates the war between the two major operator types in the US beautifully, taken from the review. It shows that 83 per cent of landlines are serviced by Telcos in the US, at the end of 2006 and just six per cent were being delivered by cable operators. Pay TV shows the reverse, with 68 per cent of Pay TV services delivered by cable, and only three per cent delivered by Telephone carriers (satellite being the bulk of the rest). Broadband has been their battleground and now the telcos account for 45 per cent of US broadband, while cable still has 51 per cent, retained from its early mover advantage.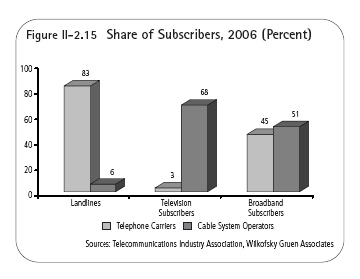 The voice erosion that we all talk about is also clear from the report, and it shows that landline telephone service revenue fell 7.5 per cent during 2006, due to an acceleration of the reduction of landline subscribers which fell 11 per cent in the consumer market, far higher than in previous years. The more voice revenues fall, the more that telcos have to invest in equipment to offer new services, and the more they have to introduce new ideas to stimulate brand new service revenues.
By 2010, the TIA and its advisors who helped compile these numbers, believe the majority of residential lines will be sold as part of a service bundle, so decreases in fixed lines will slow and favorable rates for broadband plus TV, plus VoIP in a combined package with wireless will help slow erosion. This suggests that the idea of a quadruple play is rampant among all of the tier one operators which the TIA has spoken to. They are all on a stated goal to make a four layer service impossible to refuse, based as much on low price as it is on service innovation.
But even when all of this is taken into account, as well as the various population ages of the landline owners, the TIA report expects to see residential landlines falling at 6.1 per cent a year through 2010, at least in the US.
We have said many times in the past that in countries in Central Europe and the under-developed parts of Asia and the Pacific rim, it is hard to see an economic reason for the introduction of new fixed lines. They cannot be justified on voice revenues alone, especially not in countries which are at, or which are heading towards, 100 per cent mobile voice penetration. But in countries that have virtually no infrastructure in some rural areas, fixed lines and fiber for any kind of line, including cellular, still need to be built.
Because of these reasons we can see why internationally landline growth slowed to 3.9 per cent in the US, in Canada it actually fell by 4.2 per cent, was flat in Europe, but in the Middle East and Africa it rose 11 per cent and Asia Pacific and Latin America grew around 5 per cent.
Today, the review has international landlines at 1.14 billion and US lines at 150 million, roughly 1.3 billion between them. This figure will rise to only 1.4 billion by 2010, and all the time the growth and the service revenues will be slowing, and in the more advanced markets the numbers will actually be going backwards.
By contrast, cable and DSL broadband connections, by the end of 2007, are placed at around 278 million globally, with 215 million of these installed outside of the US, and inside the US 30.6 million DSL and 32.7 million cable.
This is seen as rising to 439 million globally by 2010, with 396 of these installed outside the US and DSL in the US reaching roughly 40 million to the cable industry's 43 million. As we said earlier some 11 per cent of that international figure is in new technologies and in the US a further 11 per cent has to be added for other technologies, making the total closer to 445 million. A lot of broadband lines, close on double what there are today, and whatever content consumers choose to send over these lines, it remains a hugely growing opportunity compared to almost any other telecommunications market except mobile.
One change that we can see very clearly on the cellular graphs is the way in which the US is topping out in cellular subscriber additions. Annual numbers grew by 14 per cent and 15 per cent in 2004 and 2005, but this is expected to fall back to just 2.7 per cent in 2010, virtually saturated at 270 million handsets.
By contrast, the rest of the world has many exceptionally high growth areas, with a few spattered regions, like Europe, where handset populations are already static. The net effect internationally was a growth in wireless handsets of 25 per cent and 23 per cent growth in 2004 and 2005, and this will flatten down to around 10 per cent by the end of this forecast, by which time it will account for a huge 3.1 billion devices (3.4 billion if you include the US), up from 2.4 billion today.
The data for the entertainment side of this is less detailed. IPTV is talked about anecdotally, and mobile TV, along with music and games on handsets is discussed, but not quantified, so it's difficult to see hard forecasts for IPTV numbers, mobile TV numbers and video over web to handsets. Here it appears to be taken the projections of various operators, which need to replace lost voice revenues with data and video applications, but for the most part decisions have not been taken about exactly what these operators will deploy, only how much money they will need from them.
Whichever way you need to slice and dice the telecommunications industry, there's some raw data here for you to start with, and we will come back to the review time and time throughout the year, to keep our base assumptions on track.
Copyright © 2007, Faultline
Faultline is published by Rethink Research, a London-based publishing and consulting firm. This weekly newsletter is an assessment of the impact of the week's events in the world of digital media. Faultline is where media meets technology. Subscription details here.