Original URL: https://www.theregister.co.uk/2007/06/06/street_view_revelations/
Buttocks, thongs, and bullsh*t: Street Viewers cop an eyeful
Nothing escapes Google's all-seeing eye
Posted in Bootnotes, 6th June 2007 08:52 GMT
According to an illuminating report yesterday, Google's new Street View might, if deployed across Europe, provoke a flurry of litigation from unfortunates caught in compromising positions by the facility's all-seeing eye.
Well, we haven't yet seen any snaps of couples going at it like jackrabbits in New York doorways, or nude sunbathers who picked the wrong moment to whip off their kit, but Street View is starting to yield some promising results. Down in San Bruno, California, a colleague of reader Matt Filizzi just happened across this interesting view: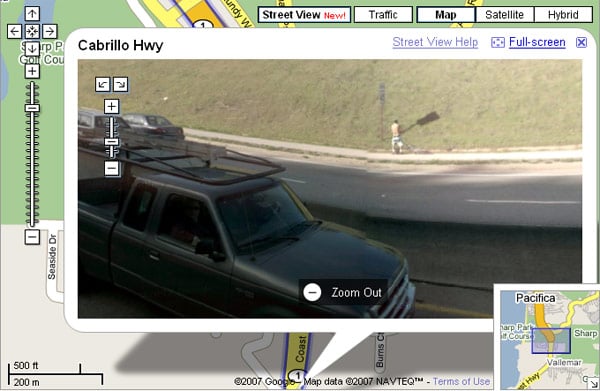 The Brits among you will recognise this cultural phenomenon immediately as "Dagenham cleavage" - a tantalising glimpse of butt crack as favoured by hairy-arsed builders: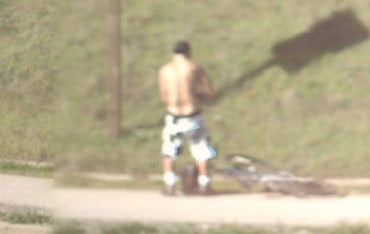 Quite what this bloke is doing we'll leave open to reader speculation, but he's got the making of a fine Essex brickie, and no messing.
Down in San Francisco, meanwhile, Dan was showing his missus the delights of Street View when she randomly stumbled across this totally unneccesary piece of profanity: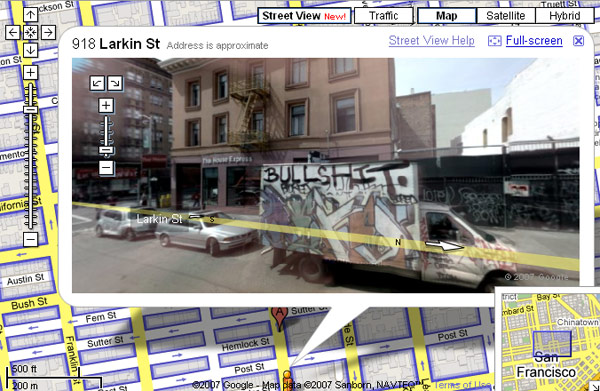 Mercifully, we don't believe there were children in the room at the time, but we can see multibillion dollar emotional distress lawsuits on the horizon just as soon as some innocent kiddie discovers that Google is punting graffiti-based filth to the masses.
And speaking of pure filth, it appears Google may have moved into the lucrative knicker flash market:
For the record, reports that this is an inebriated Lindsay Lohan about to drive Paris Hilton's pick-up truck while the latter languishes in chokey are unconfirmed. ®