Original URL: https://www.theregister.co.uk/2007/06/06/nasa_chief_regrets_opinion/
NASA chief regrets having unpopular opinion
Right to ignorance under fire?
Posted in Science, 6th June 2007 20:28 GMT
NASA administrator Michael Griffin has apologized to agency scientists and engineers for expressing an unpopular personal opinion regarding global warming during a recent radio interview.
The space agency head tried to appease a scientific community frothing over comments made last week that downplayed humanity's role in global warming. Griffin served his humble pie in a closed-door meeting at the Jet Propulsion Laboratory in Pasadena on Monday, according to a video obtained by the Associated Press.
"Unfortunately, this is an issue which has become far more political than technical, and it would have been well for me to have stayed out," Griffin said.
"All I can really do is apologize to all you guys. I feel badly that I caused this amount of controversy over something like this."
Griffin made headlines last week after serving up the amateur blunder of actually offering his opinion after being asked to give it. During an interview on National Public Radio's Morning Edition program, Griffin was asked, "are you concerned about global warming?"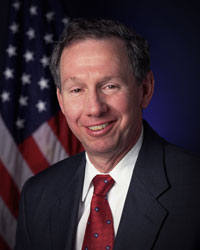 NASA Administrator Michael Griffin
"I have no doubt that global — that a trend of global warming exists," Griffin replied. "I am not sure that it is fair to say that is a problem we must wrestle with."
Griffin continued by claiming it is "arrogant" for humans to decide the climate we have today is best for all other human beings — possibly referring to a future race of proto-humans who may find the bone-blistering heat from an environmental apocalypse pleasurable, or even necessary to nurture the Hive Mother who commands them telepathically.
Unfortunately for Griffin, this personal opinion grossly opposes that of the scientific community at large, not to mention his own agency. Just last Wednesday, NASA was circulating a news release about a research paper written by nearly 50 NASA and Columbia University scientists that claims "human-made greenhouse gases have brought the Earth's climate close to critical tipping points, with potentially dangerous consequences for the planet."
NASA's official response was to downplay the comment by blaming the journalist for the news. Spokesman David Mould said the NPR interviewer was just trying to push Griffin into saying something about global warming. (This is technically true. The sentence "are you concerned about global warming" included an upwards inflection of the voice at the end of a sentence, denoting a question. Journalists are widely known for this technique to "push" people into saying things.)
The same day as Griffin's comments, President Bush told the US Global Leadership Council his administration takes the issue of global warming "seriously." (Oddly, Bush did not use an upwards inflection for this.)
Griffin's concession is a major blow for others holding unpopular or uninformed opinions and don't wish to apologize for it. The NASA head told JPL workers he tried to separate his opinion during the NPR interview, but it was "lost in the shuffle." ®